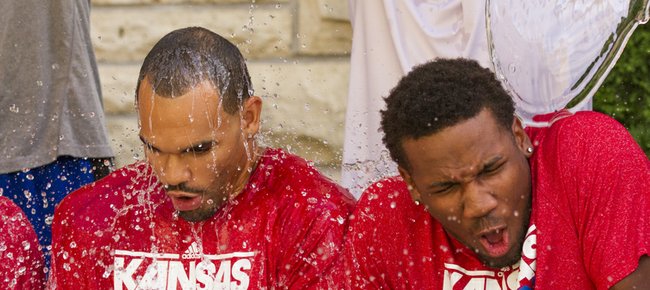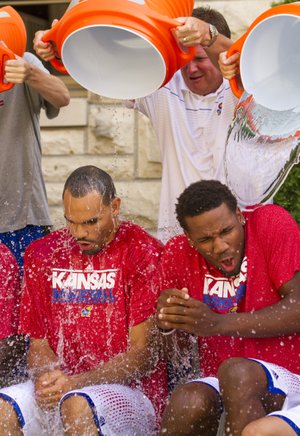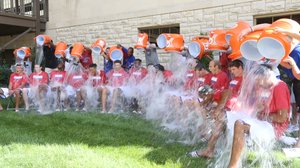 Just one Kansas University basketball player did not participate in the team's ALS Ice Bucket Challenge on Sunday afternoon outside Allen Fieldhouse.
The one missing Jayhawk was freshman Sviatoslav Mykhailiuk, who had an excused absence.
He's been training with Ukraine's National Team, has made the squad and will compete at the upcoming FIBA World Cup, set for Aug. 30-Sept. 14 in Spain.
As such, his arrival date at KU will be pushed back to whenever Ukraine is eliminated from action in the tourney, which includes a U.S. team led by Derrick Rose and Stephen Curry. Ukraine will play five games in Group C, including one versus the U.S. on Sept 4.
"I'm excited to have everybody back but 'Svi.' We'll get him back sometime in a couple weeks or so after the FIBA competition is over. Guys seem happy and hungry. I know they enjoyed this, because it's for a great cause," KU coach Bill Self said after Sunday's Challenge.
The 6-foot-8 Mykhailiuk averaged 16.0 points and 4.7 rebounds a game, earning MVP honors at the Under 18 Div. B European championships in July.
After that tourney was completed, he headed to national team tryouts.
Asked if it's good or bad that Mykhailiuk now has national-team responsibilities, Self said: "I think it's good, more good than bad. I think it's an unbelievable honor for him, for a guy that young, who just turned 17 to have a chance to compete against the elite players of the world, I think it's awesome.
"It's a good thing, but it will put him behind. There's no question when he gets here he's gonna be a couple weeks behind everybody else. Since he wasn't here this summer, he's going to have some catching up to do, but he's also played more ball than anybody this summer, too. It's been non-stop for him since first of June," Self added.
As far as the rest of the squad, Self said every player will begin regular workouts in preparation for the official Oct. 3 start of practice. Late Night in the Phog is Oct. 10.
"Health-wise, everybody is fine. Cliff (Alexander, 6-8 freshman, Chicago) will do some more rehab this first week, maybe not do much contact if any the first week," Self said of the power forward who sprained a tendon in his right foot in early July.
"He's good to go. We just have to take our time because he's been out so long, not put him out there too quick. It's healed up nicely," Self added of the tendon.
Self said preseason Boot Camp conditioning would run for two weeks this year and begin on the Monday three weeks prior to the first official workout, which is Sept. 15.
Taking a stroll: Self said he took a long walk Sunday, prior to the Ice Bucket Challenge. During his stroll, he pondered the makeup of his 12th KU team.
"I know I'm going to like our speed. I know I'm going to like our hungriness. I think I'm going to like our aggressiveness," he said. "The only thing that will be different with this team is, we're used to having size. Our standing height is by far the smallest it's been in a long time.
"But we also won a national championship (in 2008) starting two 6-8 guys (Darrell Arthur, Darnell Jackson), but we had 6-11 (Sasha Kaun) off the bench. We won a lot of games when Wayne (Simien, 6-9) and Christian (Moody, 6-8) were our two big guys. But still that hasn't been the way we've been successful of late. So we're going to have to adjust and do some things defensively I think will benefit our personnel and maybe some things offensively to open the court more to allow our guards maybe to post more."
It was a great wedding: Self's daughter, Lauren, married Hayden Browning on Aug. 16 in Kansas City.
"The wedding was great. There's not a bigger thrill I think for a father in walking his daughter down the aisle. I do feel for families that have more than one daughter, though, because they are fairly expensive, as everyone knows," Self added, laughing. "It was a great weekend, and we're so happy to see our daughter so happy."
The Challenge: KU junior Perry Ellis was the only speaker during the Ice Bucket Challenge. He issued a challenge to players from all Big 12 teams to have water dumped on their heads and to make a donation to ALS. Self is the one who challenged his own players. To watch the KU Ice Bucket Challenge, go to http://ljw.bz/1ns7lBH
Bizarre recruiting: Former Oregon signee Ray Kasongo, who was not offered a scholarship by KU after his visit in July, apparently won't be headed to College of Southern Idaho after all.
According to Zagsblog.com, Kasongo's bags made it to the Boise, Idaho, airport last weekend, but he did not. A source said Kasongo was intercepted by someone at the Denver airport and taken elsewhere.
"After several hours of panic and alerting authorities, we did hear that he switched planes in Denver and flew to a different location. We are thankful that he is safe but disappointed in his reckless choice. We only want people who really want to be at CSI, and apparently he doesn't want to be. We wish Ray Kasongo the best in his future," Southern Idaho coach Jared Phay told Zagsblog.
It's unknown where Kasongo will elect to play ball.