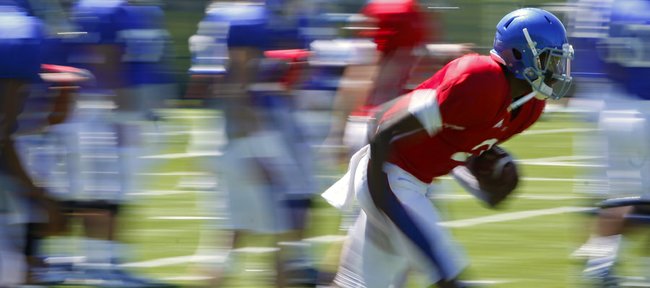 During the first few months of Charlie Weis' initial season back in 2012, the new Kansas University football coach and several of his assistants often stressed the need for improved speed.
As the Jayhawks prepare to head into Weis' third season, it appears that team speed has become more of an asset and less of a concern.
"We can run," defensive backs coach Dave Campo said during the opening week of preseason camp. "Defensively, for sure. For the first time, I feel like we've got guys that can line up and run with the guys (we're) playing against."
Upgrading the Jayhawks' speed has been a two-part process. First, Weis and company did all they could to recruit faster players. Second, strength coach Scott Holsopple did all he could to develop the wheels of those already in the program. The result of both efforts is just one of the many things that has the players and coaches looking forward to the 2014 season.
"I think this is the fastest team we've had since I've been here, on defense and at the skill positions," said senior linebacker Ben Heeney.
By all accounts, Heeney is one of the fastest guys on the team. He's not Tony Pierson-fast, but, despite playing middle linebacker and standing 6-foot, 230 pounds, the guy can run. Kansas has guys like him at positions all over the field.
"We've got a lot of fast people on the team," said senior cornerback JaCorey Shepherd, one of the team's burners. "But people don't notice because it's sneaky speed, it's not all like Tony."
At least one national publication has noticed.
In a Sporting News article published in early July, David Purdum wrote a guide of 100 things college football bettors should know heading into the 2014 season. The second item on his list covered speed.
What Purdum discovered is concrete evidence that KU's speed has improved. According to NFLDraftScout.com, Kansas, somewhat surprisingly, trailed only Texas in the number of senior draft prospects on its roster with a 40-yard dash time of under 4.6 seconds. The Longhorns have 11. The Jayhawks have nine.
Pierson, at 4.46 seconds, is by far the fastest of the bunch. But safety Cassius Sendish (4.53), Shepherd (4.54), running backs Taylor Cox (4.56) and Brandon Bourbon (4.5) — Bourbon and Cox both will miss the 2014 season because of recent injuries — Buck rusher Victor Simmons (4.52), cornerback Dexter McDonald (4.54) and wide receivers Justin McCay (4.54) and Nick Harwell (4.57) all fall in the fast category right behind him.
That's to say nothing of KU's quick underclassmen such as sophomore quarterback Montell Cozart, a handful of whom are closer to Pierson than they are Harwell and McDonald. In fact, during preseason camp Pierson dubbed freshman wide receiver Bobby Hartzog Jr. the player on the team who comes closest to matching him stride for stride.
In addition to those burners, senior tight ends Jimmay Mundine (4.62) and Trent Smiley (4.66) run fast times for their size, and, as senior defensive lineman Michael Reynolds put it, "even our big guys are pretty fast." Reynolds likely is the speediest of that group at 4.77 seconds.
"There's no question that our speed is significantly better than it was two years ago," safeties coach Scott Vestal said.
While that acceleration is sprinkled in on both offense and defense, it's not merely that the speed exists that's important, rather how that speed is used and what it produces. The veteran Jayhawks are aware of that.
"You gotta keep it in your head that, yeah, you're fast, but there are other people out there who are as fast or faster," Shepherd said.
Added first-year offensive coordinator John Reagan of team speed: "I think it's kind of like money. You don't know if you ever have enough. You keep wanting more. But that has been upgraded."