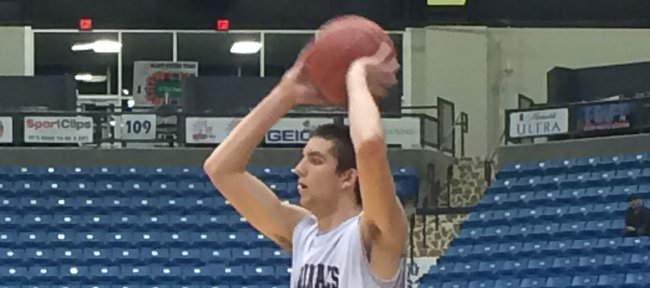 Basketball notes. ...
Eudora High sophomore guard Mitchell Ballock continues to make a name for himself as one of the country's top sharpshooters.
The 6-foot-4 Ballock, who won the "best shooter" award at this summer's Stephen Curry camp in California, placed second at the Under Armour Elite 24 three-point shooting contest on Friday in Brooklyn, New York.
Brandon Ingram, a 6-8 senior forward from Kinston (North Carolina) High, defeated Ballock 13 points to 12 in the final. Ingram will be visiting KU for the Oct. 10 Late Night in the Phog. Ballock last Monday received a scholarship offer from KU coach Bill Self.
"Thankful for the opportunity I had tonight. It was also good to meet Kemba (Walker, former UConn standout now with Charlotte Hornets)," Ballock wrote on Twitter.
He defeated the likes of Malik Newman, Chase Jeter and Jayson Tatum in the three-point contest. Newman is ranked No. 2 and Jeter No. 8 in the Class of 2015 by Rivals.com. Tatum is ranked No. 4 in the Class of 2016.
Another Ballock tweet: "New York City and Eudora are a little different from each other."
KU sophomore Conner Frankamp is a former winner of the Under Armour Elite 24 three-point contest.
As far as the game, Jaylen Brown, a 6-7 senior wing from Wheeler High in Marietta, Georgia, scored 23 points for Team Liberty, a 127-116 winner over Team Freedom. Brown, who is ranked No. 3 in the Class of 2015 by Rivals.com, will be visiting KU for the Oct. 10 Late Night.
No. 8-ranked Chase Jeter, who has committed to Duke, had 17 points and 15 rebounds in the Under Armour game.
Kasongo to juco: Ray Kasongo, a 6-9 former Oregon signee who recently visited KU, will play this season at College of Southern Idaho, which is a junior college, Zagsblog.com reports. Kasongo did not meet Oregon's standards of admission, though his mentor recently said he was qualified academically for a scholarship.