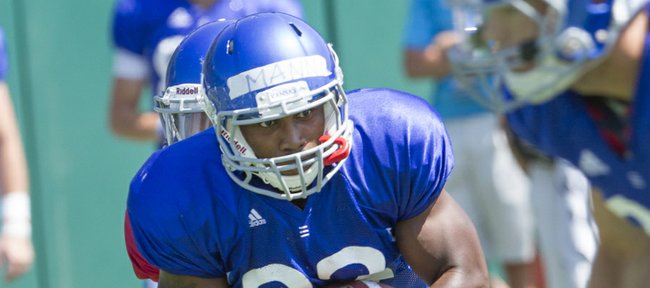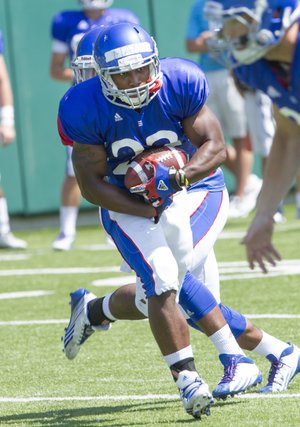 Sometimes athletes wear an assigned number. Others ask for a specific number because of what it means to them.
De'Andre Mann, either No. 1 or No. 2 on the depth chart at running back in the wake of injuries to seniors Brandon Bourbon and Taylor Cox, wears No. 23, and it has nothing to do with Michael Jordan.
"My grandma died Oct. 23rd, 2002, so that's why I wear No. 23," Mann said. "For her. I try to represent for my family, represent for Kansas."
Mann said his grandmother, "taught me what God can do for you. Monday through Sunday, she went to church. She was my Superwoman when I was a kid. She took care of all of us. Seventeen people in one household, and she took care of all of us. It's just amazing, really amazing to all of us."
It might not take Mann long to get to know all of us his teammates. He's accustomed to big families.
"I have a lot of brothers and sisters," he said. "My dad has 22 kids, six from my mom. He's a great, great, great, great, great, great dad. My mom is a great lady, too. We're a close family."
Mann rejected offers from Georgia State and his hometown University of Miami (Florida) to come to Kansas after an amazing sophomore season at Hartnell College, where he rushed for 1,706 yards and 27 touchdowns. He also caught 27 passes for 331 yards and three touchdowns.
All highlight films look great — that's why they're called highlights — but his really is something else. He'll face far tougher competition for KU, obviously, but he does have some serious make-the-tacklers-miss moves. At 5-foot-9, 195 pounds, he's not the biggest on the field. Then again, neither were the Hall of Fame backs whose highlight tapes he knows by heart.
"Two favorite running backs … Walter Payton and Barry Sanders," he said when asked to name his favorite. "I watch them every night before I go to sleep. I try to be a mixture of both. I try to do the Walter Payton high step, and when I break a guy down, I try to break him down like Barry. Walter didn't break them down like Barry, but he had the high step to slow them down so he could make cutbacks when he needed to. Barry, he could just do everything, shake you out your shoes."
Mann said he felt comfortable at Kansas right off the bat, in large part, he said, because two players took an immediate interest in helping him. Bourbon (knee) and Cox (Achilles) suffered season-ending injuries, but according to Mann, continue to offer the same help to him since the day he arrived.