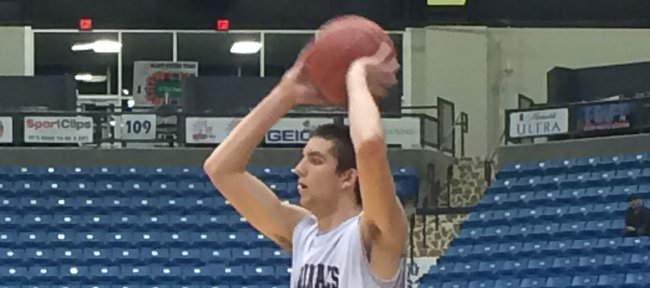 Eudora High sophomore Mitchell Ballock received hugs, high-fives and plenty of pats on the back Tuesday — the day after it was made public that he'd received a scholarship offer to play basketball at tradition-rich Kansas University.
"I got a lot of comments. Basically everybody around, everybody in my school said, 'Congratulations,' and all that," said Ballock, a 6-foot-4, 16-year-old combo guard who led the Cardinals to a Class 4A-II state title as a mere freshman and exploded on the AAU scene this past summer.
"When Kansas offered (Monday afternoon), it kind of blew up — 10 miles down the road, everybody likes Kansas. It kind of took off."
Ballock, who also has been offered by Iowa State and Creighton at this early date, admits he was "really excited" to receive an offer from 12th-year KU coach Bill Self.
"I've been a Kansas fan since I was 6, 7 years old, since I even knew what basketball was," Ballock said, adding, "I'm a KU fan. I like a lot of different teams. I just like the game (of basketball)."
Ballock, who averaged about 20 points a game last season and won the three-point shooting contest and "best shooter" award at this summer's Stephen Curry camp in California, has his favorite Jayhawks from the past.
"When I was little, I liked J.R. Giddens. I like him and Keith Langford," Ballock said. "J.R. was an above-the-rim kind of guy. Keith Langford did it all. He's still doing it all. And Brandon Rush. I like Brandon Rush."
Ballock says he's fired up about the KU offer but in no hurry to end his recruitment at this time.
"Obviously, my heart is going to be there. Overall, it's not about that. It's about where you fit the best," Ballock said. "I'm going to see how everything goes and take my visits and see. I am still young. I have a lot of time. There's no pressure to commit anywhere.
"I'm going to feel it out and decide what fits my game the best and where I'll fit playing-style-wise and the best school. I'll see how it goes."
He's not anxiously awaiting release of player rankings in his Class of 2017.
"I don't worry about any of that. I don't look at the rankings at all," Ballock said. "You know Jay Williams, who played at Duke? When I went out to Vegas last summer, he was our guest speaker. He wasn't great coming out of high school. He signed with Duke when he was an underdog. He got drafted second overall. He made something out of nothing.
"I don't care if I'm seventh, 10th, 20th, 100. I don't care if I'm ranked at all. As long as you get an opportunity to go play, just play. That's what I dream of doing. That's what I care about, to keep working to get to that (major-college) level. Once you get to that level, then you just prove you can actually play at that level."
In the eyes of KU, he has the skills to play big-time basketball, hence the scholarship offer.
"It's kind of a sigh of relief to know all the hard work is actually paying off. It is the beginning of everything. It's not going to stop now," Ballock said.
Ballock is an active Twitter user and can be found at @Mitchbballin24.
"Thanks to everyone that showed me love. It means a lot that all of you guys are by my side!" Ballock tweeted Tuesday night.
Also ... "S/o to the bro @JimmyWhitt33 on his commitment to Arkansas! Best of luck to you in your future."
KC RunGMC player Whitt has indeed committed to play ball at Arkansas. The 6-2 senior point guard from Columbia (Missouri) Hickman is ranked No. 52 in the Class of 2015. Ballock also is in the RunGMC program.