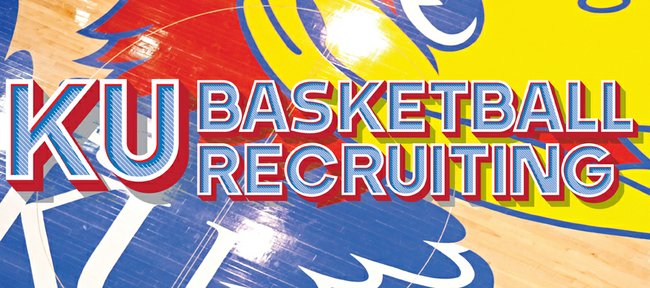 Kansas University recruiting target Stephen Zimmerman was named MVP of the Nike Global Challenge last weekend in Chicago.
Zimmerman, a 7-foot, 240-pound senior center from Las Vegas Bishop Gorman High who is ranked No. 7 nationally by Rivals.com, scored 24 points and grabbed 11 rebounds in USA East's title game victory over USA West. He averaged 17.5 points off 63 percent shooting and 11.5 rebounds in the international tournament.
Zimmerman will visit KU for the Oct. 10 Late Night in the Phog and also will visit North Carolina (Oct. 3), Kentucky (Oct. 17), UCLA (Oct. 24) and Arizona (Nov. 7).
"This was the best I have seen 'Big Zim' play this summer," wrote John Stovall of ESPN.com. "He played mostly in the paint and scored and rebounded consistently. It didn't hurt that his team went to him often offensively. The big lefty also stepped out some and showed his versatility, nailing 17-footers and making great passes from the high post. He may have had a rough summer but he finished with a bang and still has to be considered a top-10 talent in the 2015 class."
Two other KU targets — Jaylen Brown, a 6-7 senior forward from Wheeler High in Marietta, Georgia, and Malik Monk, a 6-3 junior from Bentonville (Arkansas) High — also made the all-tourney team. Brown is ranked No. 3 in the Class of 2015; Monk is No. 6 in the Class of 2016.
"Monk owns the reputation of an excellent scorer, but was most impressive when making passes," wrote Nick Medline of Zagsblog.com. "There was some selfish play in the elite tournament. Monk instead used the weekend as an opportunity to help his team.
"Brown played exactly like any No. 1 prospect would. He's capable of filling the stat sheet any game, and dominated at times. He wasn't perfect — and turned the ball over too often — but looked the part of someone special," Medline added.
Of Brown, who will visit KU for Late Night, ESPN.com's Stovall wrote: "Brown is a powerful scoring wing who has really elevated his game this summer. He is arguably the best finisher in transition in the class. He has improved his jump shot and is now a legitimate threat out to 22 feet. Brown's game is reminiscent of Stanley Johnson's (Arizona freshman this season)."
Tyler Davis, a 6-9 senior from Plano (Texas) West who will visit KU for Late Night, also played at the tourney. He's ranked No. 35 nationally.
"Tyler Davis sat out with an injury Saturday. Still, he proved his worth on Friday with an excellent performance. He's committed to defending — part of his appeal as teams search for a physical center," wrote Medline of Zagsblog.
Larry speaks: Former KU coach Larry Brown, coach at SMU, offered his opinion of the one-and-done rule to CBSsports.com last week. Brown is the only coach to have won both an NCAA title (KU) and NBA title (Detroit).
"I would hope the NBA Players Association would say that people like LeBron (James) could come out early because he's so gifted but if you stay, you stay three years. Your skill level will be greater and the chances of you going to the NBA are much greater," Brown told CBS. "You're so much closer to being able to handle all of the other outside things that go on with being in the NBA besides just playing. I don't understand why the players association won't do it because it will give the older guys a better opportunity to play and expand their careers. I don't get it."
SMU reached the finals of the NIT last postseason after being denied an at-large bit to the NCAAs.
"I want everybody in (NCAA tourney). What's the big deal?" Brown told CBSsports.com. "The NCAA always says 'in the best interest of the student athlete.' That's garbage. What does Maryland get out of being in the Big Ten? What does women's field hockey get out of playing at Iowa? How are they going to get to Iowa? It's not like basketball or football where they can charter and football is on the weekend. So I say let everybody in the tournament and play an extra weekend. Have the biggest tournament ever."
Allen tops: KU's Allen Fieldhouse was voted No. 1 college basketball arena in the country in a poll of 12 national media members by Athlon Sports. Allen received nine of 12 first-place votes.
Duke's Cameron Indoor Stadium and Butler's Hinkle Fieldhouse each received one first-place vote and placed second and third respectively. The other first went to Madison Square Garden, which hosts many St. John's games. The Garden was eighth overall.