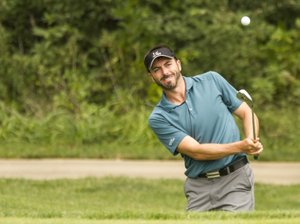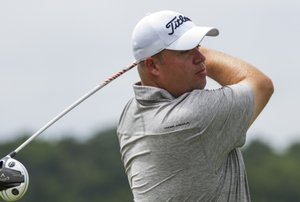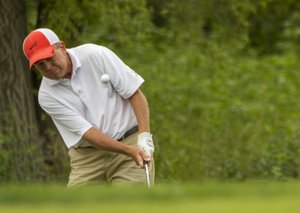 It didn't take long for Conrad Roberts to get back to his winning ways at the Lawrence Amateur Golf Association's city tournament.
Roberts took eighth place last year and was sitting in second place heading into Sunday's final round at Eagle Bend.
Yet, he showed why his name is usually atop the leaderboard in the men's championship flight as he birdied three of the last five holes to stay ahead of runner-up William Gantz and win his seventh city title since 2006. He shot a 72 on Sunday, finishing with a two-day total of 140.
Roberts, a former Kansas University golfer, hit most of his tee shots onto the fairway and rarely made mistakes in his short game. His consistent approach helped him hold at least a share of the lead for his final 15 holes.
But that didn't mean the final round didn't have any drama.
Gantz tied Roberts with a birdie on the 12th hole, while Chris Hutchens, who was also in the final group, sat one shot back.
"I knew I could score well on the back nine," said Gantz, who finished with a total of 142. "I've traditionally played it pretty well. Even though people think it's the harder nine, I've actually scored pretty well. So I knew if I was still halfway close, I could still catch him."
On the 383-yard, par-4 14th hole, Roberts drained an eight-foot birdie putt right before Gantz's six-foot birdie putt stayed straight and didn't drop into the hole.
Two holes later on the par-5 16th, Gantz and Roberts both reached the green in two shots, but Roberts' 30-foot eagle putt was just short of the hole, giving him an easy birdie, while Gantz's putt rolled several feet past the hole, and his next putt going downhill curved around the rim, forcing him to settle for par.
"The putts I made yesterday, I didn't make today," said Gantz, who shot a 66 on Saturday but a 76 on Sunday. "So that was really the difference today."
Roberts also birdied on the par-3 17th, dropping his tee shot five feet away from the pin and helping separate himself from the rest of the contenders.
Was winning a seventh title extra-special compared to the rest?
"I haven't won for a while, so this feels pretty good," said Roberts, as people joked with him about the difficulty of going a year without a title.
Though Gantz and Hutchens threatened to take the lead, Roberts showed his championship experience by staying aggressive with his shots and saving par on the 15th hole after his tee shot landed in the rough.
Gantz, who bounced back from two double bogeys on the front nine, said he needed to make a few birdies down the stretch to hold off Roberts, but his putts just refused to drop into the cup.
"I knew I was going to be the hunted today," Gantz said. "I made some kind of timid swings early, but I thought I really hit the ball well on the back nine. I just didn't make the putts, and that's kind of the key to my game."
Last year's champion, Tyler Cummins, finished third with a two-day total of 144, while Hutchens took fourth with a 145.
Other flights
Mike Grosdidier won the senior championship, shooting a total of 139 to beat Dennis Gisel by seven strokes.
Grosdidier said he was happier than normal with this year's title after undergoing shoulder surgery last October and struggling in his return to the links this summer.
"I just couldn't get it to do what I wanted it to do, and now it's finally starting to get healthy enough to do what I want it to do," Grosdidier said. "I'm real pleased with the way my game is right now. It's been good for about the last couple of weeks."
Free State High graduate Hunter Dedloff won the men's regular flight with a total of 150 to top Mike Martin by two strokes, while Galen Smith won the super senior championship with a 149.
Melanie Wilson cruised in the women's flight, finishing with a two-day total of 161 to beat runner-up Tamera Stanley by 18 strokes. Degan White won the men's senior regular flight with a 148, and Larry Folks won the two-person super senior regular flight with a 153.
Round 2 — Sunday at Eagle Bend (par 72)
Women (golfer, round 1-round 2 — total)
Melanie Wilson, 81-80 — 161; 2. Tamera Stanley, 92-87 — 179; 3. Janelle Martin, 91-90 — 181; 4. Maryse Schlenk, 96-93 — 189.
Men
Championship flight
Conrad Roberts, 68-72 — 140; 2. William Gantz, 66-76 — 142; 3. Tyler Cummins, 75-69 — 144; 4. Chris Hutchens, 72-73 — 145; 5. Michael Rack, 74-78 — 152; 6. Drew Walters, 77-77 — 154; 7. Kit Grove, 78-77 — 155; t-8. Spencer Scott, 84-75 — 159; t-8. Casey Old, 80-79 — 159; t-8. Jack Flynn, 78-81 — 159.
First flight
Hunter Dedloff, 74-76 — 150; 2. Mike Martin, 73-79 — 152; 3. Jack Junge, 76-79 — 155; 4. Shannon Ross, 80-86 — 166; t-5. Darrell Dean Frank, 85-85 — 170; t-5. Chris Shimanek, 84-86 — 170; WD. Marc Albers, 80-WD.
Second flight
Maurice Monteau, 90-77 — 167; 2. Wade Walckner, 87-84 — 171; 3. Matthew Siler, 86-86 — 172; 4. Robert Ward, 105-90 — 195; 5. Wayne Dedloff, 106-91 — 197; 6. Austin Bain, 99-101 — 200.
Senior Championship flight
Mike Grosdidier, 70-69 — 139; 2. Dennis Gisel, 72-74 — 146; 3. Ernie Swart, 71-76 — 147; t-4. Cal Alfred Froberg, 73-76 — 149; t-4. John Emerson, 71-78 — 149; 6. Van Reichert, 73-80 — 153; 7. Tom Albers, 80-85 — 165; 8. David Davison, 85-81 — 166; 9. Gary Dick, 82-85 — 167; 10. Mike Beaton, 83-86 — 169.
Senior first flight
Degan White, 76-72 — 148; 2. Phil Loomis, 79-79 — 158; 3. Ross Cummins, 80-80 — 160; 4. Richard Lyman, 80-81 — 161.
Senior second flight
Mike Hertling, 82-86 — 168; 2. Dan Heptig, 87-83 — 170; 3. Prakash Shenoy, 89-83 — 172; 4. Andrew Chen, 95-95 — 190.
Super Senior
Championship flight
Galen Smith, 77-72 — 149; 2. Stan Tiemeyer, 85-77 — 162; 3. Jimmy Hill, 83-80 — 163; 4. Dennis Novacek, 84-81 — 165.
Super Senior Regular flight
Larry Folks, 75-78 — 153; 2. Doug Houston, 82-85 — 167.