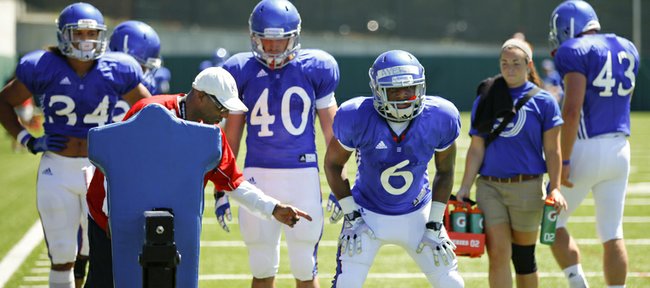 When a football team has the luxury of giving the ball to a guy like Kansas University senior receiver Tony Pierson, using the words "most exciting" to describe another player has a way of opening some eyes.
Such was the case Wednesday, when KU coach Charlie Weis touted freshman running back Corey Avery as one of the early head-turners from the first few days of preseason camp.
"Corey's probably been our most exciting guy on offense," said Weis of the 5-foot-10, 195-pound running back from Dallas' Carter High who has put on 25 pounds since signing day in February. "I wouldn't say our best guy, but our most exciting guy."
The reasons for Avery's early production are many. In addition to running low and with good balance, the explosive back has looked comfortable competing with seniors Brandon Bourbon and Taylor Cox and junior-college transfer De'Andre Mann. Weis on Wednesday called Avery a natural, instinctive runner and said the only thing he lacks is experience.
So what is it that brought that word "exciting" to the forefront?
"He makes people miss," Weis said. "That excites me. Everyone can run plays, it's the people that make 'em miss. Remember now, we're starting to hit and take 'em to the ground and he's still making 'em miss."
Weis is not the only one excited about the dimension that Avery brings to the roster.
"I think he's definitely got big upside," said senior tight end Trent Smiley between Wednesday's two-a-day practices. "And I'm excited he's on our team."
Added red-shirt freshman tight end Ben Johnson, when asked how a young player like Avery could and should handle such praise: "You take it with a grain of salt. You just keep working. It's gonna help you, but you still have to take it day by day and really focus on getting better."
That shouldn't be a problem for Avery. As much as Weis likes what he's seen so far, you can bet that the third-year KU coach will not go too far in his praise of the young running back who has yet to play a down of college football.
"Look, I'm not ready to put him in Canton," said Weis, alluding to the Ohio home of the Pro Football Hall of Fame. "So let's not go overboard. I'm just saying based off what I've seen, I've been very excited about Corey."
Olobia injured
Junior-college transfer Anthony Olobia, a 6-foot-5, 241-pound Buck injured his knee during Tuesday's practice and underwent an MRI on Wednesday. Weis said Olobia's injury was nothing dirty, just the result of him being hit by one guy and falling into another. Weis was not optimistic about the prognosis.
"I'm guessing it's not gonna be great," Weis said. "Just count on him being out indefinitely or longer."
Still waiting
Weis gave a quick update on the only two members of the most recent recruiting class who have yet to arrive in camp.
"No update on (Josh) Ehambe," said Weis of the linebacker from Prime Prep Academy in Arlington, Texas, who is awaiting word from the NCAA on the eligibility of all Prime Prep athletes. "We're right where we were last time I talked to you."
As for juco defensive end Damani Mosby, he appears to be closer to reporting.
"The professor had eight assignments she had to grade," Weis said. "He's doing well in the class and now the professor has two assignments left to grade. He can't get his degree until after the professor grades the two assignments."
Fans to vote on uniforms
Weis revealed Wednesday that KU fans will be able to select the team's opening-day uniform. Voting will take place later this month and the three choices will be unveiled at the Corinth Square kickoff event on Aug. 22.
As he's said in the past, Weis reiterated Wednesday that he has no say in nor does he care which uniforms the Jayhawks wear from week to week. Despite that stance, the KU coach said he was a fan of the new "Crimson Chrome" uniforms that were released late Tuesday night.
"I think the uniform looks really good," Weis said. "I thought the helmet looked great."
KU officials said Wednesday night that the Crimson Chrome option will not be one of the options for Week 1.
D-Line impressing
Weis said Wednesday that the guys up front on defense have had a fantastic camp so far.
"Obviously, the defensive line is the least experienced position you have," Weis began. "But they are just flying around out there and they're gonna cause us and everyone else a lot of problems. I love our team speed right now."
O-Line coming together
In the other trenches, Weis said things would start to settle down on the offensive line after Saturday's fan appreciation day practice.
"We're mixing and matching with some positions and we'll do that through this Saturday," he said. "After this Saturday we won't do that any more because next week we start a transitional part of our training camp."
With an opening-week bye and three weeks of practice remaining before the Sept. 6 opener, Weis said the first-string O-Line would have plenty of time to develop chemistry before game day.
Shaw most improved
It's early, but Weis said that sophomore safety Tevin Shaw was probably the most improved player on the roster. Shaw, a 5-11, 192-pound safety who sits behind starting strong safety Isaiah Johnson on the depth chart, is starting to turn the corner during his third year in the program.
"Tevin was that wrestler, that stiff guy," Weis said. "Really athletic, but really stiff. He's probably as physical a guy as we have, pound-for-pound, on the team. He likes contact. He plays the game vicious. The question is can you get outside the phone booth, can you make a tackle outside of this area."
So far, the answer has been yes.