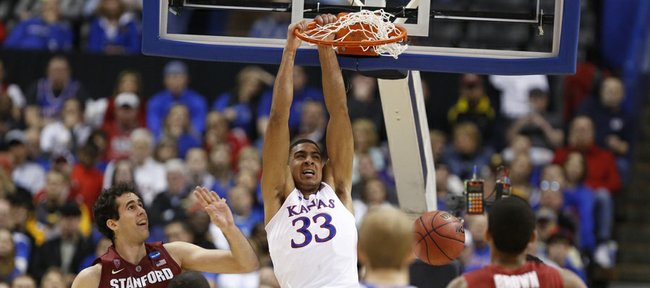 Kansas University sophomore forward Landen Lucas scored eight points and grabbed eight rebounds in Athletes in Action's 80-76 victory over Klaipeda Nafta, a Lithuanian pro team, on Saturday in Estonia.
Lucas, 6-10 from Portland, Oregon, hit four of seven shots and had one block in AIA's first game on its Baltic tour. Athletes in Action will play Qatar's national team today.
White visiting Maryland: Former KU guard Andrew White III is on a recruiting visit to the University of Maryland this weekend, White reported Saturday. The 6-foot-6 junior-to-be from Richmond, Virginia, has also visited Nebraska and Notre Dame. Maryland is coached by former KU player Mark Turgeon.
White said in a text message to the Journal-World he is "going to make a decision soon, no exact timetable though."
Lots of love for Bragg: Carlton Bragg, a 6-9 senior power forward from Villa Angela St. Joseph High in Cleveland will announce his final list of five schools on Sept. 1 with KU, Kentucky and Illinois to make the cut, Zagsblog.com reports. He's going to visit KU for the Oct. 10 Late Night in the Phog and Kentucky for the Oct. 17 Big Blue Madness.
"As far as Kansas, they think that he's one of the best skilled forwards in the nation. They love him," Bragg's mentor, Michael Graves, told Zagsblog.com. "We've been in touch with (Kentucky assistant) Kenny Payne and he just loves Carlton. Cal (John Calipari) loves him and they're just ready to get him on campus."
He's ranked No. 9 in the Class of 2015 by Rivals.com.
"He's a stretch four, he can shoot the jumper, run the floor real well, and that's what people love about him," Graves told Zagsblog. "His upside is unlimited. He's just gotta keep doing the hard work and stay hungry and humble."
Brunson decides on visits: No. 15-ranked Jalen Brunson, a 6-1 point guard from Stevenson High in Lincolnshire, Illinois, will make official visits to Illinois, Villanova, Temple, Michigan State and Purdue, Zagsblog.com reports. KU, Michigan and UConn remain on his list with unofficial visits possible.
Gooden to play for Finland?: Former KU forward Drew Gooden is planning on playing for Finland in the FIBA World Cup, the Washington Post has reported. Gooden's mom was born in Finland, making him eligible to compete for that country in the Cup, which starts Aug. 30 in Bilbao, Spain.
According to the Post, the World Cup will be Finland's first worldwide FIBA competition. Finland has competed in just two Olympics. As host, it was granted an automatic berth in 1952. Finland also competed in the 1964 Games.
The U.S.'s first Cup game is against Finland on Aug. 30. Other members of the Finnish team: Hanno Möttölä of the University of Utah who played two seasons with the Atlanta Hawks and Erik Murphy, who played for the Utah Jazz last season and was recently traded to Cleveland.
Rush coming to Sprint Center: Former KU combo guard Mario Chalmers will share top billing with another member of Kansas University's 2008 NCAA title team this year when the Miami Heat visit Kansas City's Sprint Center for their annual NBA preseason exhibition game.
Brandon Rush's Golden State Warriors will be the Oct. 17 opponent for the Heat, who sold out the Sprint Center the past four years for exhibitions, fans clamoring to see LeBron James and local hero Chalmers.
Rush, 29, who is a native of Kansas City, Missouri, recently signed a two-year deal with the Warriors, returning to the franchise for a second stint. He played for Golden State for two seasons before heading to Utah last season. He played for Indiana the first three years of his six-year career.
Magley in Canada: Former KU guard David Magley recently completed his first season as head coach and general manager of the Brampton A's of the National Basketball League of Canada. His team went 29-16 during the regular season and placed second in the nine-team league. The squad fell in the first round of the playoffs.
Prior to coaching the pro team in Ontario, Canada, Magley, 55, worked 11 years as head coach at Bradenton (Fla.) Christian High.
"Believe it or not, the pros are just like high school kids in bigger bodies. They will need to be dealt with strongly and fairly and encouraged," Magley told the Bradenton Herald.
"I learned I wasn't very good at the X's and O's, and the game was different in the pros. There is a lot of one-on-one isolation play, and I couldn't defend that based on what I did in high school. I had to go back to the drawing board and figure out how to do things."
Magley, who played at KU from 1979-82, is tied with Cedric Hunter as 52nd leading scorer in school history with 1,022 points.