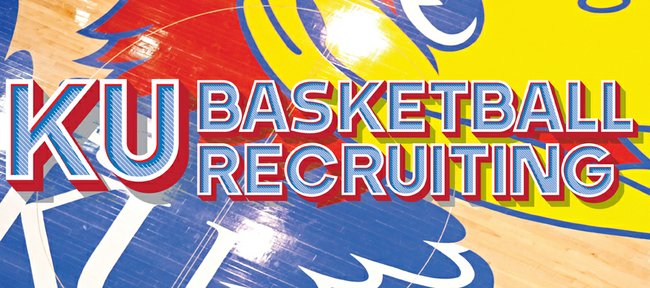 Former Oregon signee Ray Kasongo, a 6-foot-9, 235-pound unranked power forward from Canada who will visit Kansas University with his parents Friday through Sunday, as a freshman will be able to hold his own physically against top college talent.
So said his mentor, former Louisville player Brandon Bender, in a Wednesday Facebook chat with the Journal-World.
"He's super-chiseled," Bender said, also referring to the former Faith Christian School (Mesa, Arizona) standout as a "powerful dunker and physically athletic specimen."
In addition to all that ...
"If you look at Serge Ibaka's body now, that's what Ray looks like," Bender told ESPN-affiliated radio station 92.9 FM/680 AM of Memphis. "He's like Amar'e Stoudemire when he first got in the NBA. That's what he is."
Kasongo — he made a name for himself by scoring 24 points with 15 rebounds and seven blocks in a game in Las Vegas two summers ago against a team that included KU signee Cliff Alexander and Duke signee Jahlil Okafor — also is planning on visiting Memphis and California before choosing a school.
"You know, I'm pretty excited about Kansas. Kansas is a big school and they send a lot of big men to the NBA. The NBA is a big goal of mine, so I'm pretty excited to meet the coaching staff, the team and I can't wait to see what the fans are like at Kansas," Kasongo told JayhawkSlant.com. "I'm just really excited for this opportunity that I have."
As far as being denied admission to Oregon ... Bender said Kasongo will have no problems qualifying academically.
"It's totally an Oregon admissions issue," Bender told the Memphis radio station. "Every coach involved in recruiting the kid say they've never heard the story I told them (about allegedly being turned away for his grades in non-core courses). It shocked them. … The coaches at Oregon are devastated and heartbroken. Ray would've started for Oregon."
Mickelson update: Kansas University junior power forward Hunter Mickelson had one rebound, one steal and no points while playing 14 minutes in USA East Coast's 77-66 loss to Estonia in the finals of the Tallinn Cup on Wednesday in Estonia.
Lucas has big scrimmage: KU sophomore forward Landen Lucas scored 16 points and grabbed 16 rebounds in an Athletes in Action Baltic Tour team scrimmage on Wednesday. He hit eight of 12 shots and also had six steals in the 40-minute simulated game. The team will play its first game on an overseas tour on Saturday in Lithuania.
Brunson update: Jalen Brunson, a 6-1 senior point guard from Stevenson High in Lincolnshire, Illinois, tells Zagsblog.com he has set three official visit dates — to Illinois Aug. 29-31, Villanova Sept. 4-6 and Temple Sept. 11-13. He also is considering KU, Michigan, Michigan State, Purdue and UConn. He's ranked No. 15 in the Class of 2015 by Rivals.com.
More recruiting: De'Aaron Fox, a 6-3 junior point guard from Cypress Lakes High in Katy, Texas, who is ranked No. 13 in the Class of 2016 by Rivals.com, has been offered a scholarship by KU. He tells JayhawkSlant.com he's planning on visiting KU at the same time as Braxton Blackwell, a 6-7 junior forward ranked No. 33 in the Class of 2016.