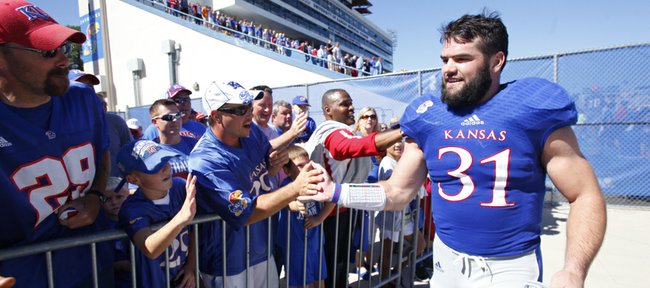 Forget the impressive statistics, relentless playing style, superhero website and preseason accolades.
Kansas University linebacker Ben Heeney isn't buying any of it.
Heeney, a senior from Hutchinson who recently was voted preseason all-Big 12 and has been the heartbeat of the KU defense for the past two seasons, does not need to hear or believe that he is one of the best players in the conference or the best on his team.
Even suggesting such things puts Heeney in the kind of mood that opposing players hate to see.
"I wouldn't consider myself the best player on our defense," he said last month at Big 12 media days in Dallas. "I would just consider myself another piece of the defense that has to be there for us to be good.
"If you consider me the best player, you're leaving out guys like Dexter McDonald, JaCorey Shepherd, all these other great playmakers on our team."
Heeney's coaches and teammates are happy to acknowledge his place as the Jayhawks' top defender. And not to boost his ego or keep the captain happy. They believe it's true and often lament the fact that the team's recent struggles — 4-20 during Heeney's two years as a starter — might have overshadowed the middle linebacker's production, which ranks among the best in the Big 12 during his career.
"I think that Ben is probably one of the more under-appreciated defensive players, if not players, in this league," KU coach Charlie Weis said. "Over the last couple of years, other than the couple of games where he was banged up, he was as good as just about any player playing on defense in our league."
Weis, who has seen dozens of elite-level linebackers during his career, said Heeney reminded him of former Miami Dolphins great Zach Thomas, a seven-time Pro Bowler who was named to the NFL's all-decade team (2000s).
"I don't think anyone we play against doesn't think Ben Heeney is a front-line player," Weis said. "I'm certainly a big fan."
Finding a suitable comparison to Heeney was more difficult for KU safety Cassius Sendish, who has been a teammate of Heeney's for just over a year and still marvels at the way he operates.
"I've never played with a linebacker like Heeney," Sendish said. "He's sideline-to-sideline, 110 percent every play."
Sendish admitted he didn't know what drove Heeney to play with such passion. He had an easier time explaining Heeney's indifference to the praise tossed his way.
"I think he realizes that the accolades aren't gonna get us where we want to go," Sendish said. "He understands that if he keeps his play up and brings everybody's play up around him, then we can do exactly what we want to do."
In broad terms, that's the unthinkable. Heeney and his senior teammates desperately want to cap their careers with a trip to a bowl game. In more immediate terms, though, what drives Heeney is rather simple.
"You either get better or you get worse," he said. "If I stop trying to get better, then what's the rest of the team gonna do? I feel like I definitely have a lot more to prove this year. I mean, we went 3-9 last year."