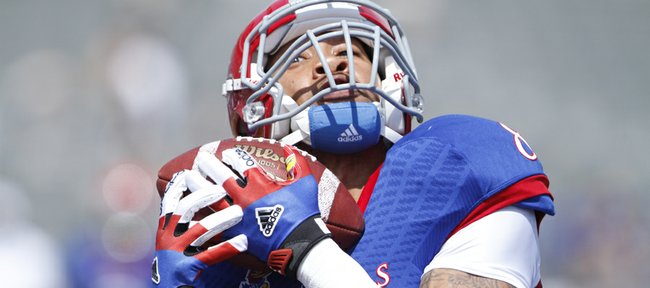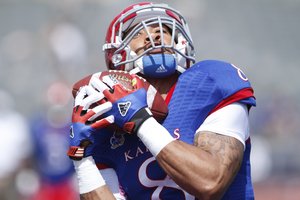 Last May, Miami (Ohio) University wide receiver Nick Harwell chose to transfer to Kansas University because the change of scenery offered him a fresh start in a familiar offense.
Today, the senior who sat out the 2013-14 season because of transfer rules finds himself starting over.
Gone is the Charlie Weis offense that made Harwell a star during his first season at Miami under former Weis assistant Mike Haywood. In to replace it is an offense drawn up by first-year offensive coordinator John Reagan, who promises to run the football and take advantage of the passing-game opportunities that come from that approach.
For a guy who has dealt with one obstacle after another during a college career that has been equal parts productive on the field and tumultuous off it, changing gears during the final spring of his career easily could have been viewed as another road block. But Harwell did not look at it that way. Instead, he embraced his new surroundings and the new offense.
"I try not to look at the future. I try to handle the right now," Harwell said. "There were thoughts about what would happen, but I wasn't too concerned with it."
A couple of factors made that the case. First, Harwell got an early look at Reagan's playbook and liked what he saw.
"His success at his last school, I had no problem with it," Harwell said of what Reagan accomplished at Rice.
Second, the 6-foot-1, 193-pound Missouri City, Texas, native has the kind of confidence you might expect from a guy who racked up 3,166 yards and 23 touchdowns on 229 receptions during three seasons at Miami.

"I feel I could play outside or inside," he said. "No matter where I play, I feel like I can do well, and I was pleased with the playbook before even drawing up X's and O's."
That was before spring drills began. In the weeks that followed, Harwell was one of the most productive players in KU's new offense and elevated the play of those around him, both through verbal leadership and by setting a good example.
"He's a natural leader," Weis said of Harwell. "You know, I'm glad we have him. He's a hard worker. He's driven. They follow him, and he jumps on everybody. And they respect him."
As for how having that kind of role again compares to waiting in the wings the way he was forced to last season, last season's scout-team offensive player of the year made it clear which he enjoyed most.
"Far more entertaining than being on scout team," he joked. "It's been fun. We're doing well as a team. I see us getting a lot better. I'm liking what I'm seeing."
He also likes what he's doing. Although he made the most of his year off — both as a student and a teammate — Harwell admitted that the pain of not being able to play on Saturdays was tough.
While his return to game day is still a few months away, the senior wideout said he had been energized by the knowledge that every step he took during the offseason put him one step closer to being back in the huddle.
"It's been a long time coming," he said. "I haven't been on the field for a game in over a year now, and I miss the game. I miss it a lot."