Photo Gallery
Downtown Shot Put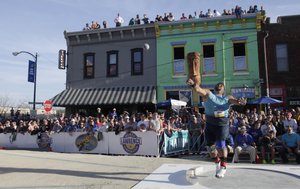 The fourth-annual Lawrence Downtown Shot Put event, Friday, April 18, 2014, showcased a world-class field of athletes on Eighth Street between New Hampshire and Mass streets.
More coverage
Christian Cantwell, who placed fourth in the shot put in the 2012 Olympics after winning silver in '08, has heard he's over the hill at the still-young age of 33.
"I was reading some stuff leading up to this. Everybody was talking about (Ryan) Whiting and (Reese) Hoffa, this and that, and they never once brought my name up. I was like, 'Damn, did I drop off the face of the earth?' It was like they forgot about me or something," an animated Cantwell said after winning Friday's downtown Lawrence shot put with a throw of 70 feet, 1 inch.
"I said, 'I can't let that happen. I've got to say hello again, introduce myself and say, "I'm not dead. I didn't die. I'm still here, still going, still got it."' I don't know how long I'll have it. It might go next week for all I know, but I had it today," he added, smiling.
Cantwell clipped 26-year-old Kurt Roberts, who threw 69-8, as well as 36-year-old defending Kansas Relays champ Hoffa, who had a toss of 68-9 1/4.
Cantwell, who is an assistant track coach at the University of Missouri, is no stranger to Lawrence. He's been competing here since his days as a high school phenom at Eldon (Mo.) High.
"I've been coming to the KU Relays since 2000," Cantwell said. "I had to miss a couple times because of injuries (but) that's a lot of years, a lot of memories. I still love it," he added of competing. "The irony is I'm probably more motivated now than I have ever been. Whenever they forget about you, write you off, count you out, that does something to you. It lit a fire under me (today). I'm going to try my best to give these guys sleepless nights, that's for sure," he added of his shot put competitors.
Cantwell's victory was his first in four tries at the downtown shot event, though he has won a batch of Relays titles as a high schooler, collegian at Missouri and as a pro.
"There are stadiums that are really cool. Zurich is a cool stadium. The stadium in Norway is cool. In terms of setting up an event where we are the deal and we are the event, it doesn't get any better," Cantwell said of the shot put, which was put on by the Lawrence Sports Corporation and drew about 2,000 fans to downtown.
"I hate to say that being from Missouri ... (but) Lawrence, KU, Bob Sanner (Lawrence Sports Corporation) they all do a great job. We are very grateful. I wish everywhere was like this, really."
Hoffa, who last year defeated former KU basketball player Kevin Young in a post-shot put Rubik's Cube competition, once again received the loudest cheers of any competitor.
"I absolutely enjoy this event. I have so much fun coming out here, seeing familiar faces every single year," said Hoffa, a graduate of the University of Georgia who won bronze at the 2012 Olympics. "It keeps growing every year, which makes me more excited."
Asked the status of his own career, he said: "Some would say I'm in the twilight. I think I have some good years in me as long as my body holds up. As long as I do events like this, it's going to be fun and keep me coming back.
"It's two years away," he added of the Rio Olympic Games. "I've got to get through '14, make it through '15 and then when '16 rolls around make a determination if I can do it."
Relays win: KU's team of Hannah Richardson, Whitney Adams, Rhavean King and Natalie Becker won the women's distance medley relay in a meet-record time of 11:31.21. KU's team of Brendan Soucie, Dominique Manley, Dalen Fink and Reid Buchanan won the men's distance medley relay in 9:59.52.