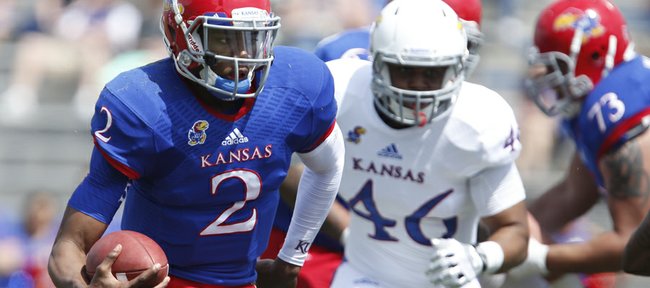 Photo Gallery
Montell Cozart officially named starting QB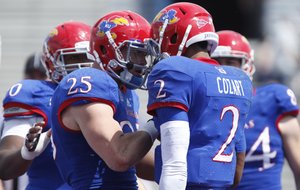 Kansas University football coach Charlie Weis announced Tuesday, a few days after the completion of spring practices, that sophomore Montell Cozart would be the team's starting quarterback.
During last Saturday's spring football game, Kansas University sophomore Montell Cozart was, by far, the best quarterback in a Kansas uniform.
Now the hope is that Cozart will be one of the best quarterbacks in the Big 12 this fall.
Thursday morning, KU coach Charlie Weis announced Cozart as the Jayhawks' starter for the 2014 season.
"After the completion of post spring ball evaluations and individual player meetings, I met with the offensive staff and we have decided to name Montell Cozart our starting quarterback," Weis said in a press release.
Cozart showed flashes of talent as a true freshman in 2013, starting three games and appearing in four more, but he lacked consistency and entered spring practice as part of a wide-open QB competition. Last year's starter, senior Jake Heaps, and UCLA transfer T.J. Millweard, a sophomore, were also in the mix.
Coaches said this spring that all of KU's quarterbacks did a nice job picking up the new offense brought in by first-year offensive coordinator John Reagan, but Cozart's growing maturity and consistency, along with his ability to make plays with his arm and legs seemed to be the difference.
In his debut season, Cozart ran for 214 yards and threw for 227 more by completing 23 of 63 passes, or 37 percent. Earlier this month, Weis noted that Cozart had completed 75 percent of his passes during spring practices. And Cozart's mobility and ability to put pressure on defenses as a runner were a clear fit for KU's new offense during last weekend's spring game, where KU's quarterbacks could be hit. Cozart had seven carries for 70 yards and two touchdowns in the scrimmage, and he completed a team-best six of 10 passes for 58 yards.
"Every day I just try to get better, just go out there and compete and gain more confidence," Cozart said earlier this spring. "That's what's going to help me in the long run. One of our mottos is 'Just get better each day.' No matter how practice went, did you get better?"
Midway through the spring, Cozart got his chance to function as the Jayhawks' unquestioned No. 1 quarterback. Coaches held out the more experienced Heaps out of significant portions of one practice to see how Cozart would respond.
"That was fun," Cozart recalled. "I went with the ones most of that day, and being able to go with those guys and get more familiar with the offensive line definitely helped me. Just gaining more confidence, that's been my biggest bump to get over. That practice definitely helped me improve the most."
Cozart made it clear that, mentally, he was ready for his second season.
"Yeah, I wish we were done with summer workouts and all that," he said with a laugh. "I wish it was September and we were getting ready to play our first game. But it's been a great process and I've definitely been able to learn and get better and I needed it."