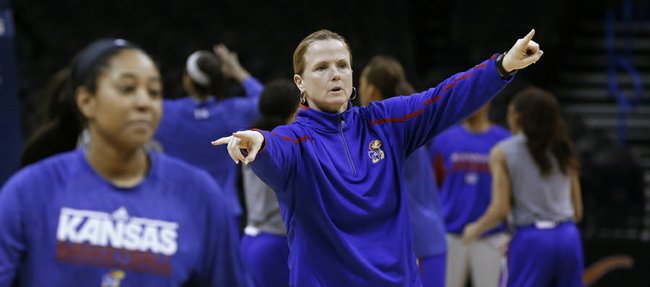 Three of Bonnie Henrickson's underclassmen have decided not to return to Kansas University next season, but the KU women's basketball coach will be back for her 11th season, determined to land her first winning conference record in Big 12 play.
Earlier this month, KU announced the transfer of sophomore Lamaria Cole, a point guard headed to Prairie View A&M;, a school closer to her hometown of Bryan, Texas. The transfers of twins Dakota and Dylan Gonzalez of Pocatello, Idaho, have not been announced, but Henrickson confirmed it Tuesday, saying, "Is that where it's headed? Yes, that's where we're headed."
The latest defections do not have athletic director Sheahon Zenger contemplating making a change.
"No," Zenger said. "Bonnie will be back next year."
After Angel Goodrich-led squads made back-to-back Sweet 16 appearances, Zenger rewarded Henrickson with a five-year contract that pays Henrickson $505,000 per year through 2018. Should Zenger decide at some point during the term of that contract to bring in a new coach, it would cost the athletic department far less money than it would have under Henrickson's previous deal. The new contract, started in the 2013-2014 season, nullified the last year of Henrickson's previous contract, which had been set to expire at the end of that year. Her current contract includes a clause that requires KU to pay a one-time buyout of $395,000 should Henrickson be fired without cause.
The coach and AD typically meet at the end of every school year to discuss the state of the program and goals for improvement, and the retention rate of student-athletes always is discussed, both parties said.
During those conversations, Zenger said, "Our focus is not on nonconference play. It's on in-conference play and postseason play, and Bonnie has had two outstanding seasons with regard to postseason play, and we're both working toward making sure that that continues in the future and that our conference play improves."
Henrickson and Zenger said having a women's basketball team with a winning Big 12 record at Kansas is a realistic expectation, and Henrickson listed her relationship with Zenger as one of the factors that makes her optimistic about the future of the program.
"I'm excited that we can have such candid, open, honest conversations," Henrickson said. "His wisdom in what we're trying to do and his ability to look at the big picture has been unbelievably supportive."
Henrickson and Zenger clearly have talked a lot through the years about transfers because their answers to questions about the latest news could not have been more in lockstep if they had rehearsed them: It's always disappointing. Sometimes it's best for the student-athlete, sometimes it's best for the program, sometimes it's best for both, etc.
None of the three transfers appeared to figure prominently in Henrickson's plans for next season. Three double-figures scorers return: Forward Chelsea Gardner (17.1 points per game) and wings Asia Boyd (11.0) and Natalie Knight (10.6).
Two of the three high school recruits who signed in the fall are point guards, including Terriell Bradley, ranked as the 11th-best point guard by Collegiate Basketball Report and the 21st-best recruit by ProspectsNation.com. Henrickson also has been evaluating point-guard prospects from the junior-college ranks.
She said that the back-to-back Sweet 16 appearances "absolutely" have enabled her to upgrade the caliber of recruits she lands.
Asked if she thought she feels she is on the hot seat, Henrickson said, "Nobody puts more pressure on myself than I do, but from all the conversations we have had, I never have felt that I am, to use your words, 'on the hot seat,' no."