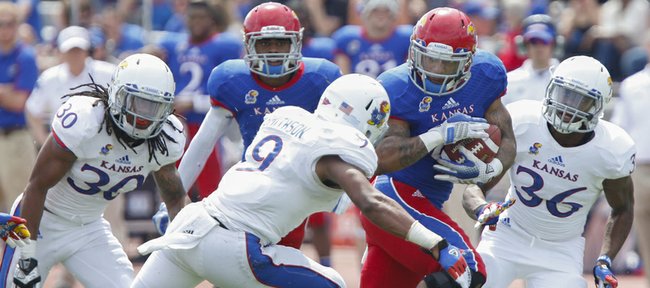 Even if he was disappointed in the way things played out during the first half of Saturday's spring football game, Kansas University quarterback Montell Cozart was not surprised by the first-team offense's slow start during the blue team's 20-10 victory over the second-string white squad at Memorial Stadium.
Nor was he worried about what that might mean for the Jayhawks' immediate future.
"It's been like that all spring, coming out slow," said the 6-foot-2, 195-pound Cozart, a sophomore who is vying to become KU's starting quarterback. "Then we start to get a feel, and that's when we start to pick things up. It's been like that all spring, but we've been getting more confident with each other and this new offense, and I think we showed that in the spring game."
After Cozart and senior Jake Heaps led the first-string offense to just 53 yards on 20 plays during the game's opening half, they racked up 274 yards on 31 plays in the second half. It was a clear sign — perhaps even a necessary reminder — that while expectations are high because of the existence of a new offense and the host of weapons with which first-year offensive coordinator John Reagan has to work, the Jayhawks have had the current version of the playbook in their lockers for just five weeks.
And in it are new terminology, new protections, new routes, even a few new faces.
"I'm generally pleased with how much they've picked up," KU coach Charlie Weis said Saturday after breaking down the highs and lows of another spring game.
Perhaps the most important thing to come out of this year's spring game had nothing to do with the final statistics (some good and some bad), sluggish start by the first unit or spirited effort by the reserves.
Instead, the final act of the spring, often referred to as a glorified scrimmage by many coaches, gave plenty of Jayhawks we've only heard about a chance to demonstrate the areas in which they have improved. No one stood out more in that area than Cozart, who might have vaulted himself into the lead in the quarterback race with 6-of-10 passing for 58 yards and 70 rushing yards and two touchdowns on seven carries.
But several other players, familiar faces who have yet to produce consistently, also had solid days. Sophomore nickel back Greg Allen looked good with the white team and the blue team. Senior wide receivers Justin McCay and Andrew Turzilli had nice days. And just about every Jayhawk who carried the ball ran hard and racked up yards for KU's still-stacked running back corps.
Many position battles will rage on into the summer.
"There's those types of questions," Weis said of the competitions at specific positions. "And then it's how fast and how much of the offense are the players going to be able to handle right off the bat when we get ready to go?"
Fall camp opens in roughly 31⁄2 months, and the season kicks off 146 days from today.
That's how much time the Jayhawks still have to piece things together, and that's what made the results of a four-quarter, 15-minute, running-clock scrimmage much easier to swallow.
"It's going well," Cozart said. "We're all coming together. We're just all going with the process."