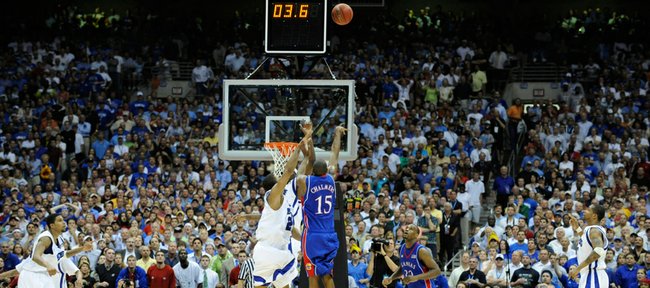 The play that resulted in Mario Chalmers' overtime-inducing three-point basket in Kansas University's 2008 NCAA title-game victory over Memphis now is referred to as "America's Play."
ESPN announcer Fran Fraschilla devised that term for KU coach Bill Self's "Chop" play — one that was featured on Monday in a story at Deadspin.com.
Deadspin pointed out that coaches all over the country have been using Chop as their go-to play when a three is needed and time is running down. Deadspin cited Creighton, Syracuse, Wichita State, Oklahoma State and Kentucky as some of the teams that have used Chop in recent memory.
"It has a hallowed place in college basketball's virtual playbook," Fraschilla said, as quoted by Deadspin.
In case one has forgotten the most effective Chop play ever ... Sherron Collins dribbled down-court, headed to the right of the key and flipped over to Chalmers who cashed the game-tying shot up top vs. Memphis.
"We made it up," Self told the Journal-World Monday, asked about the creation of the play.
"It was in 2006 or '07. We were trying to figure out as many options as we could to score on a play to give us as many three-point options as possible. That's what we came up with. I remember the first day we put it in. I'm like, 'Well, gawd-dang, this works,'" Self added.
Asked about the play showing up in game plans all over the land, Self said: "I haven't heard what anybody is calling it or anything like that. I would think a lot of people run some form of it, yes."
Asked why it was named "Chop," Self said: "You could say we did it for the Kansas City Chiefs (tomahawk chop)."
Seriously ... "We make our calls (signals) above our shoulder. We were running out of calls. It was the one thing left. We said, 'Give the chop sign,'" Self said.
For an in-depth look at KU's Chop play, read the Deadspin story here.
No announcement yet: KU freshman center Joel Embiid has not yet announced whether he will return to KU or declare for the 2014 NBA Draft.
"When Jo feels comfortable, he'll give an answer," Self said, offering no immediate timetable.
Yahoo Sports' lead NBA writer, Adrian Wojnarowski, reported on March 27 that sources indicated Embiid would be entering his name in the 2014 Draft. Four days later, Self said Embiid had not made up his mind. Wojnarowski has not backed off his story.
If Embiid does declare for the draft, there is one elite high school big man prospect still available. Myles Turner, 6-11 from Trinity High in Euless, Texas, is considering KU, Texas, Oklahoma State and others. Rivals.com's No. 6-rated player said he hopes to announce a decision date shortly after the Jordan Brand Classic on April 18 in Brooklyn, N.Y.
Henry surgeries set: Former KU guard Xavier Henry of the Los Angeles Lakers will undergo a pair of surgeries Friday to repair wrist and knee injuries, the Los Angeles Times reported Monday. Dr. Steven Shin will repair the torn ligament in Henry's left wrist, and Dr. Steve Lombardo will perform arthroscopic surgery on the right knee, the paper indicated, giving no timetable on recovery time.
Henry averaged 10 points in 21 minutes per game this past season. A free agent in July, Henry tells the Times he wants to return to the Lakers. This was his breakout season after playing sparingly in Memphis and New Orleans his first three years in the league.
This, that: College basketball coaches are allowed to hit the road this weekend in pursuit of players in the recruiting Class of 2015. ... KU's basketball banquet is a week from tonight. ... Self will hold a two-day KC-area youth basketball camp for boys and girls grades 1-12 on Aug. 2 and 3 at Shawnee Mission West. For information go to BillSelfCamp.com.