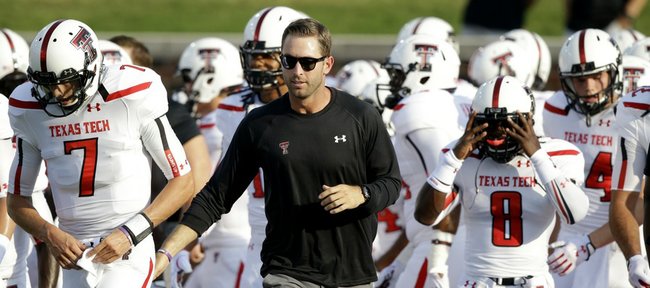 In April of 2003, the New England Patriots made 6-foot-3, 213-pound gunslinger Kliff Kingsbury, of Texas Tech University, the 201st overall pick in the sixth round of the NFL Draft.
More than 10 years later, it turns out all of the film that then-Patriots offensive coordinator and current Kansas University head coach Charlie Weis watched of Kingsbury back then could be huge for the Jayhawks (2-1) as they open Big 12 play Saturday with Weis' former pupil wearing the head coach's headset on Memorial Stadium's east sideline.
Kingsbury, 34, was hired during the offseason to replace Tommy Tuberville, the second coach in four years to quit or be fired by the Red Raiders. While the turnover could make preparing for Tech a nightmare, it has had the opposite impact for Weis, who spent part of KU's off week reviewing Kingsbury's 4-0 start with his alma mater.
"Offensively, I go back more to when Kliff was playing for (Mike) Leach," Weis said. "That's what I'm looking at now. I was there with New England when we drafted Kliff, and that's the offense that I'm seeing. That's what Kliff knows, and that's what Kliff's doing."
Leach's famed "air raid offense" — in addition to constantly cultivating quarterbacks who put up astronomical numbers — focused on quick passes that took pressure off of the offensive line and quarterback and put opposing defenders on their heels. Through four games under Kingsbury, Texas Tech has returned to that, with the 20th-ranked Red Raiders averaging 39 points and 520 yards of offense per game despite entrusting virtual no-names Baker Mayfield and Davis Webb to do Kingsbury's old job in the offense.
"They're scoring points, they're playing aggressive on defense, and they're sitting there at 4-0 figuring that the sky's the limit right now," Weis said of this week's opponent. "I've known Kliff a long time. He's a confident person, and his team is playing with his type of confidence."
Seventy-nine percent of Tech's total offense (1,634 of 2,080 yards) this season has come through the air, something that did not surprise Weis because of his memories of the TTU offense led by Kingsbury the quarterback.
"One thing that I was intrigued about back when he was playing at Texas Tech is that they never called a run," Weis recalled last summer. "The entire year, they didn't call a run. Every play was a pass that you could check to a run. I had never heard of that before."
Although the two will be adversaries this week, Weis remains wildly fond of Kingsbury.
"He's always been one of my favorite people," Weis said. "Kliff was a pleasure to be around (at New England). He obviously had some guys ahead of him that are Hall of Fame-type people that he was behind, but I can tell you that he was a pleasure to be around, and he was a sponge. Him having early success in his coaching career has come as no great surprise to me."
Kingsbury was equally complimentary about his former Patriots coach during his meeting with the media Monday.
"The first thing that jumps out is his work ethic," said Kingsbury, asked what he remembered about playing for Weis. "He'd spend the night up at the office and was up there at all hours. Obviously, a great quarterback mentor having worked with Tom Brady, always had great game plans. I thought he was one of the best game planners I've ever been around on a week-to-week basis. Learned a lot of X's and O's, and it was a really positive experience up there."
Combs finds new home
Former KU defensive tackle Marquel Combs, who last week received his release from KU after deciding to transfer, has joined the Southeastern Louisiana University program, coach Ron Roberts announced Monday.
Combs, a junior who was the No. 1-ranked junior-college player in the class of 2013 according to ESPN.com, did not play in KU's first three games this season and is eligible to play immediately at the FCS school.
"We are very excited to have someone of Marquel's talents become a Lion," Roberts said in a release. "In addition to his athletic abilities, he's a high-character young man who is going to be an asset to our program on and off the field."
SLU is 2-2 this season, with losses to TCU and South Dakota State.
No new injuries
The Jayhawks seem to have emerged unharmed from a physical bye week that featured a Thursday scrimmage in which even KU's quarterbacks were live and free to be hit. Weis said only running back Taylor Cox (hamstring) and wide receiver Tre' Parmalee (appendectomy) were listed on the team's injury report heading into preparation for Texas Tech.
There was no word yet whether either player has a chance to play this weekend against the Red Raiders, but the Jayhawks appear to be in good shape everywhere else.
"I think the team got some chance to rest and, in addition, we covered the country in recruiting," said Weis, asked to name the most important thing KU accomplished last week. "There were a lot of things we got done, but now (we're) ready for nine weeks in a row of Big 12 action, and we're really looking forward to the Big 12 opener this week."
Early start no sweat
For the second week in a row, KU will kick off before the clock strikes noon. Although the early start — 11 a.m. Saturday at Memorial Stadium — brings different challenges for both sides, Weis said it did not create a clear advantage for either team.
"You just gotta get the body clocks used to whatever time you're given," Weis said. "We just played our last one at 11 so at least the players are used to that routine."
KU-TCU set for 11 a.m.
Big 12 Conference officials announced Monday morning that KU's Oct. 12 contest at TCU would kick off at 11 a.m. and would be televised on FSN.
Receiver chooses KU
Bobby Hartzog, a 5-11, 182-pound wide receiver from Houston, orally committed to the Jayhawks last weekend.
A senior at Westside High, Hartzog chose KU over offers from Utah, Houston and Iowa State. He is scheduled to make his official visit to Lawrence Oct. 18, the weekend of the Oklahoma game.
Last spring, Hartzog, who leads his prep district with 506 receiving yards and six touchdowns, committed to Utah and Houston before opening his recruiting back up. He told Jon Kirby of JayhawkSlant.com that his commitment to KU was solid.
"It is definitely a relief for me because now I don't feel like I will have to do too much," Hartzog told Kirby. "I can just relax and play football. Now I can and just enjoy my senior year. It feels better to know where I am going."