Sunday, September 29, 2013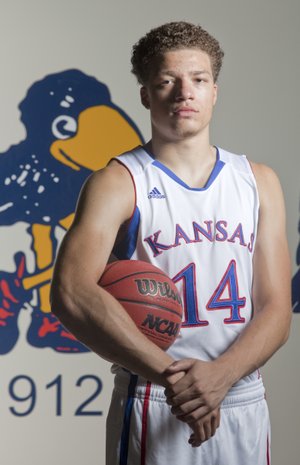 One of the best things about playing basketball at Kansas University, Brannen Greene says, is the camaraderie of a close-knit team.
"We all get along great," said Greene, a 6-foot-7 freshman shooting guard from Juliette, Ga. "There aren't any grudges on the team. Nobody dislikes anybody. There are all positive vibes everywhere."
Those good vibrations were evident at last week's Media Day ...
• when freshman center Joel Embiid praised senior power forward Tarik Black for sharing his expertise;
• when freshman point guard Frank Mason singled out junior Naadir Tharpe for showing him the ropes;
• when freshman sharpshooters Greene and Conner Frankamp kidded about their one-on-one three-point shooting competitions held before and after practice.
"We have them all the time," Greene said. "I beat him sometimes. He beats me sometimes. It all depends. He's definitely the best shooter I've gone against. Hopefully he'll say the same about me."
Noted Frankamp: "It's good fun. It helps me a lot having somebody to shoot with. He's a great shooter. I think shooting behind the arc, we're similar. He's taller and longer. He's good as well off the dribble. I think we're both great shooters all around."
Greene averaged 27 points, 9.0 rebounds and 6.0 assists a game last year for Tift County High School (26-5). Frankamp, 6-foot from Wichita North, went for 31.1 points and 3.8 assists per contest for North (20-3).
"I think I'm a versatile scorer, but primarily a shooter," Greene said.
"I shot a pretty good percentage in high school. I think I was 52 percent from the three-point line," Frankamp noted. "I was pretty accurate in high school. I have to bring it to this level as well."
KU coach Bill Self especially enjoys watching Frankamp and Greene the days they are on fire from long range.
"He's big. He's 6-7 with great range and vision and good ball skills," Self said of Greene. "He's got to tighten a lot of things up. In any other recruiting class, he would be a headliner. He's a good player."
Of Frankamp, Self said: "If there is somebody that can shoot better, I would like to see it because he can shoot it maybe as well as anyone we have had here. The one thing with Conner is, he is a shooter and a scorer, but probably a shooter before a scorer. With that you get to the college level and you have bigger guys closing out at you, and the game's a little faster. You need to learn to get your shot off a little faster, and sometimes you see guys really labor to shoot the ball with the same consistency they did in high school. And that, to me, won't be a concern because he will have the green light with us, is what I would say he has to grow through."
The Wichitan has a shooter's mentality.
"At the college level, guys are longer and tougher. I have to knock down open shots, not miss many open shots," Frankamp said. "I feel I can knock down a lot of open shots."
Frankamp finished his high school career with 2,275 points, passing current Jayhawk Perry Ellis (2,231) as top scorer in Wichita City League history.
"He (Ellis) doesn't talk to me much about the scoring record, but we talk every once in a while. It helps having him around. I can ask him anything. He's always there to talk to me and help me," Frankamp stated, giving another example of KU camaraderie.
"He hasn't brought it up yet. I'm sure he might," Ellis said with a smile, hinting he might have a nice comeback awaiting Frankamp, such as total state championships. "It's great to have Conner with me (after) playing against each other three years. I'm just excited having him on the team. He's excited to be here, too."