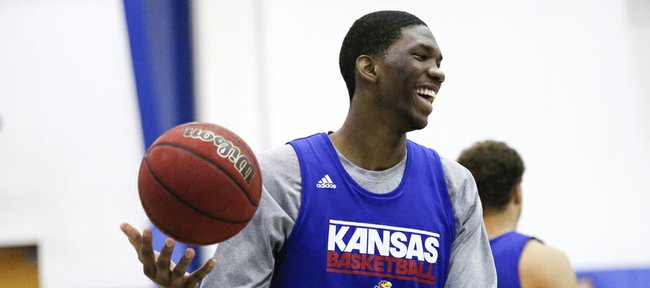 Photo Gallery
Kansas basketball Media Day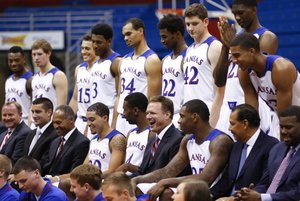 Images from Media Day with the Kansas men's basketball team.
It seems a strange thought on a roster that includes Andrew Wiggins, but the player on this year's Kansas University basketball team with the highest ceiling just might be the guy whose head comes closest to the ceiling.
Joel Embiid, native of the African country of Cameroon, has the least experience playing basketball of anyone in the Kansas program in recent memory, but for reasons that extend beyond his 7-foot stature, he was born to play basketball, the third sport he got around to trying.
I asked Bill Self if there is anything athletically or basketball skill-wise that Embiid is better at than any big man he has coached in his previous 10 years at Kansas.
"He's got the best feet," Self answered without hesitation. "When you guys watch Joel play, you'll say he's got unbelievable feet. He's like a 6-footer, the things he can do with his feet."
Then Self dropped a name that made everyone in the room sit up and lean forward.
"He kind of reminds me a little bit of (Hakeem) Olajuwon early in his career," Self said. "I'm not saying he's Olajuwon. I'm not saying that at all. But you know, some similarities when he was real raw when he was young, but always had great feet, light on his feet. I think Joel's the same way."
Embiid picked up basketball at the age of 16, long after he had shown his extraordinary grace and speed on soccer pitches and volleyball courts in Yaounde, Cameroon. Initially, Embiid might have more moments where that inexperience shows than early Olajuwon moments, but the mere mention of that name triggers dreams of a very bright future.
"He's got a long way to go from a strength standpoint and a toughness standpoint to be able to play a ton of minutes his rookie season," Self cautioned, "but he can do some things and move in a way that very few big guys we've had have moved."
Embiid said that he first picked up a basketball at the age of 12, but until he turned 16 he said the majority of the rare instances he shot at a hoop, he was not holding a basketball.
"Sometimes when we were practicing volleyball we had rims so I would take the volleyball and just start shooting," Embiid said. "I never played basketball until I was 16."
It was then, Embiid said, that his first basketball coach in Cameroon — he identified him as "coach Moudio" — gave him a highlight tape of a player that the 7-footer said he still watches, "almost every day." Interestingly, it's a tape of Olajuwon, who also came to basketball late after playing soccer.
"I want to learn everything he does, how he moves, everything," Embiid said of the Nigerian nicknamed "The Dream."
Embiid said his father thought it was a better idea to continue playing volleyball than to pick up basketball. Embiid said his father's brother, who had played basketball, convinced him that his son was well suited for the sport.
Embiid attended the academy at which the coach gave him the Olajuwon tape in February 2011, then caught the eye of former UCLA player Luc Richard Mbah a Moute at camp six months later.
The following fall, Embiid moved without his family to Florida and enrolled in the Montverde Academy, described on its website as "an international, coeducational, independent college preparatory school." He said he moved for academic reasons, but the school also is a basketball powerhouse, and the coach told him he had a bright future.
"Every time in practice I was guarding (Kentucky freshman) Dakari Johnson," Embiid said. "That's how I got better, playing other good players. It made me better. That's why Kansas is the best place for me because we have players like Perry (Ellis), Landen (Lucas), Jamari (Traylor), Tarik (Black). All those bigs, I get to play against them every day, so I will get better."
In order to apply in games what he learned against Johnson in practice, Embiid transferred to The Rock School in Gainesville, Fla., for his senior season and averaged 13.0 points, 9.7 rebounds and 1.9 blocked shots to lead the school to its first state title.
Self called Embiid the "most talented" big man he has had at Kansas. That doesn't mean he's anywhere near the best yet, but it does mean the fast, 250-pound center who has gained 15 pounds since coming to Kansas has a ceiling too high to see at the moment.