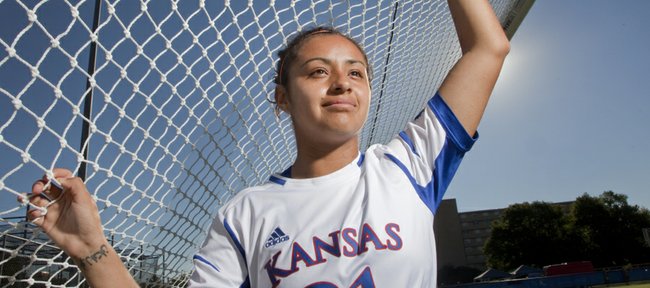 It was the summer of 2012, and Liana Salazar sat in Kansas University soccer coach Mark Francis' office, finding it hard to look away from the future that awaited her.
The Colombia native, recently finished with her freshman year at KU, had just learned that she would not be eligible to play in the upcoming season. The NCAA had denied Salazar an academic waiver — one that in previous cases had been granted to KU's international students who, like Salazar, needed to focus solely on English language classes in their first semesters of college. Salazar's path to ensured eligibility, without the need for another waiver, was written up on Francis' chalkboard.
Salazar needed to take 51 credit hours over the next 12 months — in essence two full years of classwork in one.
Francis knew it was a commitment some athletes wouldn't be able to make. Phil Lowcock, KU's coordinator for international student-athlete support, had done the math and told Salazar to think about it for the night.
Salazar showed up to his office early the next day.
"I'm all in. I'm ready," she said. "I want to do it."
A grueling schedule
The worst part was the psychology class.
After completing 15 hours last fall, Salazar enrolled in an online course through a junior college during the first week of winter break — one that would only last a week.
Tests for the class were on Monday, Wednesday and Friday, while the papers were due on Tuesday and Thursday.
For those five days, Salazar had her head in her psychology book from the morning hours until 11 or 12 at night.
"I remember when I got back home (to Colombia), I told my mom that my brain hurt," Salazar said. "It was because I had read so much that my brain was so tired."
The craziness was all part of the class cramming needed to get Salazar back on schedule academically.
After starting with the 15 hours in the fall — and the psychology class that wasn't covered by her scholarship — she added on 17 more hours in the spring, plus three more juco hours out of her own pocket.
The challenge was more than a beefed-up schedule, though.
Salazar, who has competed for the Colombian national team in both the World Cup and Olympics, started her fall semester without full fluency in English after growing up in Spanish-speaking Bogota; she actually completed her final Applied English class at KU during the fall of 2012.
Every task required additional time. Salazar would go over reading assignments three or four times to take in all the information. When scheduled with tutors, she'd constantly ask about certain phrases and words to make sure she understood correctly.
And every writing assignment was a process. Salazar would first write something and give it to her tutor, who would help her organize her thoughts and talk her through grammar mistakes. Salazar would follow with a second draft, then a third and sometimes a fourth.
Each paper she wrote ended up taking about 20 hours.
Persistence pays off
Salazar's biggest supporter remained a few thousand miles away.
There were many times she'd video chat with her mother, Mireya, to tell her she was tired and ready to come home.
Mireya's message was always the same: "Keep working. You'll see the results pay off next year."
It didn't help that Salazar was able to practice but not play, and she also was left in Lawrence when the team traveled to away games.
"The fact that she was told, 'You're not going to be eligible while you have to do all those hours,' that would crush a lot of students," Lowcock said. "She was able to find a way to keep a smile on her face and keep plugging."
That persistence was needed for her most challenging months.
Salazar signed up for 13 credit hours this past summer — the equivalent of taking 26 credit hours in a fall or spring semester.
After taking a class in the morning, Salazar would work out with her team, then immediately head back to KU for tutoring. She remembers telling teammate Haley Yearout, with some seriousness, that she was going to die.
Yearout, along with other teammates, did their best to offer encouragement. Francis would hold his fingers an inch apart when he saw Salazar, reminding her just how close she was to being finished.
Finally, in mid-August, Lowcock made his way to the KU practice field, where Salazar had just finished a shooting drill.
The grade for her final class — a direct study focused on how international students' lives are changed when they come to the United States — had just been posted.
Salazar had received an A.
The midfielder grabbed Yearout to give her a hug, then a few seconds later broke down in front of her teammates on the practice field.
The official paperwork came the day before KU's first game. Salazar received an email from the compliance office, congratulating her on being added to the team's participation list.
Not only had Salazar become eligible, she'd also gained acceptance to the business school and had earned a spot on the KU Athletic Director's Honor Roll.
"In my 20 years," Lowcock said, "I have never seen a more committed effort by any student."
Standout on the field
Francis has high expectations for Salazar, who stands out not only because of her crafty dribbling but also her imagination, which allows her to find teammates who might not even know they're open.
"She's a dynamic player," Francis said. "She's definitely going to make us better offensively."
An example came last week. After receiving a cross from teammate Caroline Kastor, Salazar powered up her right leg, rifling the ball into the left side of the net past the Illinois State goalkeeper.
The goal was Salazar's second of her sophomore season — the first that wasn't a penalty kick — and she immediately dropped to her knees to celebrate, pointing both index fingers to the sky.
Her mother was right. The hard work was worth it.
"Now I'm playing," Salazar said, "and I don't regret a thing."