Saturday, September 21, 2013
Photo Gallery
KU football v. Louisiana Tech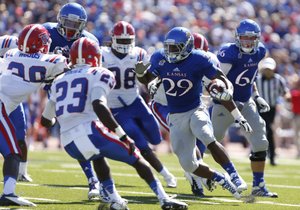 Images from Saturday's game against Louisiana Tech at Memorial Stadium.
Podcast episode
Kansas football coach Charlie Weis talks after 13-10 win over LA Tech on Sept. 21, 2013.
Box score
He may have started the game on the bench, but Kansas University junior tight end Jimmay Mundine was on the field when it mattered most. In fact, if not for Mundine's strong showing during Saturday's 13-10 victory over Louisiana Tech, the Jayhawks may have fallen to 1-2 instead of moving to 2-1.
Benched earlier in the week because of back-to-back games in which he let dropped passes get the better of him, Mundine bounced back with a good game that included two receptions and a touchdown. On the touchdown, a 22-yard rumble early in the fourth quarter, Mundine ran untouched for the first 12 yards and then worked some magic along the KU sideline to get into the end zone. A monster block from Christian Matthews — he also came up with a key third-down reception on the drive — helped pave the path that put the smile back on Mundine's face.
"It was good for Jimmay," KU coach Charlie Weis said. "It was good for his confidence. I was happy to see that for him. I was happy for all of us, but I was certainly happy for him."
Added KU quarterback Jake Heaps, who finished 28-for-46 passing for 279 yards: "Jimmay is a great player and that hasn't changed. But for him to be able to make plays like that, for the team and himself, it just goes to show that he's a leader on this team. No one was gonna bring him down on that play, and I was so happy for him in that moment and happy for our team."
Touchback huge
Weis has been pretty outspoken about his fondness for the touchbacks that have come off the foot of kickoff specialist Trevor Pardula so far this season.
But the KU coach may have a new favorite.
Early in the fourth quarter, on Louisiana Tech's first play after a Jake Heaps interception put the Jayhawks in a tough spot, LTU quarterback Ryan Higgins ran untouched 27 yards toward the KU end zone. As Higgins crept closer to a score that would have put the Bulldogs up 17-3 with 12 minutes to play, he was forced out of bounds at the 2-yard line and lost control of the ball. Officials initially ruled that Higgins stepped out before losing possession, but replay showed that he coughed the ball up before stepping out and because it went out of the end zone, the ball was given to Kansas at the 20-yard line. Eight plays and 80 yards later, KU tied the game.
"That play was the turning point in the game," Weis said.
Added junior defensive tackle Keon Stowers: "That was a play from God."
Punting perfection
Junior punter Trevor Pardula likely would have garnered some MVP votes had ballots been passed out following Saturday's game.
The junior-college transfer kept his strong season going with a school-record 57.6-yard average on five punts.
On back-to-back boots in the second half, Pardula rocked a 78-yard punt (tied for 8th longest in school history) and a 65-yard punt, both of which were downed inside the 10 to keep LA Tech's offense backed up in its own territory.
"Trevor Pardula did a great job," Weis said. "He flipped the field multiple times for us and that was big. Obviously, our specialists came up huge for us."
O-Line musical chairs
KU used eight different offensive linemen during Saturday's victory, partly because of a change in the depth chart and partly because guys kept getting beat up as the day went on. Dylan Admire (center) and Riley Spencer (right tackle) made their first starts of the season, joining left tackle Aslam Sterling, left guard Ngalu Fusimalohi and right guard Mike Smithburg. Zach Fondal, Pat Lewandowski and Damon Martin all played as well.
This and that ...
The Jayhawks lost Saturday's opening coin toss for the third week in a row and Louisiana Tech chose to defer its choice to the second half. ... KU elected to receive. ...Saturday's victory marked the first time since a 24-21 victory over Iowa State in 2005 that the Jayhawks won on the game's final play. ... Matthew Wyman's 52-yard game winning field goal was KU's first from 50 yards or more since 2009, when Jacob Branstetter hit a 57-yarder against Oklahoma. ... Junior nickel back Victor Simmons teamed with junior linebacker Ben Heeney to lead the Jayhawks with 10 tackles. He also recorded his first career sack. ... Heeney, meanwhile, picked up his first career interception. ... Temperature at kickoff was 64 degrees, under sunny skies with winds of 3 mph out of the northeast.