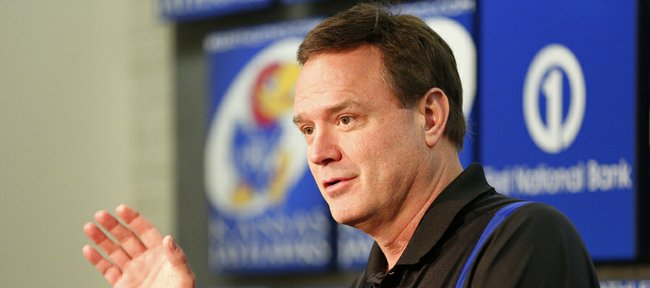 Post-Boot Camp photo
Kansas University's one-week version of basketball Boot Camp ended about 7 this morning in the Jayhawks' practice facility.
"The guys did great. I mean really good. It's probably as good a group as we've ever had," KU coach Bill Self assessed after all of his players made their times during their 30 "suicide sprints" — that is, running halfcourt and back, 3/4 court and back and fullcourt and back.
"Everybody made it. I was very pleased and impressed with how hard they worked and how hard they went all week," Self added.
Self, KU's 11th-year coach, quickly said "all of them," when asked which players stood out during Monday-to-Friday conditioning workouts from 6 to 7 a.m. Junior Naadir Tharpe actually ran 36 suicide sprints this morning because as point guard/team leader he was asked to help lead two groups of players.
"The new guys did great. Everybody did well. I was pleased with them all. I would say the most consistent guy we had all week was probably Andrew White. I thought Naadir Tharpe was really good. Of course, Tarik Black. I would say to me, those may be the ones who stood out the most, but they all did good.
"They all helped each other out. Today got a little long and tough for them. They pulled it back together and helped each other. I thought it was a pretty good team building experience."
Boot Camp at KU normally encompasses two weeks, but Self held just one week this year because of the early start to practice. Teams can begin a week from today in accordance with NCAA rules, instead of Friday closest to Oct. 15 of past years.
"I think the guys caught a break with it being one week," Self said, "but I don't think two weeks would have been smart. I will say this. It was good, but it was harder this year than what it has been in other years."
The players will hold individual workouts next week and play unsupervised pick-up games next week while taking a break from heavy conditioning, Self said. Late Night in the Phog is Oct. 4.