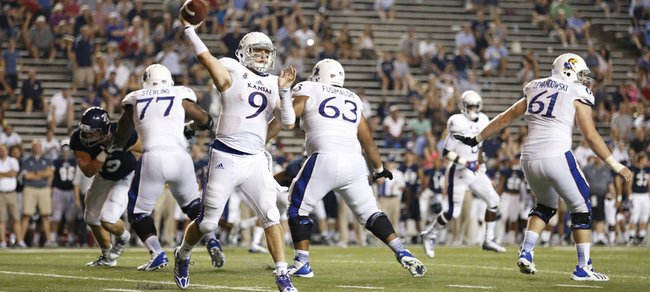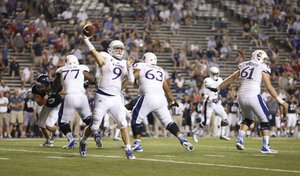 Kansas University football coach Charlie Weis has more than a few things occupying his mind as he tries to get his offense going and his team to bounce back from a tough loss at Rice.
But quarterback play is not one of them.
"There's no problem with Jake," said Weis of KU junior Jake Heaps on the Big 12 coaches teleconference Monday morning. "Jake knows that's part of the deal. All his frustration is he's trying to be error-free himself."
Through two games, Heaps ranks 123rd in the country in passing and has yet to throw for more than 157 yards in a game. He has completed 23 passes in 48 attempts and thrown for 267 yards, two touchdowns and two interceptions while being sacked five times.
While those statistics — everyone in the KU locker room expected they would be significantly better — paint an average picture, Weis believes Heaps has been better than the numbers indicate, particularly during last weekend's 23-14 loss at Rice.
"When (your receivers) drop five conversions on third down in plus territory, and one of 'em's a walk-in touchdown, that's significant," he said. "Throw those on the completion category and tally them up and look at the percentage and yardage there, and all of a sudden you're saying, 'He played a heck of a game.'"
Don't confuse Weis' if/then statements for unqualified praise. Heaps has not been as sharp as either coach or player would have liked.
"It isn't like he didn't make any mistakes in the game," Weis said of Heaps.
The confusing part for both of them is why things have not looked on Saturdays the way they have in practice and throughout fall camp. To back that up, Weis pointed to Wednesday's practice, when Heaps completed 29 of 31 passes with no drops.
"It's not consistent with what's happening in practice," Weis said. "... But I'm not worried about Jake. That's the one person I know that I can count on (who) will handle things the right way."
Coleman's up
Weis has talked a lot about working wide receiver Rodriguez Coleman into the lineup more, and it sounds like the 6-foot-3, 195-pound Garden City Community College transfer will get a major increase in snaps Saturday during KU's 11 a.m. match-up with Louisiana Tech.
"You won't see Coleman a little this week," Weis said Monday night on his weekly radio show. "You'll see him a lot. That's one of the things we're talking about. Let's see what he can do."
La. Tech bracing for man-to-man
During Thursday's 24-15 loss to Tulane, Louisiana Tech's offense faced a lot of man-to-man defense and struggled against it. Bulldogs' quarterbacks Scotty Young and Ryan Higgins combined to go 16-of-44 through the air for 165 yards, one touchdown and one interception.
Louisiana Tech coach Skip Holtz said Monday that his offense's issues against Tulane were not strictly on the players, and he expects them to be better against KU's man coverage this Saturday.
"We've got to have a plan for what we saw Thursday night," Holtz said. "I don't think we did a good enough job with it Thursday night, giving our players something they could execute more. We've gotta help 'em out."
Take the day off
One area Holtz does not figure to spend much time working on this week is kickoff return. The first-year La. Tech coach sounded awfully impressed by the performance of KU kickoff specialist Trevor Pardula, who has recorded six touchbacks in nine kickoffs during KU's first two games.
"I cannot image our kickoff return will get an opportunity," Holtz said. "They kick pretty much everything out of the back of the end zone."
During last week's loss at Rice, all nine kickoffs — three by Pardula and six by Rice weapon Chris Boswell — resulted in touchbacks, which also impressed Weis.
"Our kicker continues to be exactly what we brought him in here for," Weis said of Pardula. "I've never seen a game where every kickoff was a touchback."