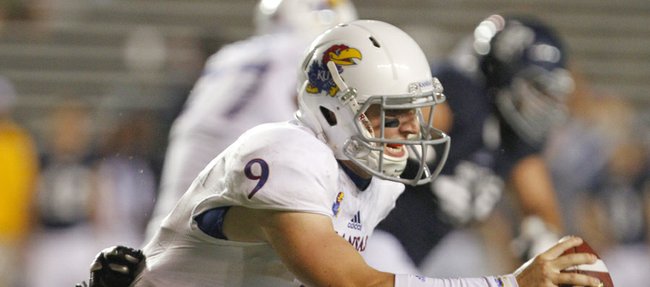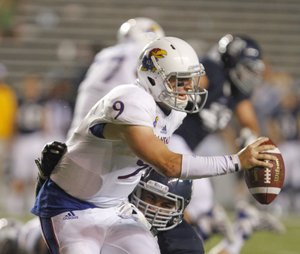 It may be too early to make a definitive call on what kind of football team Kansas University has.
But there's no questioning that two games have been enough to determine the KU offense has a major problem developing: drops.
In each of the Jayhawks' first two games, dropped passes crippled the offense and made it difficult to find positives in a passing attack that received an offseason makeover. As the incompletions have mounted and the pressure risen, a few KU receivers have taken on the persona of a golfer with the yips.
During a 31-14 season-opening victory over South Dakota, KU's five drops were more easily forgiven because the Jayhawks never lost control. Saturday night, in a 23-14 loss to Rice in Houston, KU's four biggest drops were magnified because stone hands too often squashed drives and kept Kansas from getting into an offensive rhythm.
"(That's) something that you want to capitalize on," said junior quarterback Jake Heaps, who finished 13-of-28 passing for 157 yards and two interceptions. "You never know when you're gonna get that opportunity back, and when you have missed opportunities, from whoever it is, it hurts your team because you may be getting something going, and it stalls everything."
That certainly was the case against Rice. Two of the drops — one by wide receiver Josh Ford and another by tight end Jimmay Mundine — came on third down. Another Mundine muff came late and looked like it might have gone for a touchdown had he caught it. And the fourth drop, which skipped hotly off the hands of James Sims on the series that followed Rice's regaining the lead, led to a three-and-out.
"There were a couple of really bad drops," KU coach Charlie Weis said matter-of-factly. "I mean, when you hit a guy in the chest and one running wide-open down the field to score, who knows? You score there, you get the ball back, you might be kicking a field goal at the end of the game, and you win. You just don't know."
The issue is a major concern for an offense that is still looking to get on track. Despite the early struggles, the Jayhawks — Heaps in particular — seem confident that the two-game slump is something KU can correct. Asked how, Sims shook his head and gave the only answer that came to mind.
"Just practice and keep working on it," he said. "That's all you can do, and we'll get that fixed."
As for Mundine, who entered the season poised for a breakout campaign but has quickly become KU's biggest culprit in the dreaded dropped-passes category, Heaps said his faith in the junior tight end remained strong.
"Absolutely," Heaps said. "There's no reason for me to question him, and he's gonna continue to be one of my go-to guys. I have 100 percent confidence him."
Tailback Tony Pierson has been the most reliable target for Heaps so far this season — the junior had four catches for 95 yards and a touchdown against Rice — but getting him the ball as much as KU might like has proven difficult at times.
"(Rice) did a good job of paying attention to Tony and what he was doing," Heaps said. "They really paid attention to where he was at all times. But that opens things up for other guys, and we just have to capitalize on that."
If history has proven anything, it's that Weis won't stand for continued incompetence in the passing game. He hinted at that following Saturday's loss, but also said that the easiest solution was in the hands of his struggling receivers.
"The first thing we have to do is just get better with the guys we're playing with," he said. "But we'll continue to look at everyone all the time."