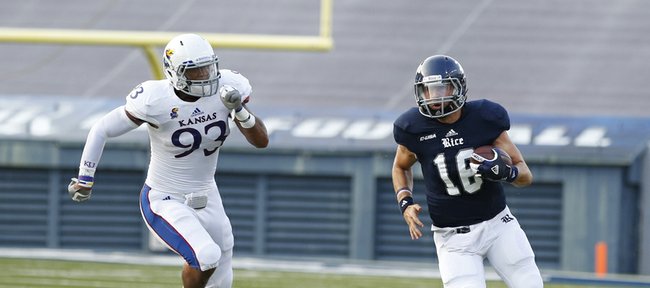 Photo Gallery
Kansas football v. Rice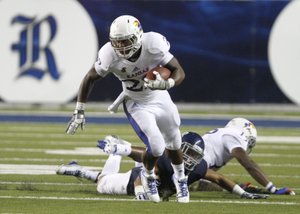 Images from Saturday's football game against Rice in Houston, Texas.
Podcast episode
Kansas coach Charlie Weis talks to reporters following the Jayhawks' 23-14 loss to Rice on Sept. 14, 2013.
Houston — Rice offensive coordinator John Reagan, offensive line coach at Kansas University under Mark Mangino, was on the winning side against his former employer, 23-14, Saturday night in Rice Stadium, but he left impressed with the unit against which he coached.
"You know what, I think they can be really good up front," Reagan said, "and I think their linebackers run really well. We had a hard time moving it inside, and when we tried to get it going on the perimeter, their linebackers were running it down. It really stuck us with the option and we were able to do that pretty decently and then at the end we got it going on the inside too."
Rice senior running back Charles Ross rushed for a career-high 157 yards and one touchdown on a career-high 27 carries. KU's defenders made him earn the yardage, according to the Owls' offensive coordinator.
Reagan said he was particularly impressed with reserve defensive lineman Tedarian Johnson.
"We struggled with him inside," Reagan said.
Reagan's preparation for the game led him to believe "we might have favorable matchups at safety."
Thanks in part to pressure and hits delivered by the KU front, Rice quarterback Taylor McHargue had an off night and frequently missed open targets in attempting to exploit the secondary.
Rice became the 23rd consecutive KU opponent in a game played outside Lawrence to come away victorious. The Owls have two of the 23 consecutive victories by FBS opponents of Kansas.
"There are lot of people who think because we won last year, this is a team we should beat, but they're still a Big 12 team that has more athletes and bigger kids than we have, so it's a huge win," Reagan said.
Former KU players Adrian Mayes, A.J. Steward and Ryan Cantrell work as assistants under Reagan, so all four men can enjoy bragging rights for the night's result and will go back to wishing their old home well.
"I hope they're able to get it back on track," Reagan said. "Obviously, there are a lot of good people there. I hope they can get it going where they want it to go."