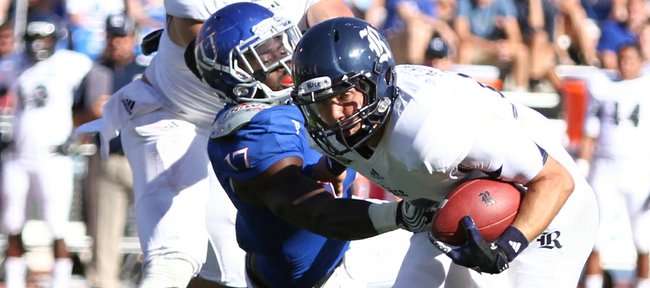 The Kansas University defenders know they will have their hands full this weekend in Houston when they stare across the line of scrimmage at Rice quarterback Taylor McHargue.

McHargue, a 6-foot-2, 215-pound senior who sits 48 passing yards away from becoming just the second player in school history to throw for 4,000 yards and run for 1,000 more, is what KU linebackers coach Clint Bowen called "a true dual-threat guy" and the Jayhawks have seen — and struggled with — plenty of those during the past few seasons in the Big 12 Conference.
"It's gonna be the motif of the entire year," KU coach Charlie Weis said during his weekly meeting with the media on Tuesday. "Most weeks, most of the opponents are running similar offensive schemes where there's a good quarterback involved as a runner. We're gonna have to do a better job tackling the quarterback than we did last week or else this guy will just gash us."
History shows that the Jayhawks can handle McHargue. Sure, it came in a losing effort, but the Kansas defense was able to reduce McHargue to a passer for most of last season's meeting in Lawrence. In the 25-24 victory over Kansas, McHargue gained just 18 yards on 12 carries, while throwing for 236 yards and an interception on 23-of-35 passing.
McHargue, who led Rice to five victories in its final six games a season ago — including a bowl win — has improved a lot since then, most notably with his comfort in running former Kansas assistant John Reagan's offense.
"They do a great job of getting themselves in the best play possible and the quarterback is very efficient of running the total package," Bowen said. "He's equally dangerous running the ball, whether that be the designed quarterback run game, or scrambling and making a play when nobody's open. And then he also throws the ball very well."
In addition, McHargue's consistency and accuracy jumped out at Weis, both while reviewing film from 2012 and while watching Rice's season-opening loss to Texas A&M; two weeks ago.
"Statistically, they averaged 434 yards a game and 31 points (last year)," Weis said. "And the first game against Texas A&M; (they had) 509 yards and 31 points. So there's a good chance that you're gonna need 31 points to have a chance to win the game, although I'm sure our defensive staff is counting on that not being the case."
In the opener against seventh-ranked A&M;, McHargue ran for 78 yards on nine carries and added 180 and two touchdowns through the air. But the Rice QB is far from the only threat the Owls feature. Running back Charles Ross — 94 yards and a touchdown on 14 carries last year against KU — anchors the ground game and talented receivers with good size give McHargue options down the field. In addition, the defense is led by Phillip Gaines, the Conference USA preseason defensive player of the year, and a host of other experienced playmakers.
"The thing that really gets you about this team," Weis said, "is they have almost their whole team back and they have their whole coaching staff back. In college football, that's a rarity."
Kevin Short update
Weis said Tuesday he had no new information on whether cornerback Kevin Short would be available this weekend. Short, the juco All-American who transferred to KU from Fort Scott Community College, missed last week's season opener and Weis said the 6-2, 185-pound potential starter's status remained uncertain.
"I'll let you know when I know," Weis said. "He's got some personal things he's working through that were a little bit of a surprise to all of us towards the end of (last) week."
Short was listed on KU's updated depth chart as a second-string option behind Dexter McDonald.
D-Line movement
The second wave of KU's defensive line has a new look this week. Starters Kevin Young (LE/T), Keon Stowers (N), Keba Agostinho (RE/T) and Ben Goodman (BUCK) kept their jobs, but the guys behind them were shuffled around.
Jordan Tavai moved from second-string RE/T to second-string LE/T and Ty McKinney, who was a co-second-team nose guard with Marquel Combs last week, now is listed behind Agostinho on the outside.
"Ty McKinney is playing really well," Weis said. "And Combs isn't getting many reps. So what we did is we bounced Ty McKinney out to end and moved Combs to the second guy. It gives McKinney an opportunity to possibly move from second (team) to (first) and Combs gets more into the mix. So we get two positive residuals out of that."
Injury report clean
For the second week in a row, KU appears to be headed into battle with a healthy roster. Weis said Tuesday that no new Jayhawks had major injury concerns heading into preparations for Rice. That includes senior running back Taylor Cox, who limped off the field late in last week's game but appears to be on pace to play this weekend.
"I don't have anyone in that questionable range once again," Weis said. "And it'd be nice if we can keep it that way."
WOW! without CBSSN
Several KU fans in Lawrence figure to miss the broadcast of this weekend's KU-Rice game, which will be shown on CBS Sports Network, because the city's largest cable provider, WOW!, does not carry the channel.
"We haven't carried the CBS Sports Network for quite some time now," a WOW! employee, who did not wish to be identified, told the Journal-World Tuesday. "And we don't have plans to add it before Saturday's game."
Those with other television services, such as DirecTV (Ch. 221), Dish Network (Ch. 158) or AT&T; U-Verse (Ch. 643), may be able to view the game as long as their subscription package includes CBSSN.
Ex-Jayhawk Green dies
Former KU football player Dick Green, a tight end who played at KU from 1959-61 and later became the president of KU's K Club, passed away last Friday. He was 74. Green was a senior on KU's 1961 Bluebonnet Bowl championship team, which beat Rice, 33-7, in Houston.
"He was a fierce competitor and a very smart guy," said former Green teammate John Hadl in a news release. "He did everything you would ask of him and was there every day working his tail off for Kansas football.... He was a fabulous guy and we're going to miss him."
A memorial service for Green is scheduled for 10 a.m., Friday, Oct. 4, at Warren-McElwain Mortuary.
Cornish honored again
Former KU running back Jon Cornish was named the CFL's Canadian Player of the Week for Week 11 after rushing for 131 yards on 14 carries and catching six passes for 46 yards and a touchdown for the Calgary Stampeders.
Cornish, a native of Westminster, B.C., who is KU's single-season rushing leader (1,457 yards in 2006), won the award for the third time this season.