Saturday, September 7, 2013
Photo Gallery
KU v. South Dakota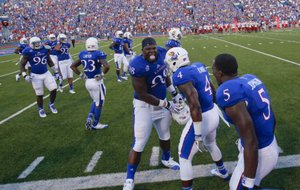 Images from Saturday's season opener against South Dakota at Memorial Stadium.
Podcast episode
Kansas coach Charlie Weis talks to reporter following the Jayhawks' 31-14 victory over South Dakota on Sept. 7, 2013.
The new quarterback throws the ball and avoids sacks so much better than his predecessor. The talented stable of running backs looks better than ever. And the squad finally has a wide receiver with a touchdown reception to his name.
Yet, based on first glance, something isn't quite right with the Kansas University football team's offense, which seemingly had the manpower to put far more points on the board than it did in Saturday night's 31-14, season-opening victory against South Dakota.
But what? What exactly is the problem?
For one, even for an opener, the team in general lacked discipline, as evidenced by 71 penalty yards on nine whistles.
Beyond that, though, the offense as a whole didn't equate to the sum of its parts and it wasn't until head coach/offensive coordinator Charlie Weis abandoned his preference for balance that KU opened a comfortable distance.
Watching Kansas struggle through a scoreless first quarter on the way to a 14-7 lead at the half, I kept asking myself why Weis didn't just have quarterback Jake Heaps hand the ball to a running back on every play and make most of them simple runs between the tackles. The only answer I could come up with was that Weis was coaching for future games, knowing the Jayhawks would need a balanced attack to win games against stiffer competition than a Football Championship Subdivision team that went 1-10 a year ago.
Wrong.
"That's the way I like to call the game," Weis said of the balanced first-half approach.
With far more skill, experience and depth at running back than at receiver, it might be difficult to stay as balanced as he likes, though not as difficult as a year ago, now that Heaps is zipping accurate passes into tight spots the way he did in his KU debut. A few dropped passes and a couple of hurries on which he avoided sacks by throwing balls out of bounds cheated Heaps (10 of 20 for 110 yards and one touchdown) of having statistics that more accurately reflected his performance.
From the very first play from scrimmage through much of the first half — Tony Pierson lined up at wideout, then went in motion, took a handoff and was stopped for no gain — the KU offense looked like a power pitcher with a 98 mph fastball throwing changeups to guys at the bottom of the order. Why try to trick them when you can just blow them away with power?
Everybody involved promised better things from the offense.
"There are some guys who are not even playing who are going to end up being major factors," Weis said. "I'll use a guy like Rodriguez Coleman. He may end up being one of our best receivers, but right now he's playing behind Christian (Matthews) and Tre' (Parmalee). At the end of the year he might be one of those guys everyone's talking about."
Look for that to change soon. Maybe immediately.
But beyond personnel issues, the offense just didn't seem quite in sync. Could it be the playbook is too expansive for college football and as a result the athletes are doing too much thinking and not enough reacting?
"No, no, no," said tight end Jimmay Mundine, who caught two passes and dropped two. "There is not too much thinking on Saturday. You usually know what you're doing by then. We know we can run the ball and we know we can pass it. It's just going to be a matter of actually doing it. ... We can do such a better job than we did tonight. There's no excuse for us not doing it tonight because we did such a better job of it throughout camp."
Mundine explained how playing in a game can sharpen practices.
"It didn't all come together tonight," he said. "That's something we're going to definitely work on and take practice more serious. We might have gone through the motions in practice. When you get into a game, you can feel the emotion and the intensity and that's what we're going to try to incorporate into practice."
Jake Heaps called the development of the passing game "a process," and it is because young receivers can be expected to get better. But how much better?
"I don't think it was our best game, obviously," Heaps said. "But when you look at it, our offense shot ourselves in the foot half the time and we were able to put 31 points on the board. When you look at it that way, it speaks a lot of volume to our offense and our capability. We just need to correct those little mistakes and little mental errors that we had during the game and we're going to be just fine."
The corrections must come quickly because Rice, Saturday's road opponent, is no joke.