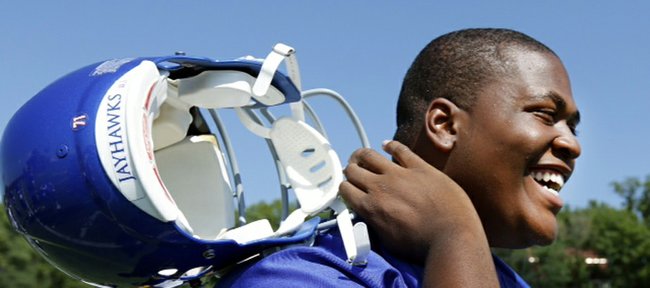 Kansas offensive lineman Pearce Slater still has not returned to Kansas University, KU coach Charlie Weis announced at his weekly press conference on Tuesday.
"He's not here. I'll talk about the guys that are here," Weis said. "That's the end of my comment."
Weis also released his team's depth chart for Week 1, which included quite a few changes.
Among them: Cassius Sendish, who previously was listed as the starting nickel, was moved to the starter at free safety; Victor Simmons was moved up to the starter at nickel; Marquel Combs was moved from the backup at left end/tackle to second team at nose tackle; Kevin Young moved from nose tackle to left end/tackle and is now a starter; Samson Faifili jumped above Jake Love at Will linebacker; Zach Fondal moved up to starter at right tackle; and Taylor Cox (kickoff returner) and Connor Embree (punt returner) earned first-team nods on special teams.