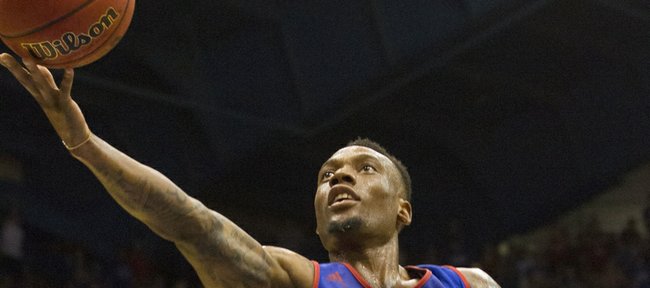 Photo Gallery
KU basketball v. Pittsburg State (exhibition)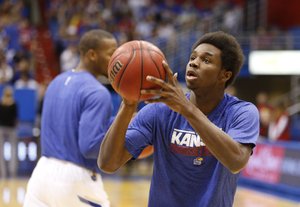 Images from Tuesday night's exhibition basketball game against Pittsburg State
Podcast episode
Kansas coach Bill Self talks to reporters following the Jayhawks' 97-57 exhibition victory over Pitt State on Oct. 29, 2013.
Podcast episode
Kansas' Perry Ellis, Andrew White III and Naadir Tharpe talk to reporters following the Jayhawks' 97-57 exhibition victory over Pitt State on Oct. 29, 2013.
Box score
Kansas University junior point guard Naadir Tharpe will miss the season-opener on Nov. 8 against Louisiana Monroe after he illegally played in a summer-league game in Chicago, KU coach Bill Self announced after KU's 97-57 exhibition victory over Pitt State on Tuesday in Allen Fieldhouse.
"He played in it, (and) he wasn't allowed to play in it, because it wasn't from here and it wasn't from his own area," Self said. "So he goes up there to hang out with 'Mari (Jamari Traylor, Chicagoan), and he plays in one summer-league game.
"So we self-reported that, because he didn't get prior approval, which he would not have gotten because it wasn't in his area. It's a game for a game (penalty). Naadir can play in the next exhibition game, but he will not play in our first regular-season game."
Self said backup point guard Frank Mason will play more in KU's next exhibition game on Nov. 5 against Fort Hays State. Mason also will start that game, Self said, to prepare for the opener.
Traylor also played in the Chicago summer league, but as Self stated, it's allowable since he is from Chicago.
Red-shirt status: Self said it's still possible he could red-shirt a freshman or two.
"We'll make some decisions in the next week or so. Just because we make decisions doesn't mean it's the direction we'll end up going," he said.
"Maybe families don't want to do it or a kid doesn't want to do it or we don't want to do something. We'll not be able to distribute the minutes evenly from this point forward. We need to try to get better so we are prepared to play the season."
He said frosh Conner Frankamp (zero points, two assists) was currently thinking too much, like all freshmen. He said Brannen Greene (10 points) needed to bend his knees more to "move quicker" but that he was definitely "talented."
Weekend warrior: Andrew White III, who has been known to visit KU's practice gym instead of heading out to the clubs on weekends, was rewarded for his work with 12 points and four boards in 15 minutes.
"I go in at 11 o'clock, midnight, it's what I like to do, how I like to spend my weekends," White said. "I've done it at a young age. I like being in the gym late. It's not to get recognition or the word out I'm in the gym. I feel at night it's a calm atmosphere for me to go in and work on things. I've become a big fan of late-night workous."
TV time: Canadian TV network TSN will televise every KU game this regular season as folks up North keep track of the progress of Jayhawk freshman Andrew Wiggins. The majority of games will air live with some having same-day coverage on TSN platforms.
"There are many Canadian basketball fans who can't wait to watch Andrew and follow the Jayhawks this season," said KU coach Bill Self in a TV release. "When we have played in Canada in the preseason, a lot of KU fans have come to see us play. Now they can watch all our games on TSN, which will be great exposure for Kansas basketball."
Early anthem: There was a mixup before the exhibition game in which the Star-Spangled Banner was played much earlier than normal, with the teams in the locker rooms instead of on the court.