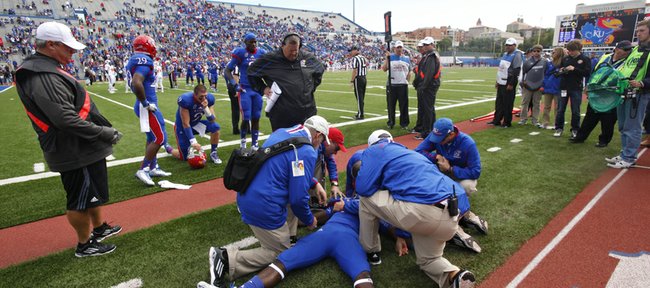 Just three days after returning to the huddle following a two-week absence, Kansas University receiver Tony Pierson was nowhere to be found on KU's latest depth chart, released Tuesday by coach Charlie Weis.
Pierson, who did not play in losses to TCU and Oklahoma after suffering a concussion during the second half of KU's loss to Texas Tech on Oct. 5, played just three snaps last weekend against Baylor before leaving the game for good because of dizziness, which came on despite Pierson not being hit.
"I'm concerned," Weis said Tuesday when asked about Pierson's status. "There's nothing medically keeping him from playing. Maybe I'm old-fashioned. Maybe I'm overly concerned. But when a kid's out there for three plays and he's dizzy and he hasn't gotten hit, you better be concerned. Especially when he's had his head knocked around a couple times in a calendar year."
Pierson's absence during last week's loss to Baylor severely limited KU's offensive game plan, and the offense as a whole has looked noticeably different without its leading receiver in both yards (327) and receptions (21) in the lineup. But Weis emphasized Tuesday that he would not put Pierson back on the field until he was confident the injury was behind Pierson.
"I could've put him day-to-day," Weis said. "He's listed as questionable. There's nothing on the medical report that keeps him from playing. But the odds of me playing him are slim to none. ... The next time Tony goes out there will be where he's totally convinced that (a) he's healthy and (b) that he's not gonna get hurt. He will not see the field one second until we get to that time."
Heeney to return
While the Pierson news was bad for KU's offense, the Kansas defense recently received some good news when it learned junior linebacker Ben Heeney was expected back for this weekend. Heeney, KU's third leading tackler, missed the past two games because of a knee injury.
"He wanted to play last week," Weis said. "Right till Friday, he (was) still trying to get ready to go. But he wasn't really ready to let it loose in a game that was gonna be played in space. Now you got him back for the team that's gonna try to pound ya, which is his game. I think giving him the little extra rest matched up well for getting him back for a game plan that I think is gonna need him."
Asked what kind of lift the defense could get from Heeney's return, assistant defensive backs coach Scott Vestal was clear about Heeney's impact.
"He plays till the echo of the whistle," Vestal said. "This kind of game, it's in Heeney's wheelhouse. He's a physical guy, and he likes it rough."
More O-line tweaks
For the fourth week in a row, KU will open Saturday's game at Texas — 2:30 p.m. on Jayhawk TV — with the same five offensive linemen.
However, behind that group, the Jayhawks continue to shake things up while looking to put the best players on the field. After spending much of the past two seasons as a guard, senior Randall Dent has moved outside as the back-up to Pat Lewandowksi at left tackle. With fellow senior Riley Spencer backing up Aslam Sterling at right tackle, Weis said he felt good about having experienced guys ready to go at a position of need.
"We haven't been real pleased with the physicality that we've been getting at the tackle position," Weis said Tuesday. "We've been fine with the assignments, not the physicality. By having two veteran guys, in Riley and Randall, backing up the two tackle positions, we know that if we need to put another guy in just to play physical (we can)."
Sophomore Damon Martin is listed as the back-up to Ngalu Fusimalohi and Mike Smithburg at both guard spots and sophomore Dylan Admire continues to back up senior Gavin Howard at center.