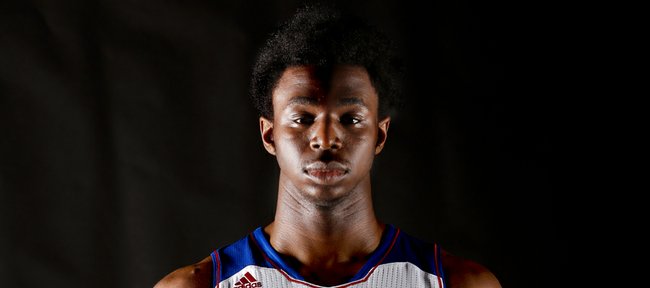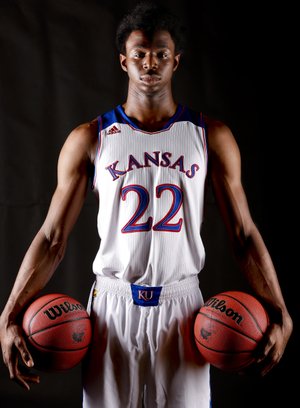 Andrew Wiggins, who arrived on Kansas University's campus on June 15 for the start of his one-year college adventure, has picked up plenty of pointers from his new coaches and teammates.
Asked to identify the single-most important thing he has learned heading into his KU basketball debut — today's 7 p.m. opener against Pittsburg State — the soft-spoken Canadian said simply: "Always running the floor. Always running the floor."
Perhaps the only negative words uttered about Wiggins since he signed with KU on May 14: He has a tendency to take possessions off. The player who averaged 23.4 points and 11.2 rebounds per game his senior year at Huntington (W.Va.) Prep says that is the case no more.
"I think I play hard all the time now. There's no upping my ability in how hard I play," Wiggins said, asked if he thinks he'll increase his intensity now that it's time actually to compete against somebody besides his teammates.
"I think I'm ready right now," added Wiggins, who will make his major-college debut with TSN, Canada's leading English-language sports TV channel, as well as Global Television Canada, in town.
Wiggins, who has played before the home fans at Bill Self's summer basketball camp, Late Night in the Phog and in a recent open scrimmage, debuts with five other freshmen — Joel Embiid, Brannen Greene, Conner Frankamp, Frank Mason and Wayne Selden.
He said being part of such a large freshman group has been helpful.
"College basketball is way different from high school," Wiggins said. "The physicality of it, the mental part. It's all a different level. I think coach Self has prepared me to be who I am, the player I am on the court and off the court. It's really a learning process for myself, for all of us."
Freshman backup point guard Mason believes Wiggins is ready for the season-long spotlight.
"He has been playing up to the hype and his name. He's been doing real well," Mason said. "He's been doing the things he does best."
"He's been running the floor excellent, has a great pull-up game," noted sophomore Perry Ellis. "He's been doing real well, getting better and better each practice. I look forward to seeing him (tonight). I remember I was pretty nervous my freshman year out there under the lights. I think they all (freshmen) are having fun. They've been working hard."
Self conceded that this year's exhibition games (KU also will play Fort Hays State on Nov. 5) might be more important than the past because of the presence of the six freshmen, plus senior newcomer Tarik Black. He said eight players have separated themselves: the probable starting lineup of Naadir Tharpe, Wiggins, Selden, Ellis and Black, plus Andrew White III, Jamari Traylor and Embiid.
"I want to see how guys react in different situations, and (Wayne) Selden and Joel and Tarik and obviously Andrew and Andrew White III and Jamari (Traylor), even Perry (Ellis) and Naadir (Tharpe), those guys need to get some ample minutes because they haven't played that much," Self said. "And if you do that, you've still got to get ... obviously Landen (Lucas) hasn't played at all. That still leaves out Conner (Frankamp) and Brannen (Greene) that need to get minutes. It's probably not going to be an everybody-is-going-to-play-17-minutes-type deal, but I'll be excited to see how different guys react in different situations."
It's safe to say 16,300 fans will be most eager to see the much-hyped Wiggins, the No. 1 player in the recruiting class of 2013 who has already been on the cover of Sports Illustrated.
"I do think from this point forward, I don't think he needs to do any more media. You guys will be upset with me. I don't see why he needs to," Self stated. "He can't go anywhere without getting bombarded. It's wearing him down. So I think that we should, from this point forward, remove as much of that as possible. If he plays well in a game, or when he plays well in a game, sure, he can do some postgame stuff, but I don't understand why everybody wants to get a piece of him. We've already done that.

"He can't live up to the hype. It's impossible. They're comparing him to Wilt Chamberlain, and Chamberlain is the most dominant player that's ever played the game. The kid is 18 years old, and he's never made a college basket, but we're going to compare him to Chamberlain? That's impossible. But could he be a great one? Absolutely. Should we expect him to be a great one? Yes, we should."
Starting tonight.