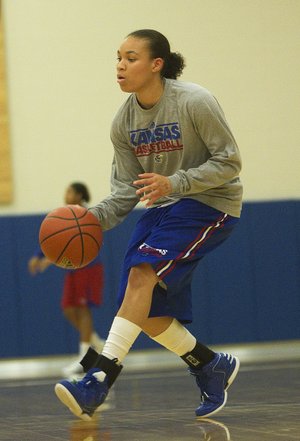 Kansas University's Lamaria Cole was the first point guard on the floor during five-on-zero drills Monday, racing up the court while leading her teammates in the fast-break exercise.
It's quite a change from a year ago, when the 5-foot-6 sophomore rarely was one of KU's first options when she played just 45 minutes … in the entire 34-game season.
"You've just got to wait your turn. You can't be salty about it," Cole said with a smile. "You've just got to sit there and wait your turn, play hard, practice hard and hopefully, eventually you'll get out there."
That attitude has served Cole and teammate Markisha Hawkins well. Both figure to have significant roles on this year's team after spending most of last season on the bench.
"That's not easy, when all you've ever done before you got here is play every minute of every game," KU coach Bonnie Henrickson said. "To adjust to that, they've done a good job."
The senior Hawkins has a chance to start — or at least be one of the first off the bench — after impressing at the end of last year.
Though she played just 35 minutes in KU's first 26 games, the 5-foot-9 wing made an impact after getting her opportunity at Oklahoma, scoring 11 points in 18 minutes. She later started KU's final six games, which included three NCAA Tournament games, while averaging 6.1 points and 24 minutes.
"I just came in and worked hard and didn't give up on myself," Hawkins said, "and had that confidence to say, 'My day will happen.'"
Henrickson has talked to both several times about the development of former players Carolyn Davis and Monica Engelman. Davis in particular wasn't an immediate standout, as she rarely played in the first half of her freshman season before averaging 15.2 points and 8.4 rebounds after getting her first start in mid-January of 2010.
"I think you just kind of hang in there," Henrickson said, "and buy into, 'It's never as good as it seems,' and really more so that, 'It's never as bad as it seems.'"
Henrickson also has emphasized to her players that their chance to show what they can do isn't on game days; instead, it's in practice.
Hawkins believes that's where she earned her playing time a year ago.
"I hope I opened the coaches' and teammates' eyes," Hawkins said, "to just say I was a hard-working teammate and player."
Hawkins also will have the added advantage of being healthier this season. Last year, she played almost all her minutes with torn ligaments in her left hand. Not only was the injury painful, but it also required her pointer and middle fingers to be taped together.
Hawkins is completely healed now and — like Cole — believes her days as a little-used reserve will stay in the past.
"We're really excited," Cole said, "about being able to show what we can do this year."