Photo Gallery
KU football v. Baylor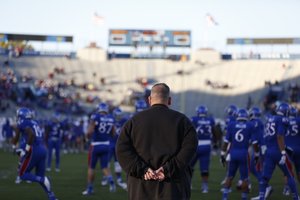 Images from Saturday night's game against Baylor at Memorial Stadium
Podcast episode
Kansas coach Charlie Weis talks after KU's 59-14 loss to Baylor on Oct. 26, 2013.
Box score
Baylor football coach Art Briles, who served a 21-year coaching apprenticeship as at five different Texas high schools, just doesn't know how to play the part of a big-time boss of a national contender.
He doesn't know that you're supposed to ridicule little people, play the humble guy out of one side of your mouth and paint yourself a genius out of the other side. He doesn't know to go on and on about how well-coached the opponent you just drubbed is and mix in other platitudes that say nothing.
He doesn't know how you're supposed to act because he's not an actor. What you get is what you see with Briles and what you see is a brilliant football coach who shows great respect to his players and gets the same in return.
It's easy to root for a guy like Briles, about whom you never hear anyone say a bad word. Too often, successful football coaches lead with anger and/or conceit. It's always nice to see a guy who doesn't let the bright lights change him shine so brightly.
Alabama's Nick Saban generally is regarded as the nation's best college football coach. But it's easier to imagine Briles doing what Saban has done at 'Bama than it is to picture Saban doing what Briles has done at Baylor.
What is it about Briles that makes his players so enjoy playing for him?
"He lets you be yourself," running back Lache Seastrunk said after the Bears' merciful 59-14 drubbing of Kansas University's reeling football squad. "He's not going to change anything about you. He's just going to let you be you."
No surprise there, since Briles is so comfortable in his own skin.
Briles doesn't try to change the personalities he recruits, but he does change their games, nurture their maturity as men and athletes.
"I feel like I'm continuing to make strides," said quarterback Bryce Petty, after completing 20 of 32 passes for 430 yards and three touchdowns. "That's a point of emphasis, for me to get better every time I step out there. I'm nowhere close to where I want to be, but I'm getting there."
As Petty was on his way out of the room under the southeast stands where the visiting team conducts interviews, Briles shook the quarterback's hand and said, "Congratulations. You're getting better."
That's a scary thought. Petty has thrown 18 touchdown passes and one interception and has averaged 357.7 passing yards a game. He rarely plays the fourth quarter.
Briles said he pulls his starters in routs to prevent injuries.
"When it's dog time our dogs are going to be on the field, ready to go" was how Briles put it.
As is usually the case when Baylor takes it to Kansas, whether the quarterback is Robert Griffin III, Nick Florence or Petty, Tevin Reese (110 receiving yards, two touchdowns) was the one running under the longest passes.
Briles inherited a Baylor program that had a .115 winning percentage in 12 seasons of Big 12 games. He didn't turn it around overnight because that's now it happens in football, but in his six seasons he has a .457 conference winning percentage.
Unlike some past Big 12 offensive juggernauts, this team has the feeling of a legitimate national-title contender because it has such a balanced offense and a legitimate defense.
Teams tend to load up to stop Seastrunk, the speedy running back, crossing their fingers in hopes Petty won't burn them long.
"I'm flattered that they want to stop me," Seastrunk said. "That's awesome. That's great. We've got the best wide receivers out there. You going to just let them throw it over the top of your head? OK. I'd be fine not touching the ball at all, I feel like I didn't even play. I'm going to block and they're going to keep breaking down field running silly, keep scoring."
The Bears (7-0, 4-0) are comfortable on top. They don't feel out of place at all and should not.
"When we focus on us and hone in on what we do there's not a team in the country that can stop us and I'm very confident in that," Petty said.
Briles sees it the same way.
"We're playing really, really, really good defense," he said. "We have guys who are very explosive offensively and we have a great offensive line. We're a tough football team."
And will remain so as long as the coach who forever shows respect and is shown it remains in Waco, entertaining the masses without falling in love with his mirror.