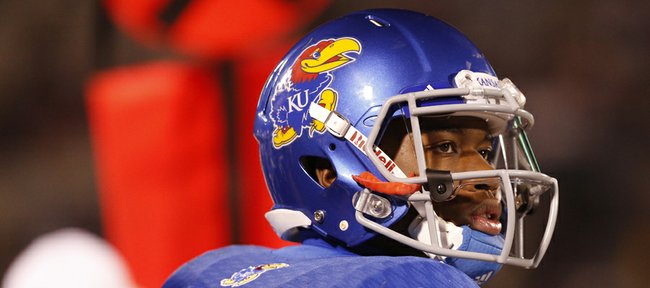 Photo Gallery
KU football v. Baylor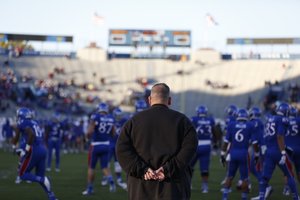 Images from Saturday night's game against Baylor at Memorial Stadium
Podcast episode
Kansas coach Charlie Weis talks after KU's 59-14 loss to Baylor on Oct. 26, 2013.
Box score
True freshman quarterback Montell Cozart figures to remember Saturday's 59-14 loss to sixth-ranked Baylor for something much different than the final score.
It was in this game, KU's fifth loss of the season, that Cozart completed his first college pass while playing roughly half of his team's offensive snaps. Although the Bishop Miege graduate was not available to the media following the loss, there were plenty of Jayhawks willing to size up his performance in just his second career game.
"If I was Montell, I would feel pretty good," junior running back Brandon Bourbon said. "To be a freshman and come in and have some success, that's so pivotal, especially as a quarterback."
KU coach Charlie Weis, who said after the game that Cozart and junior starter Jake Heaps likely would continue to split snaps as the season moved on, also thought Cozart was sharp.
"It was nice to see him hit that one deep ball," said Weis of Cozart's 45-yard hook-up with Rodriguez Coleman in the third quarter that accounted for 25 percent of his completions and 65 percent of his yards. "I told you he was going to play a lot more, which he did. I don't know who will play more on a weekly basis, but I think we have to get 'em both ready to play."
Pierson plays, Heeney sits
KU running back Tony Pierson returned to the lineup after missing the past two games because of a concussion he suffered in the second half of KU's loss to Texas Tech. The Jayhawks got Pierson involved early by throwing a go route to him on KU's first offensive play of the night, but Pierson was double-covered and the pass sailed over his head.
A few plays later, Heaps dropped a perfect pass into Pierson's arms near the Baylor sideline, but the ball bounced off his hands and fell incomplete. Pierson did not play much of the rest of the night and Weis said Pierson was held out of much of the game after experiencing dizziness.
"He wasn't hit in the head or anything," Weis said. "But when you are coming off a concussion, you have to act on the side of caution.
Linebacker Ben Heeney, wide receiver Andrew Turzilli and defensive lineman Tedarian Johnson all missed their second straight game. Wide receiver Josh Ford also did not play.
Coleman contributes
Junior wide receiver Rodriguez Coleman recorded the first touchdown of his KU career on a 30-yard strike from Heaps in the fourth quarter and also hauled in a career-long reception of 45 yards on a pass from Cozart midway through the third quarter.
"It's been a long time coming for him to get into the mix," Weis said of Coleman. "And we really need him to step up and get involved more."
Asked to assess his night, Coleman sounded relieved.
"I got off to a slow start," he said. "So I felt like I was due for a good game. Hopefully it will carry over to the next few games."
Jaynes honored
Former KU quarterback David Jaynes, who guided Kansas to the 1973 Liberty Bowl, was in attendance at Saturday's game and was honored for the 40th anniversary of his All-American season. Jaynes, a Bonner Springs native, ranks fourth on KU's career passing list with 5,132 yards and led Kansas to 15 victories in three seasons, including a 7-4 mark in 1973, which produced to a final Associated Press ranking of 18th.
This and that ...
The Jayhawks won Saturday's opening coin toss for the second time this season and chose to defer their choice to the second half. Baylor elected to receive the game's opening kickoff. ... Kansas still has not allowed an opponent to score on an opening drive all season. ... James Sims' 70 yards rushing moved him to within three yards of third place on KU's all-time rushing list. ... KU forced a Baylor season-high five fumbles, but recovered just two of them. ... Baylor now leads the all-time series vs. Kansas, 9-4, and improved to 3-4 in games played in Lawrence. ... Temperature at kickoff was 58 degrees, under clear skies with winds of 10 mph out of the north.