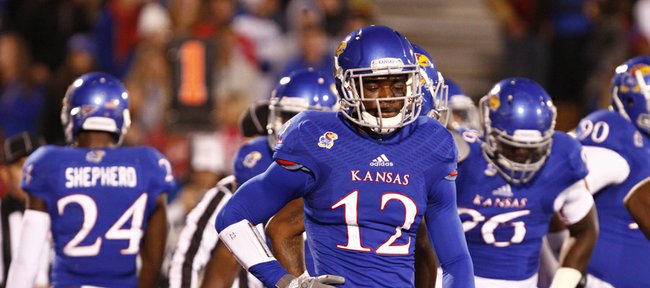 Photo Gallery
KU football v. Baylor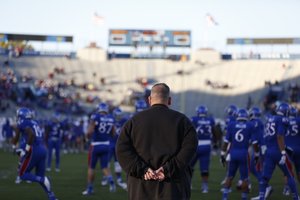 Images from Saturday night's game against Baylor at Memorial Stadium
Podcast episode
Kansas coach Charlie Weis talks after KU's 59-14 loss to Baylor on Oct. 26, 2013.
Box score
Saturday's 59-14 loss by the Kansas University football team to No. 6 Baylor, an offensive juggernaut if ever there was one, appeared to be over long before the game clock actually started ticking.
As the two teams took the field on a perfect fall evening in front of a half-full stadium of 32,264 — Baylor in an all-white look reserved, in Westerns, for the good guys, and Kansas in all blue — the Jayhawks strolled onto the field without so much as a hint of the juice we've seen from the home side during recent weeks in which they've jumped out to double-digit leads against Big 12 Conference foes Texas Tech (10-0) and Oklahoma (13-0).
No energy. No bounce. No chance.
Like lambs being led to a slaughter, the Jayhawks jogged across the rug covering the track, ran between the tunnel of cheerleaders that lined the south end zone and fell in line in front of their bench. No jumping, no arm-waving, no urging the crowd to get going. Nothing.
"I didn't really feel the energy," said junior running back Brandon Bourbon, who scored one of KU's two touchdowns and finished with 48 yards on seven carries. "We didn't come out with the same fire that we usually do, and we've gotta work on getting that up. We gotta be mentally tough enough to not let that affect us. Regardless of what is supposed to happen in the game, we gotta make something happen."
It never did.
Baylor raced out to a 28-0 lead in a little more than 17 minutes and never looked back en route to building a 45-0 lead before KU could find the end zone. After the victory, players and coaches in Baylor's locker room said energy played a key role for the visitors, unlike last time they came to Lawrence, when head coach Art Briles and then-quarterback Robert Griffin III escaped Lawrence with a 31-30 overtime victory despite trailing 24-3 at the start of the fourth quarter.
"In our pregame, we had a lot of spunk, good attitude and a lot of confidence and it carried onto the field," Briles said.
The Bears (7-0 overall, 4-0 Big 12) did their best to keep the Jayhawks (2-5, 0-4) in this one early, stalling on their first two drives, thanks to a couple of early drops by the Baylor wide receivers. Kansas did nothing to capitalize, though, taking less than four minutes off the clock on its first three drives, two for starting quarterback Jake Heaps (7-of-19 passing for 85 yards and a touchdown) and one for true freshman back-up Montell Cozart (4-of-14 passing for 69 yards), players who hopped in and out of the lineup the rest of the night.
"They got a lot of firepower," said KU coach Charlie Weis of the Bears. "And we never really could protect the defense early in the game by having our offense stay on the field."
At times, Baylor's receivers threw the ball back to the referee as quickly as quarterback Bryce Petty (20-of-32 passing for 430 yards and three touchdowns) got it out of his hands, and that unrelenting speed put pressure on the Kansas defense all night. Baylor's 743 yards of total offense were the third-most ever given up by a Kansas defense. And it did not seem to matter whether it was junior running back Lache Seastrunk and company on the ground, where Baylor rolled up 306 yards rushing, or with Petty and his wide receivers through the air, where BU's 437 passing yards ranked as the seventh-most ever given up by a Kansas defense. No one in the KU locker room explained it better than safety Cassius Sendish, who led the Jayhawks with eight tackles.
"Once they flip the switches, it's like a bat out of hell," he said.
To be fair, the Bears have been doing this to teams all season. Believe it or not, Kansas held Baylor below its season scoring average of 65 points and the Bears topped their season average for total offense by just 29 yards. The reason this one felt a little different than the others, though, was because so much of the seven-on-seven-type scrimmage the Bears won Saturday night came early. By halftime, Baylor had recorded 505 yards of offense and that set the wheels in motion for Petty to watch much of the second half while wearing a ball cap instead of a helmet.
"What we were trying to do was keep everything in front of us and play a little bit of a bend-but-don't-break," Weis said. "I think the biggest problem we had tonight was missed tackles. We missed way too many tackles. And, with their firepower, if you miss a tackle, it's to the house."
It was not just the Baylor offense, which looked faster in person than on television or the stat sheet, that made life tough on the Jayhawks on Saturday night. The Bears entered Saturday leading the nation with seven forced three-and-outs per game and nearly matched that total, with six, in the first half.
With the Bears lead 38-0 at halftime, Weis called his team out in the locker room.
"It's 100-0," said Weis, recapping his message to the team. "Now, are we gonna lose 200-0 or are we gonna go play competitive? Look, you don't get any awards for how you play in the second half, but you do evaluate by how you play in the second half. And I think the fact that they were going toe-to-toe with them in the second half (was good)."
Kansas had just two more three-and-outs on offense in the second half, while the defense forced Baylor into four of its own. That did nothing to change the outcome of the game, but it did taste better than a 76-0 loss, particularly when everyone in the home locker room knew the Bears were capable of putting numbers like that — or worse — on the scoreboard.
To a man, the defensive players made available to the media after this loss said Baylor's offense was the best they had ever seen. But when asked if they thought they may have just played a national-championship-caliber team, the thoughts were not as clear.
"It's gonna be hard (for Baylor) to pass an SEC team and Oregon," said defensive lineman Keon Stowers. "So I would be surprised if they made it there. But if they made it there and won, I wouldn't be surprised. That's a hell of a team."