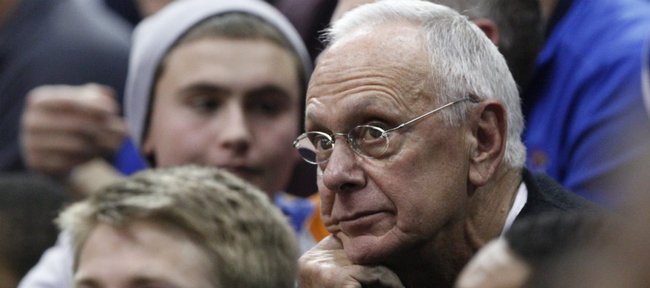 The coaches in the 10-team American Athletic Conference aren't forecasting an NCAA Tournament appearance for Larry Brown's second SMU men's basketball team.
The Mustangs — who return all five starters off a 15-17 squad and add McDonald's All-American Keith Frazier, as well as transfers Nic Moore (Illinois State), Markus Kennedy (Villanova) and Crandall Head — were recently picked sixth in the league's preseason coaches poll.
"Based on what I've been told, they'll have a real good team," said KU coach Bill Self, who worked for Hall of Famer Brown as a graduate assistant during the 1985-86 season at Kansas University. "He loves his guys. He'll start coaching 'em and tell me they've got no players and will end up winning 20, 25 (games)."
On Friday, Brown told John Rothstein of CBSsports.com: "If we play hard, play unselfish, defend, and rebound, we'll be pretty good."
Of the 6-foot-5 Frazier, who is Rivals.com's No. 18-ranked player in the recruiting Class of 2013, Brown told CBS: "He's very talented. He wants to be great. He can beat people off the dribble."
Louisville tops the American Athletic Conference poll, followed by UConn, Memphis, Cincinnati, Temple, SMU, Houston, South Florida, Central Florida and Rutgers.
Meanwhile, at Tulsa, former KU All-American Danny Manning returns 10 players, including top sophomores James Woodard and D'Andre Wright, off a 17-16 team. Conference USA has not yet released a preseason poll.
Tulsa opens the exhibition season against Haskell Indian Nations University at 8 p.m. on Halloween in Tulsa.
Aldrich makes Knicks roster: Former KU center Cole Aldrich has made the Opening Night roster of the New York Knicks. The fourth-year pro, who has played sparingly with Oklahoma City, Houston and Sacramento since his final (2009-10) season at KU, beat out Ike Diogu for the final roster spot.
The New York Post reports that Aldrich might not be in the team's long-term plans.
"When Tyler (Jeremy, 6-10 pivot) is healthy enough to return (late November from foot injury), the Knicks could choose to cut Aldrich or Chris Smith, whose $470,000 contract becomes guaranteed on opening night," the Post's Marc Berman reported.
ESPN has reported that Aldrich will "count $884,293 against the salary cap should he stay on the roster until the beginning of January."
Aldrich turns 25 on Halloween.
Jones, Okafor visit Duke: Duke this weekend makes its recruiting pitch to package deal Jahlil Okafor (6-10 Chicago Whitney Young) and Tyus Jones (6-1 Apple Valley, Minn. High), who visited KU last weekend. It's the final campus visit for the duo, ranked Nos. 1 and 5 nationally by Rivals.com. No. 9-ranked Justise Winslow, 6-6 of Houston's St. John's, is also visiting Duke this weekend. Winslow also has Arizona, UCLA and Florida on his list.
Jones and Okafor have visited KU, Baylor and Duke together. Okafor also lists Kentucky, while Jones lists Minnesota.
"Our visit (to KU) was great," Debbie Jones, Tyus' mother, told SNY.tv and zagsblog.com. "Everyone thoroughly enjoyed it."
Okafor recently stressed that he and Jones will be attending the same school. The two are expected to announce a decision date shortly after the Duke trip.
Kentucky in two Classics: ESPN.com reports that Kentucky is negotiating to play in a second Champions Classic of sorts. The Wildcats, Andy Katz reports, will play in a one-day doubleheader event the next three years with North Carolina, UCLA and Ohio State.
Meanwhile, Kentucky also will continue on in the Champions Classic, with KU, Michigan State and Duke. KU special assistant to the AD Larry Keating recently told the Journal-World that KU had agreed to continue being part of the four-team classic. KU, which has lost to Michigan State and Kentucky the past two Classics, will play Duke on Nov. 12 in Chicago.
The legend begins: Joel Embiid, KU's 7-foot freshman from Cameroon, on Oct. 18 posted on Twitter that he was a lion hunter as a youth.
"Hey y all I KILLED A LION when I was young and my teammates don t believe me," Embiid tweeted.
Indeed, senior teammate Niko Roberts re-tweeted Embiid's boast post with the hashtag, #LiesToldByAfricans.
Embiid has emerged as KU's most entertaining tweeter.
After last Saturday's scrimmage, he tweeted, "Thanks to the KU Fans for coming and I don t get dunked on." His hashtag was the hilarious, jojosaysnonono.
Another Embiid tweet: "I m the best rapper under 20 (rap in French not English)."
And another: "This weather..... If tomorrow is colder than today, I ll go back to Africa."