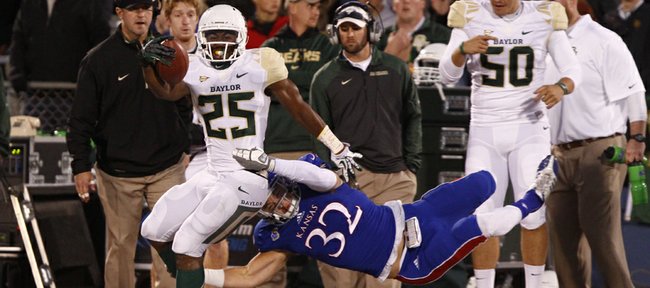 Photo Gallery
KU football v. Baylor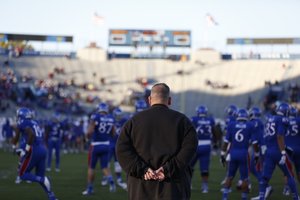 Images from Saturday night's game against Baylor at Memorial Stadium
Podcast episode
Kansas coach Charlie Weis talks after KU's 59-14 loss to Baylor on Oct. 26, 2013.
Box score
Baylor's second road game of what has been a magical 2013 season was much better than the first.
The Bears, who nudged Kansas State, 35-25, on Oct. 12 in Manhattan, clobbered Kansas University, 59-14, on Saturday night in Memorial Stadium.
This one was over at halftime, by which time BU (7-0 overall, 4-0 Big 12) had stockpiled 505 of its grand total of 743 yards in cruising to a 38-0 lead.
"I think one thing we did today was create our energy a whole lot better than what we did at K-State. I'm kind of happy about that," said junior running back Lache Seastrunk, who gained 109 yards off 13 carries and scored off a 29-yard run to give the Bears a 14-0 lead midway through the first quarter.
"I don't know if you saw pregame ... everybody was so amped up. I'm pretty sure every person on this team was amped up," Seastrunk added. "We tried to do too much (on first two series that resulted in punts) instead of relaxing and playing offense. After the first two series, we got rid of the jitters and relaxed."
The Bears were fired up because of what happened in Lawrence two years ago. The Bears needed overtime to trip the Jayhawks, 31-30. That was a game in which underdog KU led by 21 points.
"We felt like two years ago ... you hate to use the term … we felt like we 'stole' something," Baylor coach Art Briles said. "We felt like we cheated the system (in storming past KU late). I told 'em, 'I don't want any late-game heroics. We're going to do something. Let's see what happens.' It's why we came out shooting the ball downfield early. We didn't want to let it linger around. Fortunately, we played good enough defense to overcome that (two early series). We finally made a few plays offensively and got it going."
Quarterback Bryce Petty, who completed 20 of 32 passes for 430 yards and three touchdowns, threw for a whopping 348 yards and two TDs the first half. In fact, it took just the one half to surpass his Big 12-leading average of 337.2 passing yards per game. Tevin Reese had two TD grabs.
"It's always about us. They weren't doing anything different than we knew what they were going to do," Petty said of the two drives that stalled to open the contest. "I think me, personally, I came out too overhyped. It was a big deal for us to create our own energy. Any time you get away, it's you against the world. I need be even-keeled, demonstrate poise. It was all us for sure."
Of course, two lousy series aren't many in the course of a game.
The outcome of Saturday's rout was never in doubt.
"Our guys did a great job executing. It took us awhile to get out there. Once we did we settled down, we played our game," Petty said. "When we focus in on us and home in on what we do, there's not a team in the country that can stop us. I'm very confident of that."
Baylor will meet Oklahoma on Nov. 8 in Waco.