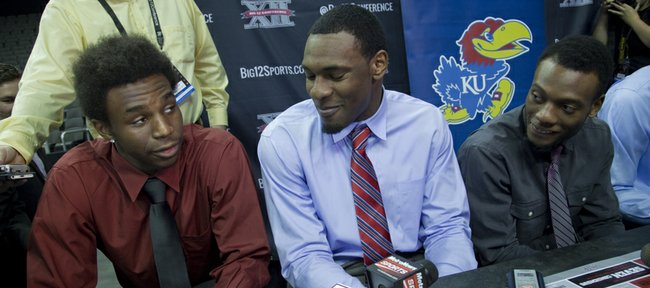 Kansas City, Mo. — Kansas University freshman sensation Andrew Wiggins needed to finish one interview before taking his seat at a table with teammates Perry Ellis, Naadir Tharpe and Tarik Black at Big 12 Men's Basketball Media Day on Tuesday in Sprint Center.
Not getting the memo regarding the delay ... one of two dozen reporters mistook 6-foot-9, 260-pound senior center Black for the 6-8, 200-pound Wiggins, asking him how he likes playing at KU.
"It feels great, wonderful," said Black, good-naturedly playing along with the case of mistaken identity. "I'm kicking my feet up, enjoying every day.
"KU fans ... I appreciate you so much. It's been an honor," Black added before coming clean and indicating Wiggins had yet to appear for the 45-minute group chat session.
To be fair to the reporter ... maybe he saw the recent cover of Sports Illustrated which didn't show Wiggins' face. The Vaughan, Ontario native stood with a basketball facing the masthead with the caption: "The Freshman: From Wilt To Manning To Wiggins, A Torch Is Passed At Kansas," prominently displayed.
Determined to learn all about KU history in his one year as a Jayhawk, Wiggins is aware Chamberlain scored 52 points and grabbed 31 rebounds in his college debut versus Northwestern.
"That game Wilt had, that first game, that's ridiculous," Wiggins exclaimed shortly after arriving to face the media throng.
"I don't know if I'll ever get that in college. I'll continue to work hard. I know the fans will be there whether I play well or not. The fans are loyal. They'll be there."
Wiggins — he averaged 23.4 points and 11.2 rebounds last season at Huntington Prep in West Virginia — isn't crazy about being tagged the best high school player since NBA star Kevin Durant, his favorite player, and LeBron James.
"I've got a long way to go before I can be compared to LeBron and Durant. Those are the best players in the world right now," Wiggins said. "I'm still in college. I think it's unfair to compare me with someone of that caliber. Hopefully one day I can be compared to them. I think I have a long way to go before I am. In reality, they are the best players in the world."
KU coach Bill Self just hopes fans let Wiggins develop his own identity.
"I don't even know of one player I can think of that he's like that guy. He's just Andrew," Self said. "That's all he needs to be is just try to be himself and not live up to what other people think he should be. When you're the cover of S.I. and they're comparing you to (Wilt) Chamberlain and (Danny) Manning, and in Chamberlain's first game he went for 52 and 31, that's not going to happen. He could go for 20 and 10 and disappoint everybody.
"But the thing about Andrew, if you really understand ball, he'll be a guy that will impact our team in ways other than scoring points because he can do a lot of different things," added Self, who said he wants Wiggins and Wayne Selden to be "guards that post."
Being human, Wiggins obviously will make some mistakes, just like the young reporter who asked Self if Chamberlain and Manning had "reached out" to Wiggins to help him with expectations.
Chamberlain, of course, died in 1999.
"Danny may have," Self said, not wanting to embarrass the young questioner. "Danny I think is a great sounding board for Andrew. I think that would be somebody who will help Andrew even though he is in Tulsa (as head coach). He will and we'll ask him to do so. There are a lot of similarities from a personality standpoint and all that stuff when Danny was playing."
Though Wiggins is quiet, he's fun to be around, his teammates say.
"Every time I see the dude, I look at him and start laughing," said KU junior Naadir Tharpe. "I don't know why. One day after practice, my man was about to get in the shower with his ankle braces on. He walked all the way to the shower and comes back. He said, 'I got my ankle braces on.' We said, 'Yeah we can see.' That's who he is, a laid-back dude. You wouldn't even know he's the No. 1 player in the country if you haven't seen the magazines. He's always himself all the time."
Wiggins handled a barrage of questions on Tuesday on a variety of topics.
He likes listening to Canadian recording artist Drake, who he knows personally; his personality reflects his mother, soft-spoken track star Marita Payne-Wiggins more than dad, former NBA player Mitchell; he actually has picked up a hockey stick like many of his fellow Canadians.
"I can skate ... on ice," Wiggins said.
Backwards? "Yeah," he stated with a smile.
More importantly, he thinks he's already learned a lot from KU coach Self and teammates like senior Black — "He's a coach on the floor," Wiggins said — and as such is prepared for the start of his frosh season.
"I think I'm ready right now," Wiggins said. "I have to make sure to keep getting in the gym, shooting extra shots, know all the plays. I play hard all the time now. I think I play hard right now."
It's because after lots of pick-up basketball with his teammates last summer in Lawrence and preseason practices this fall, he's learned it's difficult on this level.
"There are no bad players on the team," the McDonald's All-American and No. 1 recruit in the Class of 2013 said. "You can't take any plays off. The person you are guarding may be as good as you."
His expectations are for the team, not himself. "We can be great, the best team in the country," Wiggins said. "We've got a young team. The chemistry is building real quick. Practice has been real hard for the freshmen. Now everything is coming easier, more fluent. The potential is there to be the best team."