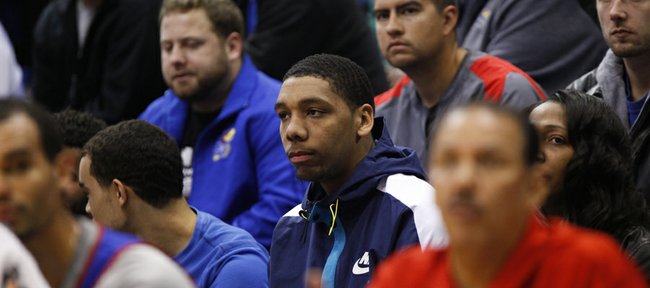 Blue-chip high school senior basketball prospects Jahlil Okafor and Tyus Jones completed their official visits to Kansas University on Sunday morning amid growing speculation that KU and Duke might be co-leaders for Rivals.com's No. 1- and 5-rated players who wish to attend the same school.
The two took to Twitter to report that their KU visits were a success.
"At the airport heading back to Chicago. Had a great time in Lawrence, appreciate all the love from everyone on campus," tweeted Okafor, a 6-foot-10 pivot from Chicago Whitney Young.
"Had a good visit at KU this weekend. Thanks to the fans for showing love. Rock chalk," tweeted Jones, 6-1 point guard from Apple Valley (Minn.) High.
The two, who will visit Duke this weekend, are expected to announce their college choices in early November. They visited Baylor together on Aug. 30.
Jones still has Minnesota on his list, though Okafor is not interested in becoming a Golden Gopher. Okafor still has Kentucky on his list, while Jones has eliminated the Wildcats. In the past, Okafor has shown serious interest in Illinois, Ohio State and Michigan State, with Jones not involved with that trio.
"I believe that Kansas and Duke are the major players here. Both are visiting Kansas this weekend and Duke next weekend, along with Justise Winslow, who will be on the trip to Durham only," ESPN's Reggie Rankin wrote last Friday. "Okafor and Jones could go to Kansas and Duke together. They also could play together at Baylor, another place they have already visited together. But that would be the biggest stretch of the three schools.
"If Okafor and Jones split, Okafor could say yes to Kentucky and Jones could shock the college basketball blue bloods and stay home and go to Minnesota. That's probably the least likely of all the scenarios because Okafor and Jones are going to get the first right of refusal at Kansas and Duke because of the possible elite center-point guard package deal," Rankin added.
Turner visited Ohio State: No. 6-rated Myles Turner, a 6-11 senior from Trinity High in Euless, Texas, who is said to have heavy interest in KU and Texas, made an official visit to Ohio State last weekend. He is expected to sign in the April-May signing period. He's also considering Duke, Kentucky, Louisville, Arizona and Oklahoma State.
More Cliff notes: No. 4 Cliff Alexander, a 6-8 senior from Chicago's Curie High, visited Memphis with his mom last weekend and will visit Illinois this weekend. He attended KU's Late Night in the Phog.
"It was great. I had a great time in the three days we were there (Memphis)," Alexander's mother, Latillia, told SNY.tv and zagsblog.com Sunday. "We visited family there."
Latillia said Memphis coach Josh Pastner said, "He'll take care of him (Cliff), and the program he runs there will be great for him."
Alexander, who is also considering DePaul and Michigan State, will announce his choice on Nov. 16 on ESPN
"We're undecided on (visiting) Michigan State," Alexander's mom said. "It will be an unofficial (if he makes trip)."
House hunting over: Former KU guard Ben McLemore of the Sacramento Kings has made a video taking fans on a tour of his new house in Sacramento available at http://bit.ly/1b5nJ5y.
"It's five minutes to the arena, which is good for me, especially as a rookie. You don't want to live too far away from the arena. You don't know what the veterans will have you doing, having you get up early getting them donuts," McLemore said on the video.
Looking out on his yard, he said: "I come out here and think this is not a dream. It's real life. It's really true."
McLemore, who grew up in poverty in St. Louis, is making $2,895,960 this year and $3,026,280 in 2014-15. The team has an option for $3,156,600 and $4,008,882 in 2015-16 and 16-17. There's a nonguaranteed clause for $5,375,911 in 2017-18, as reported by hoopsworld.com.
Dunk City update: Expectations are high for former KU assistant Joe Dooley's first Florida Gulf Coast team. To see a promo video on "Dunk City" go to http://bit.ly/1a5Jwvs
Darnell cut by Pacers: Former KU forward Darnell Jackson has been released by the Indiana Pacers. It has not been announced whether he will head overseas or play in the NBA Developmental League again this season. Jackson did not appear in any of the team's four exhibition games.