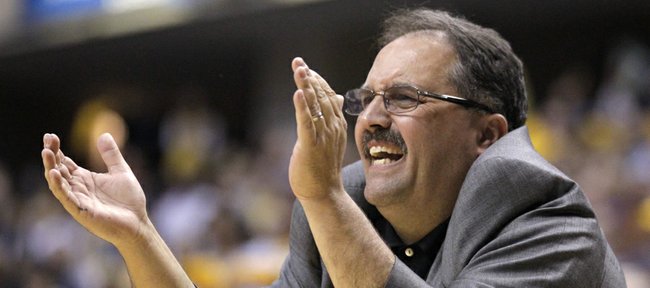 There might not be a more qualified man to assess a Kansas University basketball practice than Stan Van Gundy, former head coach at the University of Wisconsin and more recently the NBA's Miami Heat and Orlando Magic.
So, coach, what did you think of Friday's two-and-a-half-hour session, which featured freshman Andrew Wiggins and the Jayhawks' seven other newcomers?
"They obviously are going to be very good. They always are," said Van Gundy, guest speaker at Bill Self's KU coaches clinic in Allen Fieldhouse. "What I like beyond the obvious talent is it's a very unselfish team. The ball moves. It's an extremely coachable team, not a lot of B.S. in practice. They sort of all do their job, work hard at what they are doing."
Van Gundy — he said he took several pages worth of notes during practice on his first-ever visit to Allen Fieldhouse — said the 6-foot-8 Wiggins appears as talented as advertised.
"More than anything is his ability to get down and move his feet defensively," Van Gundy, a 54-year-old native of Indio, Calif., said. "That sounds crazy because everybody watches offense. As somebody who has always looked at the game defensively, I was really impressed with that part of his game. He's very much under control on the offensive end. I'm used to young guys ... you see the talent, but they play a little bit young, wild and crazy. You don't see that out here. They play under control. I like the big Embiid (Joel) kid. He's a talented guy, has good touch, is athletic. They've got some good players."
Of Wiggins' outside shot, Van Gundy said of the athletic wing: "He looked like a pretty good shooter to me. It'll get better obviously.
"If I compare him to guys who came into the league out of high school, even like a LeBron (James) ... those guys weren't comfortable shooting the ball when they came in the league. I had (Dwyane) Wade as a rookie. He was coming out of college. He (Wiggins) seems more comfortable shooting the ball than most of the other athletic guys. He's obviously an athlete. He seems to be a guy who wants to pass the ball, which is great."
Brother encore: Van Gundy's brother, Jeff, a former NBA coach now a broadcaster, was guest speaker at Self's clinic two years ago. "He told me, 'When you get a chance, you've GOT to get out to Kansas!'" Van Gundy said.
In broadcasting, too: Van Gundy, who will broadcast KU's games this year at the Battle 4 Atlantis tournament in the Bahamas, will work 20 college games for NBC. He said he has had some opportunities to return to coaching, but has declined so far because he has two children still in high school and the job needs to be a good fit for his family.
Van Gundy on college coaches making the transition to coaching in the NBA: "The biggest reason those guys supposedly don't succeed is they don't get good jobs. There might be some guys who might have a hard time adjusting. A guy like Bill, he'd go in and be great right away. I think Brad Stevens (Celtics out of Butler) will be terrific. Again, Brad doesn't have a great team so it sort of skews everything. A lot of guys could do it. I don't think a lot of them want to. Some do and some don't. This (KU) would be a tough place to leave, I'd think."
Self on Van Gundy: "He is one of the game's best minds, an NBA coach at several stops including Miami most recently and Orlando. His father is a long-time coach. His brother has had a ton of success, too. We're thrilled to have Stan here."
Open scrimmage on tap: A scrimmage that is open to the coaches and general public will run from 9:45 a.m. until 11 today in Allen. Doors open at 9 a.m. Admission is free.
Recruits Jahlil Okafor, 6-10 from Chicago's Whitney Young High, who is ranked No. 1 in the country, and No. 5 Tyus Jones, 6-1, from Apple Valley (Minn.) High, will attend. Their official visits started Friday.
"I just want our guys to have a scrimmage," Self said. "It'll be good. With so many young guys I think it's good to put people in here so that way they can have a little bit of a light (shining on them) and have to respond to game settings with people in the stands."
Media impressions from Friday: Wiggins showed a nice touch from deep on several attempts, while misfiring on some others ... Naadir Tharpe moved the ball well at the point ... Andrew White III had a good day running the floor, with a couple of steals, and hitting jumpers. ... Embiid and Hunter Mickelson had one of the best hustle plays of the day, wrestling each other for a loose ball so hard they fell on top of each other. ... Tarik Black did a swan dive on the floor, sliding for a loose ball. ... Both Frank Mason and Conner Frankamp ran some point in the scrimmage part of the practice.