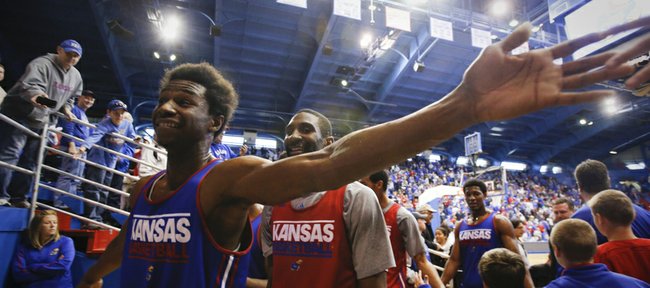 Photo Gallery
Kansas basketball open practice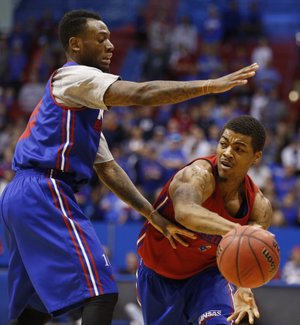 Images from Saturday's open basketball practice at Allen Fieldhouse.
Unofficial box score
Three scrimmages of 10 minutes apiece
Blue team: Andrew Wiggins 21, Perry Ellis 17 points, Andrew White III 11, Tarik Black 8, Wayne Selden 8, Jamari Traylor 6, Naadir Tharpe 5.
Red team: Brannen Greene 10, Landen Lucas 10, Joel Embiid 7, Frank Mason 7, Conner Frankamp 6, Justin Wesley 4, Hunter Mickelson 2. Nobody else scored.
x-White and Traylor went to the Red team and Mason and Embiid to the Blue for the second scrimmage; Lucas played for the Blue team and Ellis, Black the Red in third scrimmage.
Leaders: Rebounds: Embiid, Black 8. Steals: White 3. Assists: Frankamp 3.
Kansas University's basketball coaches have been encouraging their players — actually pleading with the players — to get the ball and run this preseason.
"We don't run, though. Running is something you condition your brain to do every single time. We run when we want to run," KU coach Bill Self lamented after three 10-minute scrimmages contested before a crowd of 10,000 fans Saturday morning in Allen Fieldhouse.
"Andrew Wiggins is the worst we have at that because if he feels like he can get something, he'll take off. Sometimes he doesn't," Self added of the 6-foot-8 freshman guard who led the way with 21 total points.
Wiggins was the only Jayhawk to score in double figures in one session with 10 in the final period off 4-of-6 shooting, including 2-for-2 from three. He hit the game-winning trey, erasing a 20-19 deficit in the final seconds.
"He doesn't understand when he runs, he stretches the defense, and we can play behind that. That is understanding and figuring it out," Self added of Wiggins. "With he and Wayne (Selden) and Andrew White (III) on the wing and with 'Mari (Traylor) and Perry (Ellis), Tarik (Black) and those guys ... the way they run, I think this could be the quickest team we've had to get up and down the court. But we've got to do it every possession."
Self said he hasn't settled on a rotation this early, but some things became obvious during practices open to the media during coaches-clinic weekend. He really likes the Blue team (first-team) lineup of Naadir Tharpe, Selden, Wiggins, Ellis and Tarik Black. And it appears at this time White, Traylor and Joel Embiid are in the plans for minutes.
"Naadir knows what we are doing. Frank (Mason) is figuring it out. Frank is talented, but Naadir has emerged as our starting point guard," Self said of the junior floor leader. Freshmen Mason, Conner Frankamp and Selden all played some point Saturday.
Of 6-6 sophomore guard White, who scored 11 points with three steals, Self said: "I think he's playing well. He does what he does. He took a couple of bad ones today. For the most part, he takes open shots, makes a decent percentage. He's a good rebounder. He doesn't make a lot of mental mistakes."
As far as senior center Black, who along with freshman center Embiid had eight rebounds, Self said, "He's great with our young guys. He hits on 'em every day, and he applauds 'em every time they hit back. It's been fun to watch."
Sophomore forward Ellis, who had 17 points and seven boards, has been impressive.
"Perry could easily be our leading scorer. He's played great," Self said. "He's more confident. He's matured. He wants, 'Give me more; give me more (coaching).' He'll have a big year for us, I feel."
Asked about freshman wing Greene, who had 10 points, including two threes, Self said: "He has labored as much as any of the newcomers in figuring out what we are doing. Brannen has done fine. What you guys see isn't real because (you see) the guys playing in pickup games, and we see them in practice. He's starting to get it. I thought today he did a couple of nice things."
Self stressed that players are involved in a competitive situation.
Does he have a rotation in mind entering the Oct. 29 preseason opener against Pittsburg State?
"No, not really," Self said. "I think Conner (two threes, three assists) will be so much better in two weeks than he is now. Frank will be so much better in two weeks than he is now. Joel will be so much better … Brannen Greene. I haven't figured it out, but I do know there's a core 5-6-7 I know who is going to play, and those other guys are fighting for minutes."
10,000 fans on hand: There were no problems with fans storming the gates as they did at Late Night in the Phog.
"It's a great crowd," Self said. "Our fans are unbelievable."
Recruits Jahlil Okafor and Tyus Jones were in attendance.
Self said KU didn't hold an open scrimmage just because the country's No. 1- and 5-ranked players are in town on official visits.
"The reason we did it primarily was because of the way Late Night ended with us not being able to get everybody in the building," Self said. "It is pretty special knowing these people do turn out to watch their Jayhawks. I know for our guys that's probably the primary reason why they love playing here so much, because of the love they receive from our fans."
Gap apparent: Self was asked if there's a gap between the returnees and the six freshmen: "I think from a talent standpoint there is a gap. Our new guys are talented," he said. "From a knowledge standpoint there is a gap. Our new guys don't know what they are doing. If we can get two veterans, or three veterans on the court at once, it makes it a lot easier for those young guys to play. We're not going to look good if we have five newcomers out there. We need some stability. It's always best if you have a point guard (veteran) and a big (veteran) because the bigs can coach the bigs and the point guard can coach the perimeter. There's a gap, but it's narrowing."
He's OK: Brannen Green went down hard after a dunk and appeared to tweak an ankle. Self said he was fine and not injured.
Smart on Wiggins: Oklahoma State standout Marcus Smart spoke about Wiggins-mania to USA Today.
"They are saying he is the best college player there is and he has not even played a game yet. Of course that hypes me up. It is all talk. He still has to put his shorts on one leg at a time like I do. It is all potential. I am not saying he can't do it. But he has not done it yet," Smart said.
After calling him a "great player," Smart added: "I wouldn't say he is overrated. I would just say there is a lot of pressure on him right now. He is under a microscope from the world that is bigger than anybody would think, bigger than he knows."
To read the USA Today article, go to http://usat.ly/1aXCpUe