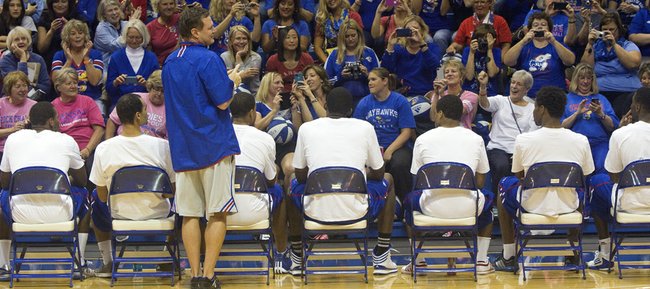 Naadir Tharpe considered it an honor to pose for pictures, sign autographs and demonstrate a few fundamental basketball skills to 450 Ladies Night Out attendees on Thursday night in Allen Fieldhouse.
"It's really important to me," Tharpe, Kansas University's junior point guard from Worcester, Mass., said of the fundraiser for "Jayhawks for A Cure," with all proceeds going to Lawrence Memorial Hospital and KU Cancer Center.
"My father (Ronald) passed away with lung cancer. Anytime I hear the word cancer, I know it's a horrible thing. To give back and be able to help everyone, I think is important."
Tharpe said the attendees at the fourth-annual event had "questions and pictures (on their mind) the whole time. The stuff you are watching now is fake," he joked of a dribbling drill going on in the background.
"Half of them want to take pictures right now," he added, laughing.
KU coach Bill Self and the players held a 15-minute question-and-answer session with the women before breaking into stations. Self had to smile at a question he has heard off-and-on, on his radio talk show during his 11-year stint at KU.
That is, "Will you press more this season?"
"This is such a great event. When you all leave, you will know more than your husbands," he joked, leading into the answer. "We've never been a pressing team. We're a pressure team. No matter what we do, we will not give up our core philosophy. (That is) I hate giving up easy baskets. When you press, you give up easy baskets. Once you get to the NCAA Tournament, teams have such good guards. You don't really (fullcourt) press then. We'll pressure more."
Asked about KU's string of nine straight Big 12 titles, Self said: "We want to win our league. Really, we do everything we can to try to hang another one of those," he added of national title banners.
All 18 KU players and the entire coaching staff took part in Ladies Night Out.
"We have many breast cancer survivors here tonight. It (cancer) has touched everybody in some way, shape or form," Self said. "It's a great way for us to raise some funds and some awareness."
Saturday's scrimmage: Self said it might help his young team to play before a big crowd during Saturday's open scrimmage (9:45 a.m. to 11 a.m.) in Allen Fieldhouse. Doors open at 9 a.m. Admission is free. About 800 high school and college basketball coaches will be on hand as part of Self's weekend coaches clinic.
"Our guys will have to respond to game settings with people in the stands," Self said. "We're still so early into it. We're three weeks into it. We're doing OK. We've made some progress. The biggest deal was, so many people couldn't get in for Late Night. This is a way those who couldn't get in hopefully will have an opportunity to come now."
Asked if he wants 16,300 in the building, he said: "If we're going to open the doors, we might as well fill it up. I hope there's a great crowd here. I anticipate there will be. I don't know if we'll get it full. I anticipate us having a pretty good crowd."
Noted Tharpe: "It'll be exciting. I talked to a lot of people around campus. They weren't able to come to Late Night and were real disappointed. Here's a second chance. This is what Kansas does. Give people a second chance to come see us before things really get started."
Okafor, Jones coming to town: Jahlil Okafor, the No. 1-ranked high school senior in the country, and No. 5 Tyus Jones are scheduled to arrive today for official campus visits.
Jones, 6-foot-1 from Apple Valley (Minn.) High, tells Jayhawkslant.com he "grew up a big Kansas fan. Kansas has always been a school that I liked, and Kansas has always been a school that I've cheered for, so I think that's what sticks out to me. Watching the national championship game where Mario Chalmers hit the three to go into overtime, that's another thing that sticks out to me."
Jones also is considering Baylor, Duke and Minnesota. He has dropped Kentucky, which has received a commitment from point Tyler Ulis, who is ranked No. 33 in the U.S.
Kentucky is still on the list of Okafor, 6-10 from Chicago Whitney Young. Okafor also likes Duke, KU and Baylor.
Adidas talk questioned: Self on Thursday told FOX sports radio's Mike North and Bill Reiter that he had a hard time believing a Bleacher Report item that freshman Andrew Wiggins would receive an adidas sneaker endorsement deal ranging from $140 – $180 million over 10 years after his one-and-done season at KU.
"I don't really know if you should believe everything you hear. I've never heard of a situation like what was reported the other day," Self told the radio hosts. "I'm not saying it's not accurate, but chances of it being accurate are very slim."
Turns out Self knows what he's talking about. The website Sole Collector on Thursday said that "offer" is a hoax.
"There is a fraudulent letter that claims to be from our company offering Mr. Wiggins a contract. Any reasonable review of the letter would determine its lack of credibility," an adidas spokesperson told Sole Collector as reported in a story by Sole Collector and collegebasketballtalk.nbcsports.com. "Beyond this, we do not comment on rumors or speculation about potential partnerships."
Sole Collector's Nick DePaula speculates Wiggins might expect more like a $6- to 8-million deal over seven years upon leaving KU.
For the Sole Collector story on the hoax, go to http://bit.ly/18pRIGC
KU sixth: KU is ranked sixth in the preseason USA Today college coaches poll. Kentucky is No. 1, followed by Michigan State, Louisville, Duke, Arizona, KU, Syracuse, Florida, Michigan, Ohio State, North Carolina, Oklahoma State, Memphis, Gonzaga, VCU, Wichita State, Marquette, Oregon, UConn, New Mexico, Wisconsin, Notre Dame, UCLA, Indiana and Virginia. Baylor was 26th, Kansas State 41 and Iowa State 43.