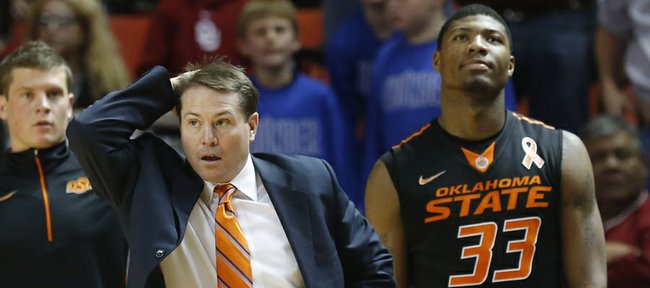 Oklahoma State basketball coach Travis Ford's comments concerning the hype surrounding Kansas University freshman Andrew Wiggins have made their way from Stillwater to Jayhawk Nation.
Posters on various KU bulletin boards have responded negatively to Ford's saying: "Kansas is still the favorite. Wiggins is, from what I understand, the best player to ever play. I've seen him play and he's really good. They're still the No. 1 team and should be. They've got tons of talent, they've got depth, they've got the best player to ever play at Kansas and that's a pretty good deal."
The Oklahoman, which printed Ford's quotes, indicated he was "having some fun," regarding all the hoopla over Wiggins, who is expected to be No. 1 pick in the 2014 NBA Draft.
KU coach Bill Self on Wednesday told the Journal-World that Ford's quotes were "not a big deal."
"Travis has a terrific team returning and I'm sure he's excited about their season," Self said Wednesday. "I think his comments ... I didn't read them as being derogatory toward Andrew. I just read them as a failed attempt to be humorous."
Wiggins, who has appeared on the cover of Sports Illustrated and USA Today, on Tuesday was named CBSsports.com's top-rated player in all of college basketball. OSU's Marcus Smart was second of the 100 players listed by the website.
"Andrew has done absolutely nothing to draw any attention to himself," Self said of the 6-foot-8 guard from Ontario, Canada. "I'm so impressed with how he's handling the media attention. We all are. He doesn't enjoy the attention at all and certainly doesn't bring any of it on himself."
Smart's decision revisited: OSU sophomore Smart recently was voted preseason player of the year by the Big 12 coaches. In all, OSU returns Smart, Le'Bryan Nash, Markel Brown, Michael Cobbins and Phil Forte from a 24-9 team that placed third in the league behind co-champs KU and Kansas State.
Smart, a certain top-five pick in the draft, shocked the college basketball world by returning for a second season in Stillwater. It seems a severe right wrist sprain suffered in OSU's NCAA tournament loss to Oregon influenced his decision.
"I fractured both my left and my right wrist in high school," Smart told the Oklahoman. "I fractured my right wrist really bad. The doctor actually told me they couldn't find my growth plate. So I've already had some scar tissue and damage in that wrist.
"So when I reinjured it in the Oregon game, it messed me up. I wasn't able to dribble the ball until May. That was a big reason why I made the decision. I didn't want to go in (draft workouts) not being 100 percent and having to go out there and compete and make that my job."
Jo Jo health update: Former KU guard Jo Jo White, 66, is back at work as a community ambassador for the Boston Celtics three years after undergoing eight-hour surgery to remove a brain tumor.
"I thank God every day for being here, but I haven't turned the corner," White told Yahoo Sports. "I'm still dealing with the circumstances of what I had to go through: Not being able to walk. Not being able to run. Remembering things. Eating."
After surgery, White had to re-learn how to walk, had trouble eating, experienced double vision and still has some short-term memory loss, Yahoo Sports reports.
"I went through a tough time," White said. "I appreciate all my supporters. All my fans. My precious wife and my kids were right there for me."
To read about White's recovery, click here.
Open practice, scrimmage approaching: KU's open practice and scrimmage, in conjunction with Self's annual coaches clinic, is set for 9:45 a.m. until approximately 11 a.m. Saturday in Allen Fieldhouse. Admission is free. Doors will open at 9 a.m. There will be limited concession services available until 10:15 a.m. It's a no-frills event with no cheerleaders, no public address and no videoboard highlights, with basketball practice the attraction. The country's No. 1 and 5-rated high school seniors — Jahlil Okafor of Chicago and Tyus Jones of Apple Valley, Minn. — are slated to attend as part of their official campus visits. For event information, click here.
Elijah still in Poland: Former KU guard Elijah Johnson, who recently left Anwil Wloclawek, a pro team in Poland, has now signed with Polish League team Rosa Radom, Eurobasket.net reports.