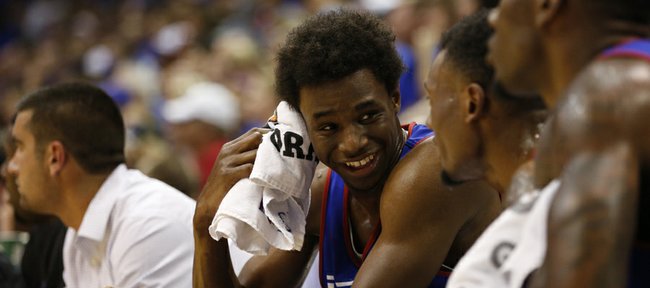 Kansas University freshman guard Andrew Wiggins is the No. 1-ranked college basketball player in the country entering the 2013-14 season, according to CBSsports.com.
Wiggins, 6-foot-8 from Vaughan, Ontario, Canada, beat out runner-up Marcus Smart of Oklahoma State in the website's list of the country's top 100 players, released on Tuesday.
"Wiggins is projected as the consensus No. 1 pick of next June's NBA Draft. So he's only spending one year in college. And, as you can see by this ranking, he's expected to have a terrific season and maybe lead Kansas to a 10th-straight Big 12 title," wrote CBSsports.com's Gary Parrish.
Creighton's Doug McDermott is third, followed by Louisville's Russ Smith, Kentucky's Julius Randle, Duke's Jabari Parker, Michigan State's Gary Harris, Ohio State's Aaron Craft, Arizona State's Jahii Carson and Arizona's Aaron Gordon.
KU's Joel Embiid is 28th and Wayne Selden 31st.
Sneaker talk: KU's Wiggins figures to be a rich man shortly after the end of the 2013-14 season. Bleacher Report writes Tuesday that as basketball's next "chosen one," Wiggins is ticketed to land a shoe contract in the vicinity of $140 to $180 million over 10 years. He can't negotiate a deal, of course, until he declares for the NBA following his one-and-done season. As an amateur, he — as well as his family members — cannot negotiate with agents.
Bleacher Report says Adidas has "pegged Wiggins as their prime target and would be willing to open up the bank for him."
Nike may or may not make an offer, considering it has lucrative deals with LeBron James, Kevin Durant and Kobe Bryant. Sports Business Daily says each of them earn between $10 and $20 million a year. Also, the company may not want to risk angering those players by making Wiggins its No. 1 client.
Bleacher Report says Chicago's Derrick Rose has a 13-year deal with Adidas worth at least $185 million. Other companies likely to bid for Wiggins: Under Armour, which has Stephen Curry as a client; Li-Ning, which has Dwyane Wade; and Anta, which has Rajon Rondo.
Bleacher Report says, "interested companies will begin mocking up sneaker designs — and even prototypes — to present to Wiggins next spring, if he declares for the draft."
The good news for KU is a source close to Wiggins' family told Bleacher Report that his mom, Marita Payne-Wiggins, "has shut all the agents down" and won't allow them to pitch their services.
Pokes' coach pokes fun at Wiggins: The Oklahoman said OSU coach Travis Ford was "having some fun" when commenting on the highly hyped Wiggins this week.
"Kansas is still the favorite (in Big 12)," Ford said. "Wiggins is, from what I understand, the best player to ever play. I've seen him play and he's really good. They're still the No. 1 team and should be. They've got tons of talent, they've got depth, they've got the best player to ever play at Kansas and that's a pretty good deal."
Oubre tweets prospects: Rivals.com's No. 12-ranked player in the Class of 2014, Kelly Oubre, who recently committed to KU, is hoping No. 1-ranked Jahlil Okafor and No. 5 Tyus Jones ultimately join him as Jayhawks next season.
He Tweeted "Bucket Team let's get it," at the duo on Oct. 10. Okafor and Jones will be making official visits to KU this weekend. They also have Duke, Baylor and Kentucky on their lists.
Vaughn postpones BU trip: No. 7 Rashad Vaughn, a 6-5 senior teammate of Oubre at Findlay Prep in Henderson, Nevada, is postponing a visit to Baylor this weekend, SNY.tv reports. Vaughn will make his first official visit to Iowa State on Nov. 17. He'll visit UNLV on Nov. 25. He's also planning trips to KU, Arizona and North Carolina with Minnesota still a possibility.
Withey mania: New Orleans Pelicans rookie center Jeff Withey has received some positive press since Sunday's performance against Atlanta in which he scored six points with six rebounds and a block in 10 minutes. The New Orleans Times- Picayune says he out-performed starting center Greg Stiemsma and backup center/forward Arinze Onuaku, who combined to score four points.
"When I got on the floor I made the most of it and played like I know how," former KU pivot Withey told the Times-Picayune.
"He's still learning how to play in our system," coach Monty Williams told the paper. "He wants to go help (defense) all the time. That can get you in trouble, especially if you come help from the wrong spot. But I liked his activity and I wished he could have finished that one dunk (he missed) when Brian (Roberts) missed a shot. Like most guys, he's going to be up and down. He's got to keep working and he does that."
Rush not ready to go yet: Former KU wing Brandon Rush of the Utah Jazz will have his surgically-repaired knee re-evaluated on Oct. 26, the Deseret News reports. He was cleared for contact in September but has not yet been cleared for 5-on-5 scrimmaging.