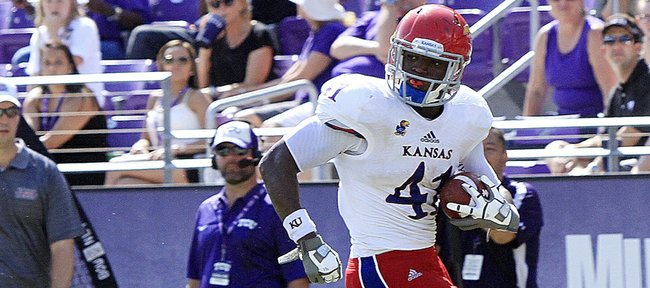 The Big 12 Conference victories remain elusive, the offense has become a major point of frustration, and the defense continues to be asked to do too much.
But there are coaches and players inside the Kansas University football locker room who can see rays of positivity through the storm clouds.
And the aspect of coach Charlie Weis' second KU team that emits the most light just might be its mind-set and mental toughness, which was called upon often during Saturday's 27-17 loss at TCU.
With Kansas having played arguably its most complete half of the season, the Jayhawks and Horned Frogs entered halftime tied at 10, with the visiting team considering the possibility that perhaps that would be the day the 22-game Big 12 losing streak and four-year road skid would end. Six minutes into the third quarter, the scoreboard read TCU 24, KU 10, and things appeared to be headed the wrong direction in a hurry. Yet somehow the Jayhawks faced first-and-10 situations throughout the fourth quarter with the chance to drive for the game-tying or even game-winning score.
They never got it done, of course, but for Weis that was not the point — at least after the game.
"You learned a lot about the team (by) how they handled the first five minutes of (the second half)," Weis said. "It's (TCU) touchdown, (KU) turnover, (TCU) touchdown, and losing teams at that point throw in the towel. They say, 'That's it. Here we go again, we're gonna lose by 50.' And the next thing you know, you score a touchdown, now you're down by seven, and it's anybody's game until late in the fourth quarter."
That the Jayhawks (2-3 overall, 0-2 Big 12) hung in there on the road with a quality Big 12 opponent is all anyone has asked of this team. So, on the surface, a 10-point loss to a perennial 10-game winner does not appear to be reason to panic. But it's not so much that the Jayhawks are losing as it is how they're doing it that has folks frustrated.
KU's offense, which is averaging 18 points and 305 yards per game and drawing most of the blame, is full of players who know where this team's biggest improvement needs to take place.
"I feel like this is all on the offense," said junior tight end Jimmay Mundine, who scored KU's only offensive touchdown Saturday. "To get more points on the board, we've got to figure out something to do that."
Inconsistent offensive-line play, ineffective wide receivers and bad throws have plagued the Jayhawks' offense at times. But Mundine said he and his teammates know that dwelling on the past and what hasn't happened won't help them in the future.
"We just got to continue to fight," Mundine said. "We can't lay down and let guys feel like we're a practice game or something like that because we're really a talented team. We just have to put it all together on offense. The more points we can score to give our defense a break and some juice, the better they'll do."
The way quarterback Jake Heaps sees it, his teammates already have shown signs of that.
"This was really frustrating," Heaps said after the loss to TCU. "But I'm really proud of our team coming from last week and the way that game went (a 54-16 home loss to Texas Tech) to how we came out and we battled and we fought against a good team like TCU. I think there (are) positives that you can take out of the game. We brought back a physicality that we haven't had as an offense that will definitely help us going forward."
It better. This week, the Jayhawks welcome an angry Oklahoma team to Lawrence for a 2:30 p.m. kickoff at Memorial Stadium.