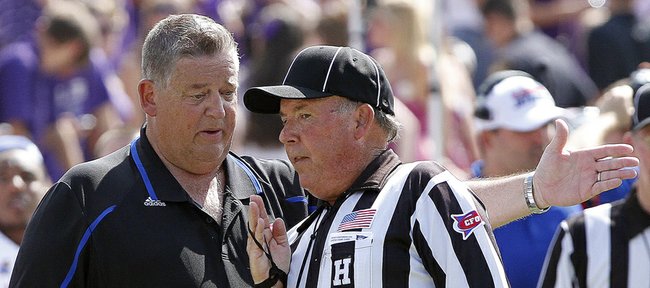 Podcast episode
Kansas coach Charlie Weis talks to reporters after his team's 27-17 loss to TCU on Oct. 12, 2013.
Fort Worth, Texas — The harder I tried to push it out of my brain, the louder the voice grew, like one of those jingles you just can't seem to quiet: "Rip the red shirt from Montell Cozart. Rip the red shirt from Montell Cozart." Over and over and over it played, sometimes whispering, sometimes shouting.
Nothing that happened during Kansas University's 23rd-consecutive Big 12 loss, 27-17, to a butter-fingered TCU squad Saturday in Amon G. Carter Stadium made the voice run away and hide.
Five TCU turnovers. James Sims (81 yards on 23 carries) somehow turning tiny holes into positive yardage. A strong effort from the Kansas University defense, playing most of the game without injured middle linebacker Ben Heeney.
So why didn't all those factors translate into a long-overdue Big 12 victory for Kansas University's stuck-in-the-mud football program?
Well, for starters Jake Heaps isn't the right fit for a team that has an offensive line that can't protect the quarterback without holding and sometimes even when holding. Mix in a wide receiver crew that has trouble getting open and it's obvious this team's best path to success lies with the running game, which again makes Heaps a misfit.
Michael Cummings, who neither passes nor runs as well as Cozart, is not the answer.
Credit Charlie Weis with not mortgaging the future of the KU football program by tossing red shirts into a bonfire without thought, but in the case of Cozart the coach is guilty of being too conservative. This team's offense needs a jolt the way the Jayhawks' 2006 squad did. At halftime of a game against Colorado, then-coach Mark Mangino energized the offense by telling Todd Reesing to trade in his red shirt for a game one. Reesing turned a halftime deficit into a victory and the rest became KU record book history.
Reesing had the benefit of spring football going for him, having graduated high school a semester early. Cozart, a 6-foot-2, 189-pound graduate of Bishop Miege High in Shawnee Mission, does not. And it's a brutal stretch of the schedule, a tough task for a rookie to take on, but now is no time to focus on the negatives of such a move.
Handing the offense over to Cozart, who has impressed with accurate passes and mobility in practice, isn't so much an indictment of Heaps as it is of the O-line and receivers, but if the quarterback doesn't fit you must quit putting the game in his hands, at least until the blocks materialize. Why not see if Cozart can make this offense move a little faster?
To win this game, the defense needed to make things happen, force turnovers, even score points. It did all of that. JaCorey Shepherd intercepted a pass and took it to the end zone. He also forced a fumble recovered by Victor Simmons, one of three lost fumbles for TCU. Isaiah Johnson picked off a pass.
The conservative offensive game plan, featuring Sims runs up the middle, kept the clock running, minimized turnovers and kept the score close. But the offense, without its most explosive playmaker, injured Tony Pierson, totaled just 198 yards on 60 plays. Heaps was sacked four times for 34 yards in losses.
Asked if he would consider playing Cozart this season, Weis left the door open to that and explained why he didn't think Cozart's talents would have suited attacking TCU's defense.
"We have been practicing Montell right along," Weis said. "We have not decided for sure that Montell is going to be down, but I don't think in this game, putting in somebody just to roll out of the pocket would have made a difference as wide as their defense stretches you. All the option on this defense is inside, it's not outside, because of how they stretch you horizontally. You saw all our outside runs got blown up. That's because of the way the defense is playing. That's not where you want to go against this defense."
At this point, regardless of the defensive schemes KU faces, giving a young talent a shot to energize KU's offense, starting next week against Oklahoma, is worth a try.