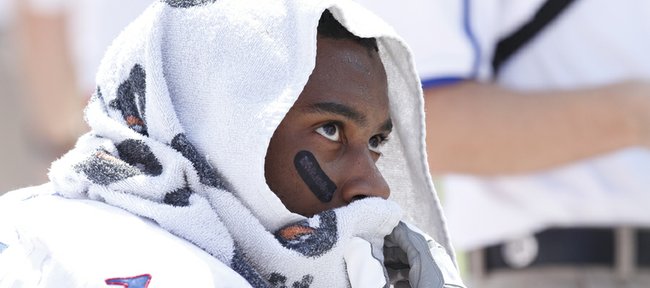 Podcast episode
Kansas coach Charlie Weis talks to reporters after his team's 27-17 loss to TCU on Oct. 12, 2013.
Fort Worth, Texas — With his most dynamic offensive weapon standing beside him in street clothes and his offensive line operating with its fourth new lineup of the season, Kansas University football coach Charlie Weis reached a very simple conclusion while drawing up the game plan for Saturday's contest at TCU.
"Going in, I told (punter Trevor) Pardula, 'You're gonna be the most valuable player on offense,'" Weis said. "Because I knew that this was how we were gonna play the game."
Unfortunately for the Jayhawks, who played without leading receiver Tony Pierson, the second-year head coach was right.
For the second year in a row, the TCU football team did everything it could to help keep KU in the game. And for the fourth straight game, the KU offense's inability to put points on the board left nothing but questions and long faces in the KU locker room following a 27-17 loss which dropped Kansas to 2-3 overall and 0-2 in Big 12 play.
That Pardula — 10 punts for a 46.2-yard average — was the star of this one was no surprise. Weis said after the loss that the plan was for the Jayhawks to play conservatively, keep the game close and hope to get a few turnovers along the way.
"We weren't gonna do what we did last week," Weis said. "Every week we have to say, 'What gives (us) the best chance to win this game?' They played out the script pretty well."
Nowhere in that script, however, was an offensive performance that totaled just 198 yards on 60 plays, good (or is that bad?) for an average of 3.3 yards per play. Conservative, sure. But anemic? That's not good enough. And the Jayhawks know that.
"We've gotta be able to have continuity in what we're doing and that's a challenge for every single one of us on this team," junior quarterback Jake Heaps, who finished 13-of-26 passing for 152 yards, one touchdown and one interception. "When you see guys rotating in and out, there's execution problems and you can't have execution problems. If a guy can't hold up to his end of the bargain then we gotta put someone else in. We've gotta figure out something to get this going."
There was plenty of rotation in front of the 41,894 fans at Amon G. Carter Stadium on Saturday. But the bigger concern was that it did not really seem to matter. Regardless of who played, when they went in or what the situation was, the KU offense simply could not move the ball with any consistency. The Jayhawks suffered from 14 offensive drives (of 17) that featured four plays or fewer and also failed to capitalize on five TCU turnovers. Only JaCorey Shepherd's pick-six interception return that tied the game at 10 in the second quarter and a muffed punt that led to a 27-yard touchdown throw from Heaps to tight end Jimmay Mundine late in the third quarter put the kind of points on the board that the Jayhawks needed. The other three turnovers, all of which came in TCU territory, produced a field goal, a three-and-out and a 51-yard field goal try that banged off the crossbar and fell backwards.
"I went back to last year's game (a 20-6 home loss to TCU) and said, 'Fellas, this is why we were in last year's game,'" said Weis, citing KU's turnover success in that one. "We needed to win the turnover ratio to give us a chance to win. Without a doubt that was one of the No. 1 priorities."
After starting the third quarter tied at 10, TCU quickly made it 24-10 just six minutes into the second half. The first score came on the first play of the second half, when wide receiver David Porter caught a seven-yard out from Trevone Boykin and went 75 yards to the end zone right between KU defenders Dexter McDonald and Cassius Sendish.
"That's just unfortunate," said Weis of the scoring drive that took 13 seconds. "Because (we've) been tackling really good in the open field and you had two guys there. ... They felt worse than anyone."
On KU's ensuing drive, running back James Sims, who led the Jayhawks in rushing (23-81) and receiving (5-40) coughed up the ball after a 30-yard gain that led to a TCU touchdown seven plays later.
From there, after Mundine's touchdown grab, the KU defense dug in, forced a couple more turnovers, got a bunch more stops and kept giving the ball back to the offense with a chance to tie the game. Seeing those drives go nowhere and start inside the KU 10-yard line was tough for everyone on the KU sideline, but Weis said the offense's struggles were not any more infuriating than anything else.
"I'm frustrated when we lose," Weis said. "I'm the head coach. I get frustrated with everybody. Do I get frustrated with not scoring points? You betcha. That's just one of the many frustrations I have. But, yes. If you're asking me to answer an obvious, rhetorical question, yes, I am very frustrated with the offense."
Not having Pierson and losing Andrew Turzilli to injury after a 50-yard reception early in the second quarter certainly did not help KU's offensive flow. But both of those players had been in uniform for the first four weeks of the season and during that time the Jayhawks topped 17 points just once — in the season-opener against South Dakota.
"We went into the game saying we were gonna be conservative," Weis said. " ... And I certainly wasn't gonna take a bunch of chances backed up inside our own 10-yard line. In the fourth quarter, one of the major things that happened was we never flipped field position."
Now, the Jayhawks need to figure out how to flip the on switch for their offense in a hurry or else risk extending an already painful Big 12 losing streak that now sits at 23 games.
"Overall, our offense knows we have to get going," Heaps said. "We know that we have to get the field position right and help out our defense and keep our defense off the field. We have the ability to make plays. It comes down to execution and we've all just gotta be focused and collectively have a want-to to be the best we can be on every single play."