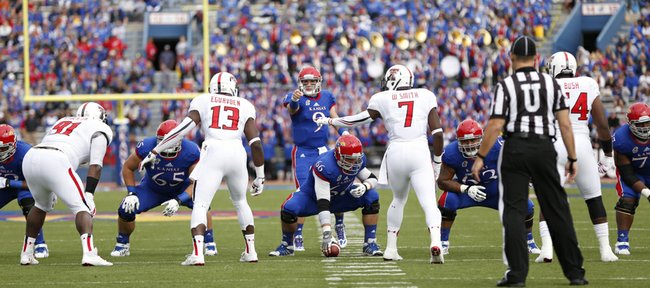 For the fourth time since Sept. 10, the Kansas University football team will take a new-look offensive line into game week, as the Jayhawks prepare for Saturday's 11 a.m. kickoff at TCU.
This time, the biggest change comes at center, where senior Gavin Howard, 6-foot-4, 300 pounds, has been inserted as the starter and asked to save KU from the failed experiment of using junior Pat Lewandowski and sophomore Dylan Admire to snap the ball.
"Some of those, they looked like me snapping," said KU coach Charlie Weis, explaining the reason for the change. "And I was never any good, in case you're wondering."
There was, of course, more behind this change than getting distance from the Weis-like snaps. For one, Howard is an experienced lineman who has played all three positions up front. And his size gives him a better chance to hold up against opposing defensive linemen. Lewandowski, though taller, is lighter than Howard. And Admire is both lighter and shorter.
Asked to identify what issues have plagued KU's centers thus far — Howard actually is the fourth guy the Jayhawks have tried if you count junior guard Mike Smithburg's audition during spring practice — Weis painted a pretty stark picture.
"It's not the identification," Weis said. "We have smart guys there. These are all 4.0 (GPA) type of students, so intelligence is not the issue. The issue is, as soon as you snap the ball, you've got a guy 300-plus pounds ready to hit you in the mouth."
While Howard's addition to this week's depth chart takes him from nowhere-to-be found to the center of attention, the rest of the line experienced less drastic changes. Smithburg and fellow junior college transfer Ngalu Fusimalohi kept their spots at right and left guard, respectively — those two have started all four games in the same spots — and Lewandowski moved out to left tackle, where he played last spring, and Sterling to right tackle, where he played last season.
"I don't think for those guys it's gonna be much of a change," Weis said. "Probably the biggest thing is can Gavin hold up at center? That's the position we've kind of been held hostage by."
Turzilli moves up
Three days after catching a late touchdown in KU's loss to Texas Tech, and 364 days after last appearing atop the depth chart at his position, junior wide receiver Andrew Turzilli is back on top.
At 6-3, 195 pounds, Turzilli has taken over the Z receiver spot, in place of Tre' Parmalee (5-10, 175) and Rodriguez Coleman (6-3, 195), who remain listed behind him.
Weis said Tuesday that Turzilli's rapid rise was the byproduct of three good weeks of practice and added that he fell in the first place because of a bad offseason.
"Andrew was a little bit of a disappointment in the spring time," Weis said. "He's one of our two fastest wide receivers with some size, some athleticism, some polish, some ball skills; he just wasn't playing good. ... He was a front-line receiver starting out, and he's put himself back into that situation."
Pierson update
As expected, KU junior Tony Pierson was not listed on this week's depth chart and is not expected to play against TCU because of the concussion he suffered in the loss to Tech.
"Tony will be back," Weis said. "I don't know when, but he will be back. Fortunately, the MRI came back negative. He's got a headache, a sore neck and is walking around like an old man. Other than that, there's nothing wrong with him."
Asked how Pierson's absence would affect the team, Weis was honest and took time to praise Pierson's replacement, junior Brandon Bourbon.
"It hurts," Weis said. "Because Tony really has gotten better each week, and he's actually starting to play really, really well. At the same time, Brandon has played really well for us. He'll have an added role now. More of the burden will fall on Bourbon than ever before. He's a different player, but he's pretty good."
Run game bummer
With the offensive line in a state of flux, KU's previously potent rushing attack has suffered. KU's stacked backfield remains on the roster, but the gaping holes and hard-earned yards have not been there.
Through four weeks, KU has averaged 137 yards per contest, but just 3.7 yards per rush, a number that took a hit with last week's 37-carries-for-53-yards effort in the loss to Texas Tech.
"So far, our play in the run game in general has been a big disappointment," said Weis, whose team averaged 211 rushing yards per game and 4.6 yards per carry in 2012. "I don't want to single out just the offensive line, because there's a lot of elements involved, but it's been a frustration because it should be a foundation of who we are."
Faifili still sidelined
Junior linebacker Samson Faifili, who missed the past two games because of injury, will miss another and may be out longer than that.
"He looks like he's a ways from playing," said Weis of the juco transfer, who opened the season as a starter. "Every time we get him going, he reaggravates himself. He's really not that different than (injured running back) Taylor (Cox). In other words, he's another guy who's a potential medical red-shirt if things keep going the way they're going."