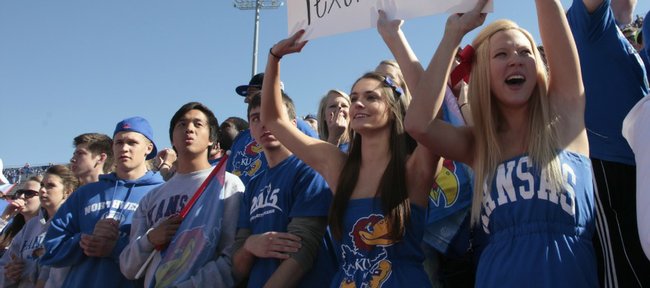 Kansas University football coach Charlie Weis has never tried to hide his appreciation for Kansas basketball and that came through again earlier this week when Weis spoke with reporters about the huge weekend ahead.
"We're all going to be out at Allen Fieldhouse on Friday night (for Late Night in the Phog)," said Weis, who is expected to speak to the Fieldhouse crowd during tonight's event. "And hopefully they've stayed out all night and they're ready to go for an 11 a.m. kickoff (Saturday when KU football plays host to Texas Tech). I'm afraid if they go to sleep I might not catch them at 11. They might not be up at 11."
While Late Night ushers in the official beginning of another college basketball season, this weekend also is a big one for KU's football program. The Jayhawks will partake in Homecoming festivities throughout the weekend, with the Big 12 Conference opener against 20th-ranked Texas Tech serving as the centerpiece.
Since arriving in town a little less than two years ago, Weis has had nothing but good things to say about KU's fan base. As he enters his second season of conference play, Weis would love nothing more than to give Jayhawks past and present something extra to cheer about on Saturday.
"I'm a little different than most college coaches," Weis said. "I'm pretty passionate (about) the football team being part of the student body. I feel very strong about that. So I think that I'd like nothing more on Homecoming than a bunch of people there, for us to have a really good day and for us to go up to the student body at the end of the game having knocked this (Big 12 Conference losing) streak out of the way and be singing after a victory. That would mean an awful lot."
In addition to the sentimentality associated with Homecoming reunions — several former KU football players are expected to be in town for this one — Weis said he would love to see his team end up on the right end of a Homecoming outcome for a change.
"It's usually a special moment," he said. "And to be honest with you I'm tired of being Homecoming (opponents) for everybody else. The only way they stop scheduling you for the Homecoming game is when you start beating some teams. So, you can talk about it all you want, but until you do it, it doesn't mean anything."